College coach predicts Newpower will develop into effective NHLer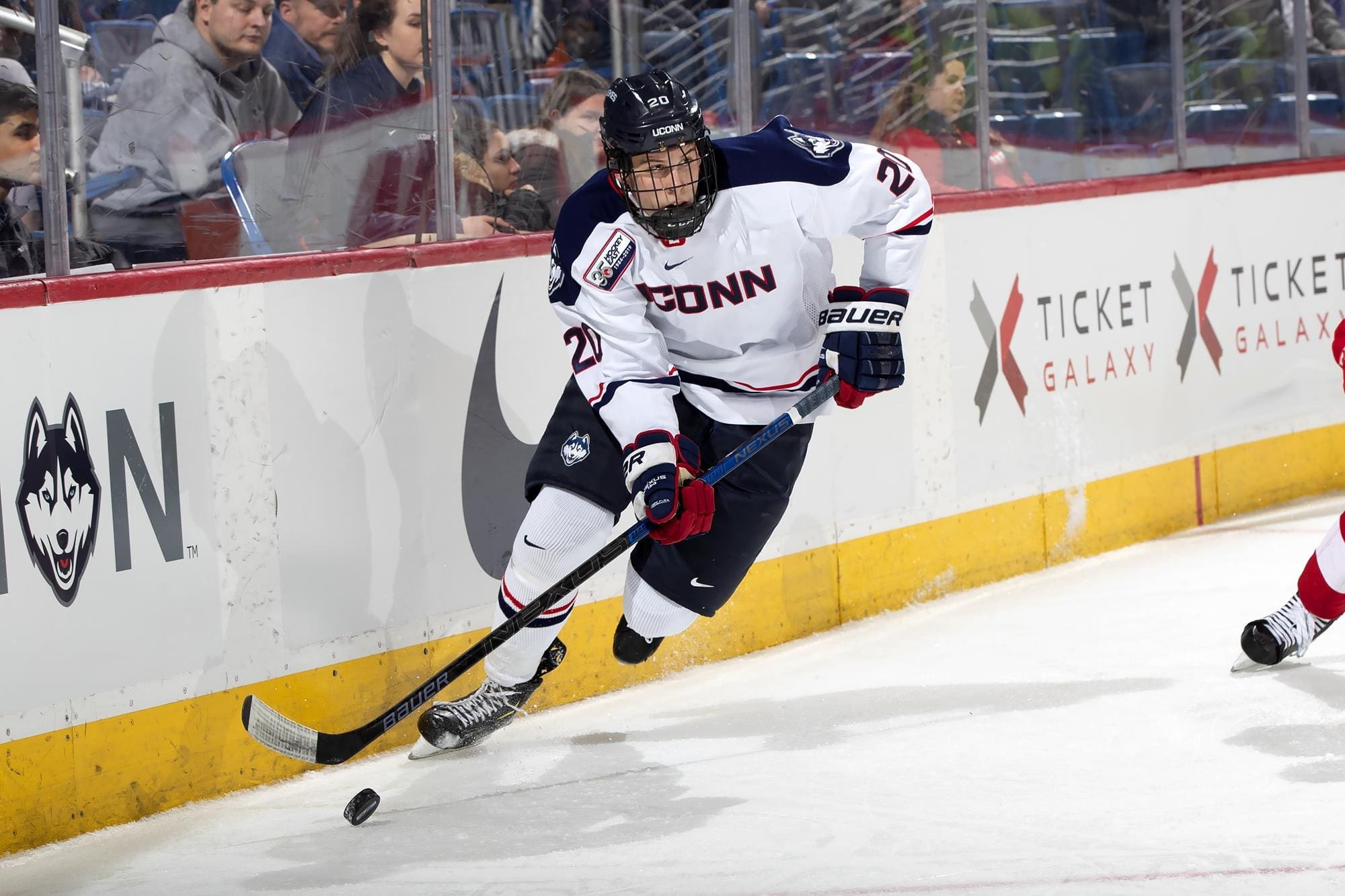 Newly-signed Detroit Red Wings defenseman Wyatt Newpower was undrafted, unheralded and undeterred by the uphill climb that was required to become an NHL prospect.
"If he doesn't make it in the NHL, it won't be because of work ethic and commitment," his former college coach Mike Cavanaugh said. "He has that in spades."
The Red Wings signed the 6-foot-4 defenseman earlier this week with the hope that his continued improvement will lead to a place on Detroit's roster. He's not ready today. But Cavanaugh, coach at Connecticut since 2013, believes he will get there.
Newpower projects to be a 4,5,6 defenseman
"He has the size and he can skate," Cavanaugh said. "He's got enough offensive skill to be a (No.) 4, 5 or 6. He's probably not going to be a  (No.) 1 or a 2 (defenseman)."Cavanaugh said Newpower can defend and he's "a tough kid with a physical presence."
"He has sneaky good offensive skill," Cavanaugh add. "He's a great teammate and he's competitive as hell, just a determined kid."
Wings prospect compares to Brandon Carlo
Cavanaugh said he often watches the Boston Bruins. "Brandon Carlo. Kevan Miller. (Jeremy) Lauzon are guys playing big minutes," Cavanaugh said. "Connor Clifton. I watch these guys play and Wyatt is a similar type player. Nothing would surprise me with Wyatt."
Newpower was in and out of the Connecticut lineup as a sophomore. "The most impressive thing about himwas he came in after his sophomore year and I was half-expecting him to say he was transferring because he wasn't playing much," Cavanaugh said. "But what he said was: 'What do I have to do to play."
Cavanaugh told him he needed to stay at the school during the summer, work out religiously, with emphasis on skills and decision-making. He did exactly that.
Coach saw Newpower improve dramatically
"He had a fantastic junior season," Cavanaugh said. "He was captain. In his senior year, he built off that…His senior leadership was second to none for as long as I've been here."
After his college season, he signed with the American League's Cleveland Monsters. He posted three goals and 10 points in 24 games.
"A lot of guys think they work hard and then there are guys who really work hard." Cavanaugh said. "I had Brooks Orpik at Boston College. To this day, I don't think I have seen anyone with a work ethic like his.  I think Wyatt is one of those guys who (works) like that."