Time For Red Wings To Take A European (Free Agent) Vacation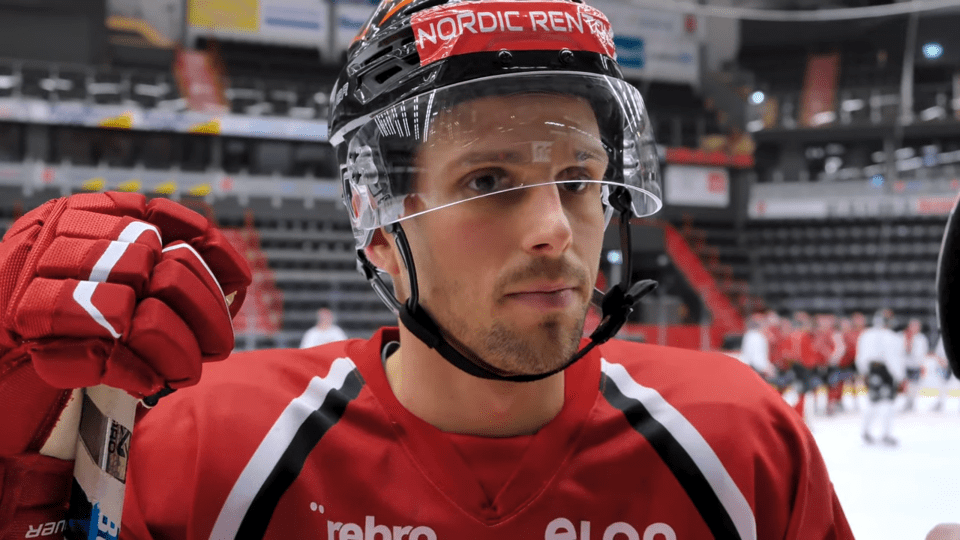 Perhaps this summer Detroit Red Wings GM Steve Yzerman should take a page from the Clark Griswold playbook and go on a European vacation when it comes to signing free agents.
Forward Mathias Brome is the latest European free agent that didn't work out for the Wings. After one NHL season in which he produced a goal and an assist in 26 games, Brome is heading back across the pond. He'll play next season for Davos in the Swiss League.
The six-foot, 183-pound Brome, 26, signed a one-year deal with Detroit after putting up 17-26-43 numbers in 52 games for Orebo JHK of the Swedish League. The Wings held out hope that the gritty forward would become a steadying presence among the club's bottom-six forwards.
However, despite occasional flashes, Brome simply couldn't locate consistency at the NHL level. He continually displayed an inability to finish off chances. He suited up for just two NHL games after March 9th.
Now, he's become the latest one-and-done European free agent who failed to make his mark with the Red Wings.
Kaski Also One And Done
One year earlier, Yzerman also rolled the dice on Finnish defenseman Oliwer Kaski. It looked to be a worthwhile investment. Playing for Lahti Pelicans, Kaski led all SM-liiga defenders with 19 goals at 51 points in 2018-19. He was part of Finland's gold medal-winning squad at the World Championship.
Avangard signed one-year extention with top-scoring defenseman Oliwer Kaski 🇫🇮
📊13-21—34 Pts in 58 GP (regular season)
📊3-7—10 Pts in 24 GP (playoffs) pic.twitter.com/5UGcMg9gTc

— KHL (@khl_eng) June 11, 2021
In Kaski's case, he didn't even get an NHL shot, or even 20 games in the Detroit system before the team opted to give up on him. Kaski was dealt the Carolina Hurricanes after suiting up for 19 games with Detroit's AHL farm club, the Grand Rapids Griffins. He collected 2-3-5 totals for GR. It was felt that Kaski played too much of a high-risk game and was lacking in defensive responsbiity.
Kaski, 25, also bolted back to Europe following the season. In 2020-21, he helped Avangard Omsk with the KHL title, recording 13 goals and 34 points.
Previous Regime Also Found Lacking
The previous regime also ended up swinging and missing on several European free agents. In 2018, Detroit signed Slovak goalie Patrik Rybar and Czech defenseman Libor Sulak.
Rybar played his only North American pro season with Grand Rapids. He went 16-21-4, posting a 2.49 GAA and .908 save percentage. Rybar has spent the past two seasons playing in Finland for Karpat Oulu. He recently signed with Dynamo Minsk of the KHL for the 2021-22 season.
Given a six-game stint in Detroit, Sulak was absolutely frightening without the puck. He and Rybar were 2020-21 teammates with Karpat.
#PatrikRybar#hcDinamoMinsk #KHL 21/22@ChunkletsHockey pic.twitter.com/KAr5X0Bdlc

— 17Artsyom (@17Artsyom) May 6, 2021
Czech goalie Matej Machovsky, signed in 2017, ending up toiling with the ECHL Toledo Walleye for the majority of his lone North American campaign. He's been home for the past three seasons with Sparta Praha.
The closest thing to a success story found by the Wings in the European free agent pool was Swiss right-winger Damien Brunner. He scored 12 goals in 44 games during the 2012-13 season. Nonetheless, the undersized (5-foot-10, 180-pound) forward was allowed to walk after one season.
Like Father, Like Son
Christian Djoos followed his father Par to the Detroit defense when he was claimed on waivers by the Wings from the Anaheim Ducks last season. And also like his dad, he's leaving Detroit after just one season.
Christian Djoos signed a two-year deal with EV Zug of the Swiss League. Playing 26 games for the Wings in 2021, Djoos posted 2-9-11 digits. He was a Stanley Cup winner with the Washington Capitals in 2017-18. While certainly in possession of an NHL skill level, Djoos' slender build (six-foot, 180 pounds) made it easy for opponents to physically overmatch him on the ice.
Christian Djoos' pump fake is a thing of beauty. pic.twitter.com/zdrs34PvxQ

— NHL (@NHL) February 28, 2021
Par Djoos played 26 games for the 1990-91 Wings, collecting 12 assists. He was traded on March 5th, 1991 with Joe Kocur to the New York Rangers for Dennis Vial, Kevin Miller and Jim Cummins.
Interestingly, when Par Djoos opted out of the NHL in 1993, he also joined a Swiss club. The elder Djoos signed with Lugano.