Vasilevskiy Chasing Osgood's Stanley Cup Record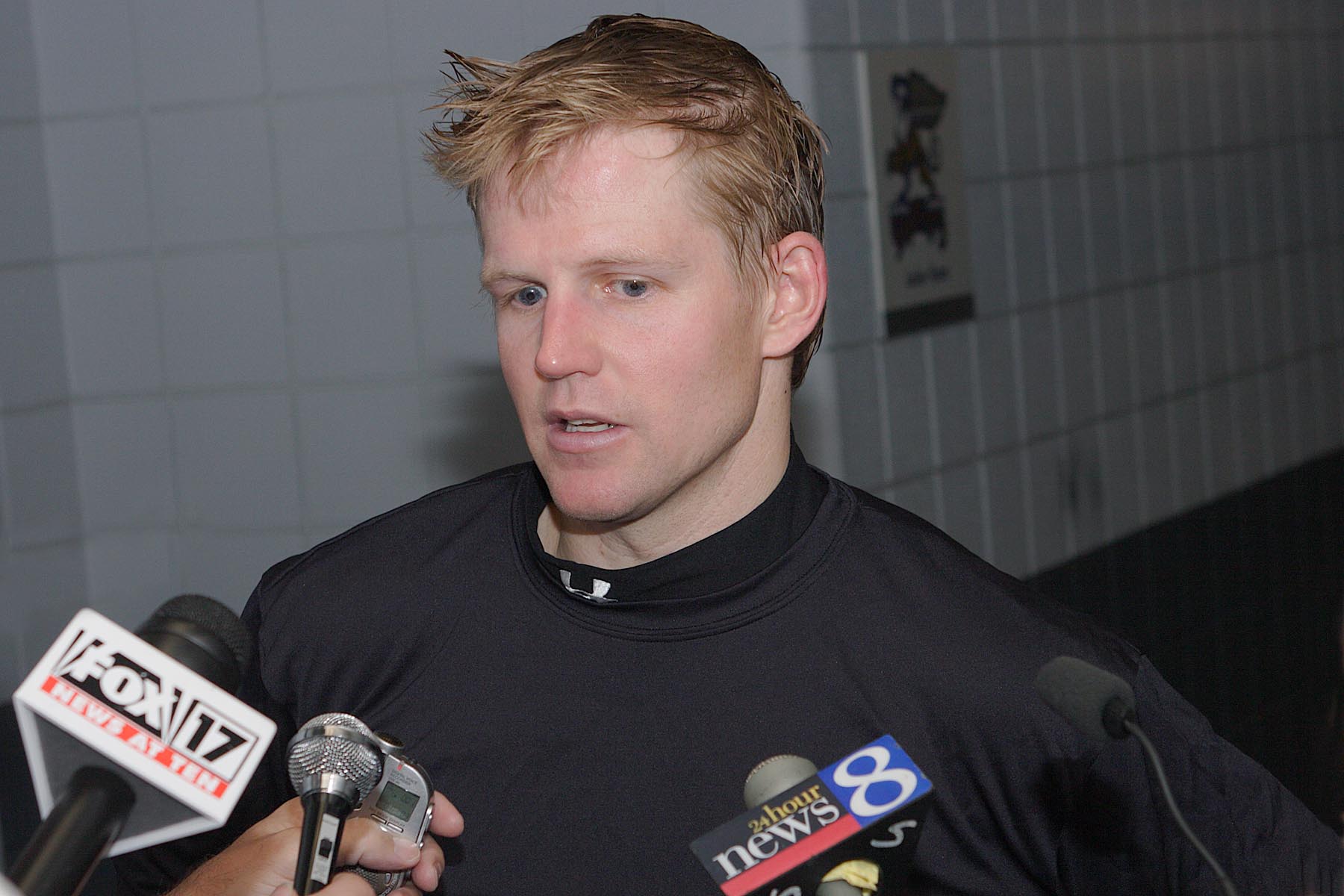 There's a Steve Yzerman symmetry that connects the Stanley Cup series-clinching shutout records held by Andrei Vasilevskiy and Chris Osgood.
While GM of the Tampa Bay Lightning, Yzerman drafted Stanley Cup-winning goalie Vasilevskiy in the first round – yes, with a pick he acquired from the Detroit Red Wings. Yzerman won Stanley Cups in Detroit as Osgood's teammate.
With his 29-save, 2-0 shutout victory over the Carolina Hurricanes in Game 5 of the Central Division final, Vasilevskiy set a Stanley Cup mark. It was his third successive series-clinching shutout.
Andrei Vasilevskiy (29 saves) became the first goaltender in NHL history with a clinching shutout in three consecutive series (also Game 6 of 2020 SCF & Game 6 of 2021 R1). #StanleyCup#NHLStats: https://t.co/BETohp9zvi pic.twitter.com/uQw4JtxLpH

— NHL Public Relations (@PR_NHL) June 9, 2021
Osgood, who won three Stanley Cups over two stints with the Wings, shares the Stanley Cup career record for series-clinching shutouts. Both he and Hall of Famer Clint Benedict wrapped up five playoff series with perfect performances.
Let's look back at the Osgood 5:
May 18, 1996: Detroit 1 St. Louis Blues 0
His first series-clinching goose egg may also be the most famous posted by Osgood. Certainly, it's a moment that Red Wings fans hold dear to their hearts.
This was the night of current Red Wings-GM Yzerman's memorable Game 7 double overtime winner. Yzerman stepped over the blueline and unleashed a howitzer of a slapshot that beat Blues goalie Jon Casey high on the stick side.
It completed Detroit's comeback from a 3-2 series deficit to advance to the Western Conference final. Osgood made 29 saves in the victory.
June 5, 1998: Detroit 2 Dallas Stars 0
This was a bounce back effort for Osgood. In Game 5 at Dallas, he'd allowed a Jamie Langenbrunner OT winner from center ice.
Recouping, Osgood closed the door on the Stars back at Joe Louis Arena, making 26 saves, as Dallas was afforded five power plays. Larry Murphy netted a goal and an assist for the Wings.
April 27, 1999: Detroit 3 at Anaheim Mighty Ducks 0
Osgood's first series-clinching shutout on the road also completed a sweep of the Ducks.
On April 27, 1999, Chris Osgood made 31 saves to record his sixth career playoff shutout as the Detroit Red Wings won 3-0 to sweep their Western Conference Quarterfinal series against the Mighty Ducks of Anaheim.

(Getty Images) pic.twitter.com/jAl7dnoygE

— 90sHockeyTweets (@Hockey90s) April 27, 2021
It was also his busiest night's work among the five zeroes he's posted to end playoff sets. Osgood finished up making 31 stops.
April 19, 2000: Detroit 3 at Los Angeles Kings 0
Stopping 25 shots and foiling the Kings on seven power-play chances, Osgood bounced LA in another sweep, handing the Kings their 12th straight playoff setback.
It was his second shutout of the series and eighth of Osgood's Stanley Cup career.
April 20, 2008: Detroit 3 at Nashville Predators 0
Osgood began the series backing up Dominik Hasek, but took over in net for a shaky Hasek in Game 4. He was required to block just 20 pucks in Game 6 for his fifth career series-clinching whitewash.
Oddly enough, 13 years later, two people involved in this game – Nashville coach Barry Trotz (New York Islanders) and captain Shea Weber (Montreal Canadiens) – are still in the hunt for the 2021 Stanley Cup.
As well, two members of the Wings in this game – forwards Darren Helm and Valtteri Filppula – were still playing for Detroit in 2021.
A healthy scratch for the Red Wings in this game was defenseman Kyle Quincey. He's the guy that Yzerman dealt to Detroit to acquire the pick he used to select Vasilevskiy.