OTR: Sticker Shock, GMs Gasp At Sabres' Trade Ask For Eichel | DHN+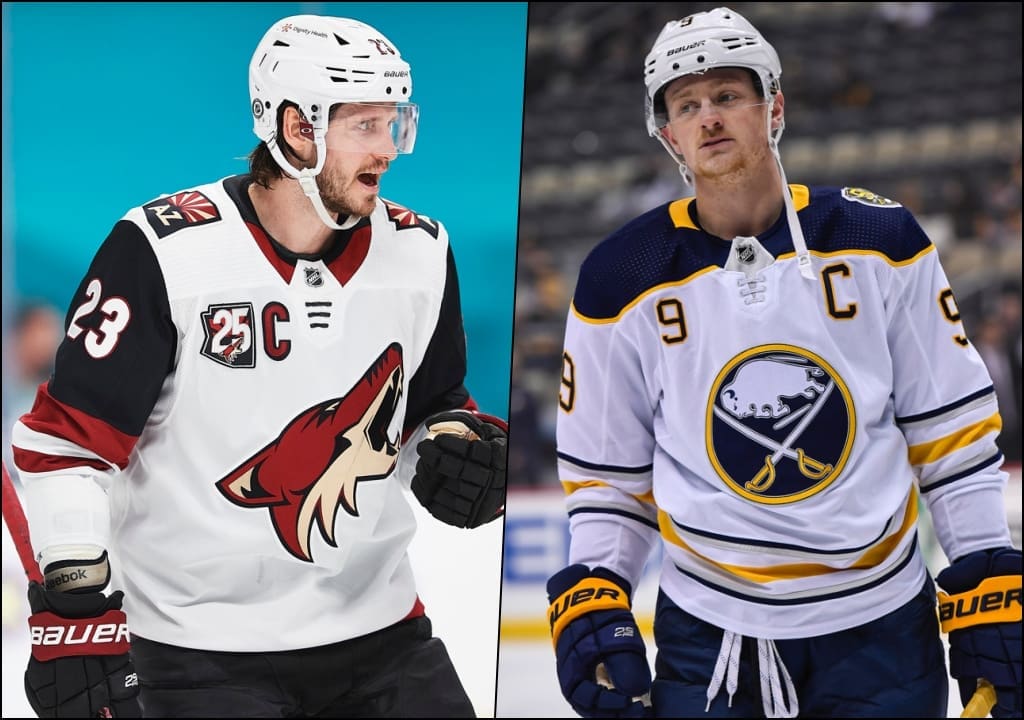 The asking price on the NHL trade market for Buffalo Sabres captain Jack Eichel has gotten to the point where rival NHL executives are questioning how Sabres GM Kevyn Adams is approaching the Eichel sweepstakes.
In this week's 'Off The Record,' a rival NHL executive got specific and vented about Buffalo's Eichel trade ask. The source described it as 'just crazy!'
Look for the Arizona Coyotes and St. Louis Blues to mix it up on the NHL trade market. Arizona could do a lot more than deal captain Oliver Ekman-Larsson. However, if they want Eichel too, they will need to acquire a first-round pick, as they have none in next month's NHL Entry Draft.
The dance has begun.
And, Boston Bruins President Cam Neely raised some eyebrows with his recent praise of former Boston Bruins and current Carolina Hurricanes defenseman Dougie Hamilton. That has some wondering if the Bruins would enter the expanding NHL trade market for Hamilton, who can become an unrestricted free agent on July 28.
1. Sabres Want 4-6 Components For Eichel
No one should be surprised that Buffalo Sabres GM Kevyn Adams is asking for a king's ransom in the NHL trade sweepstakes for disgruntled Sabres captain Jack Eichel. New York Post puck scribe Larry Brooks recently reported that the Chicago Blackhawks had entered the fray and that if they were going to acquire Eichel, their cost would be 20-year-old center Kirby Dach and the 11th overall pick at the 2021 NHL Entry Draft, at least.
According to one NHL executive who spoke to 'Off The Record' this past weekend, the current ask doesn't stop there. If an organization wants to snag Eichel, it will need to surrender two, three, or even four more components.
This monumental trade demand has other NHL execs wondering if Adams is misreading the market.
Off the record: 
"They want six components for Eichel. …six!" the executive exclaimed. "I get that Kevyn is in a really tough spot and needs to make sure he can get as close to Jack's worth as possible, but this is just crazy. We're talking a top-six center 25 years or under, a top 4 defenseman 25 or under, a first-round pick, and an assortment of three prospects. In this market and with so many teams trying to build from within because of the cap, how is he going to get that? Then, you don't even know how Jack's back will hold up."
I think we can scratch that team off the list.
2. Coyotes Howling In NHL Trade Market
They may not be getting much love from the NHL trade rumor circuit, but make no mistake, the Arizona Coyotes have been howling. It's no secret that the Coyotes are still trying to move their captain and top defenseman Oliver Ekman-Larsson. The Boston Bruins are back in the mix to acquire the 29-year-old, left-shot, puck-moving rearguard. However, the Coyotes also have prospects and young roster players to offer.
While OTR has confirmed that the Coyotes have definitely inquired with the Sabres on Eichel and kept tabs on that situation, they lack the 2021 NHL draft picks to pull off a trade for Eichel. Arizona lost their first-round pick for the NHL combine debacle and used their third-round pick to acquire Taylor Hall last season. Still, one NHL exec said they have been very active in trade chatter.
Off the record: 
"I know they're active because they're targeting some of the same players we are," the exec told OTR. "Billy Armstrong is in the process of really putting his stamp on the team. He's going to name his first coach, and he's likely going to move his captain and name a new one. I'd keep an eye on the Coyotes, and the Blues may be doing something together since he worked there. The Blues want to mix it up too."
3. Don't Expect A Hamilton-Bruins Reunion
In his end-of-the-season Zoom call with the media, Boston Bruins team President Cam Neely was asked about former Bruins defenseman Dougie Hamilton. A day earlier, news broke that the Carolina Hurricanes had granted Hamilton permission to speak to other teams about a trade.
"Well, we certainly liked his size, his skating, his offensive ability," Neely said. "Especially on the offensive blue line. He's matured into a better two-way player. It's not just about the numbers, although he puts up really good numbers. You're in this game for a long time, and you certainly like to believe players can learn and adapt a little bit more on the defensive side of the puck. Which I think he has."
When the Bruins traded Hamilton to the Calgary Flames for a first-round pick and two second-rounders at the 2015 NHL Draft, there were plenty of. …let's just say not-so-pleasant stories that came out about Hamilton and his relationship with then Bruins head coach Claude Julien and his teammates. The Bruins were also critical of Hamilton's defensive play. So while Neely's praise was surprising and notable, an NHL source told OTR this weekend not to read into it as a sign the Bruins want a reunion with Hamilton.
Off the record:
"From what I'm told, not going to happen," the source said. "He doesn't want to come back, and the team doesn't want him back. They need a physical minutes-eater left D in the top 4, and he just doesn't fill the bill there. I also think he wants to stay far away from the Boston media. You know how that went."