Weird Wings History: The Last Team Photo Of The Detroit Falcons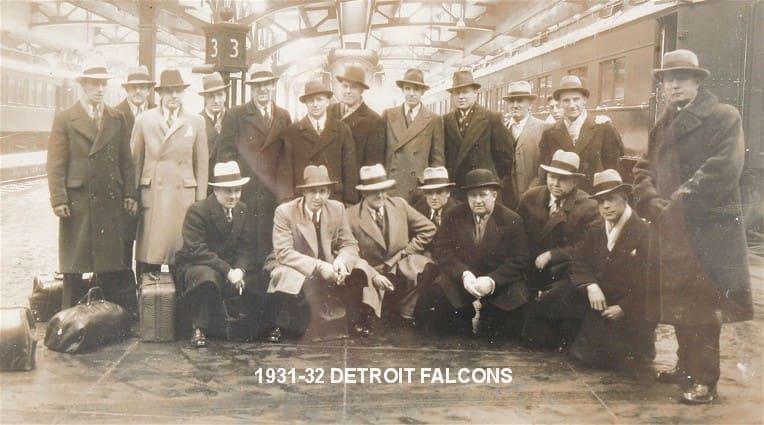 Upon arriving at Montreal's Windsor Station on March 28, 1932, the day prior to their Stanley Cup playoff game against the Montreal Maroons, someone decided to gather the NHL's Detroit Falcons squad for a photo shortly after they disembarked from the train.
Who knows whose idea it was, or why the pic was snapped, but it would become an historic photo. The next night, the Falcons lost 2-0 to the Maroons at the Montreal Forum and were eliminated from the playoffs.
That snapshot would be the last ever taken of the Falcons team. A new era in Detroit hockey was about to dawn.
Sticking with the @DetroitRedWings theme, they were known as the Detroit Falcons in 1930. Interesting sweater design. #LGRW pic.twitter.com/hWAzxGHA8A

— NHL Sweaters (@SweatersOfNHL) June 20, 2021
Before the 1932-33 NHL season would get underway, on September 2nd, 1932, grain millionaire James Norris purchased Detroit's NHL franchise. About a month later on October 5th, 1932, Norris revealed that the team would be given a new nickname. He was calling the club the Red Wings, instituting a winged wheel as the franchise's logo.
"(Coach-GM Jack) Adams' team will blossom out this season in cardinal uniforms, decorated with a white winged wheel," noted the Detroit Free Press. "They're the Red Wings now, which may or may not help in the very important matter of getting goals."
Detroit had begun NHL life as the Cougars from 1926-30. They were renamed the Falcons via a newspaper contest prior to the 1930-31 NHL season.
Five players – defensemen Reg Noble, forward/defenseman Ebbie Goodfellow and forwards Larry Aurie, George Hay and Herbie Lewis – performed while wearing Detroit's colors as Cougars, Falcons and Red Wings.
Within two years of the switch to the Red Wings name, the Detroit franchise, which had never won a playoff game as the Cougars or Falcons, reached the Stanley Cup final.