The Five: Things You Didn't Know About Red Wings Legend Gordie Howe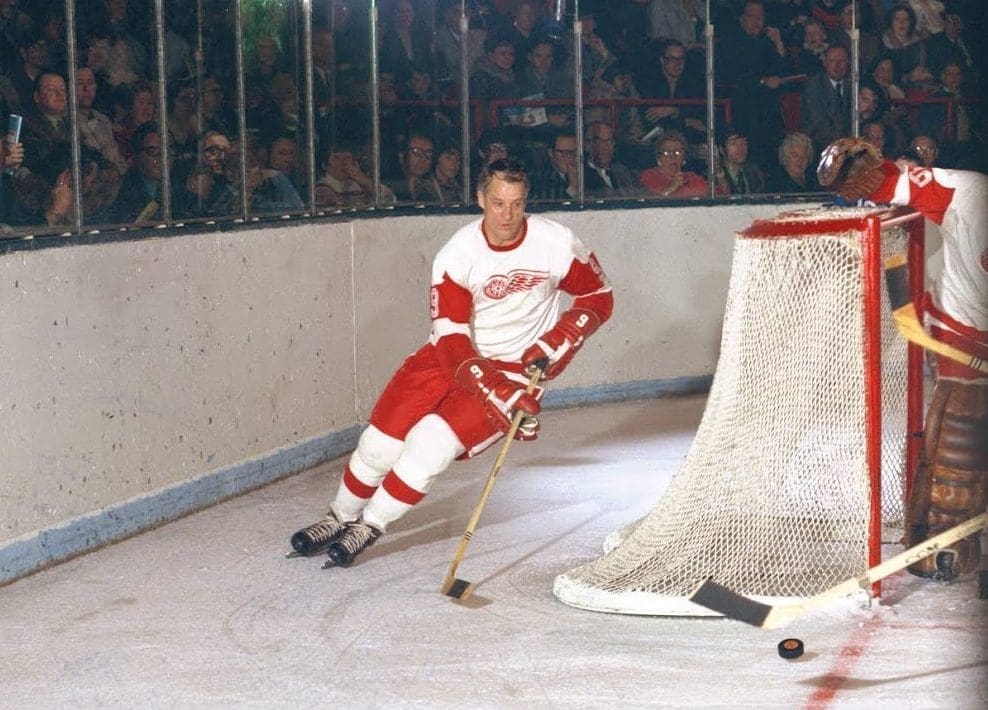 The greatest Detroit Red Wings player in the history of the franchise. The club record holder for goals, points and games played. Mr Hockey. No. 9. The man. The legend.
Gordie Howe. What more could there be to know about his one-of-a-kind career? Read on and find out.
His First And Last Goals As A Red Wing Were Scored On Hall Of Fame Goalies
On October 16, 1947, in his first NHL game, Howe beat Toronto Maple Leafs goaltender Turk Broda during a 3-3 tie for his first NHL goal. Interestingly, the three players who figured in the goal – Howe (Mark), Sid Abel (Gerry) and Adam Brown (Andy) – all had sons who would play for the Red Wings.
On April 3, 1971, Howe beat Tony Esposito at 1:34 of the second period during a 4-1 loss to the Chicago Blackhawks for what would prove to be his final goal in a Red Wings uniform. Howe also put his farewell playoff goal as a Red Wing past Esposito on April 12, 1970. All three of these goals were tallied at Olympia Stadium.
He Was An MVP In Three Different Decades
The 1951-52 season saw Howe winning his first Hart Trophy as the NHL's MVP. He was the winner again in 1952-53, 1956-57, 1957-58, 1959-60 and finally in 1962-63 at the age of 35.
Making his comeback with the WHA's Houston Aeros in 1973-74, Howe was the winner of the WHA's MVP Award. The league later determines that renaming the award the Gordie Howe Trophy was an appropriate course of action.
His Best Season Came Past Howe's 40th Birthday
Howe was one day shy of his 41st birthday on March 30, 1969, when he reached the 100-point plateau for the first time as an NHLer. He finished with a career-high 103 points during the 1968-69 season and remains the only 40-year-old to record a 100-point campaign in NHL history.
He Recorded Only Two Gordie Howe Hat-Tricks
While no one seems certain of its origins, the Gordie Howe hat trick was christened to recognize his unique combination of skill and toughness. It is recorded when a player gets a goal, assist and a fight in the same game.
Oddly enough, Howe netted just two of these in 26 NHL seasons – on Oct. 11, 1953 when he recorded a goal and assist and fought Fern Flaman in a 4-0 win over the Toronto Maple Leafs; and on March 21, 1954, when he fought Teeder Kennedy, scored and set up a Ted Lindsay goal in a 6-1 victory, also versus the Leafs.
Howe Scored Just One Goal Against The Red Wings
During his NHL comeback season with the Hartford Whalers in 1979-80, Howe, 52, became the only active NHL player in the history of the league to be eligible for AARP benefits. That season saw him scoring 15 goals and skating in all 80 games.
On April 6, 1980, the Whalers beat the Red Wings 5-2. Howe tallied at 11:52 of the second period, beating Detroit goalie Rogie Vachon – also a future Hall of Famer. Drawing an assist on the goal was Detroit-born Gordie Roberts. His parents named him after Howe. It was his final NHL regular-season goal and the only time in his NHL career that Howe scored against the Red Wings.
Howe would score one more NHL goal. It came in the playoffs against the Montreal Canadiens at the Montreal Forum.