Duffer's Dabbles: Red Wings Bernier To Test Open Market; Islanders Interested in Coyotes RFA Conor Garland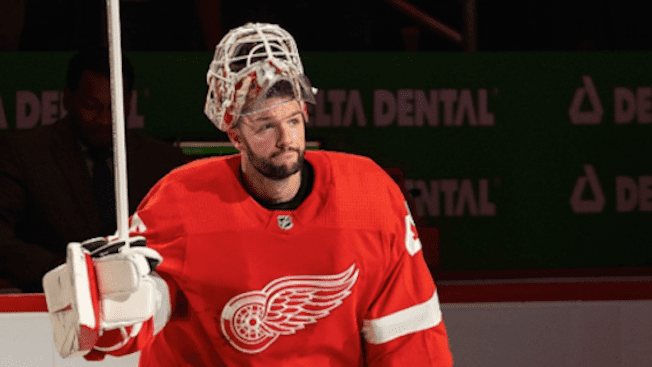 It appears that the Detroit Red Wings will be in the market for a goaltender. According to a report from Renaud Lavoie of RDS, Jonathan Bernier intends to take advantage of his unrestricted free agent status and find out he's worth on the open market.
Bernier has spent the past three seasons stopping pucks for the Red Wings. He earned $3 million a year on that deal with Detroit. Hard to imagine he'll be able to land more cash than that from another team. Perhaps he just wants the chance to play for a winner. Just because he's testing the UFA waters when free agency launches July 28, that doesn't mean Bernier couldn't still re-sign wih the Red Wings.
If Bernier does depart, it leaves Thomas Greiss as the only seasoned NHL goalie on the Detroit roster.
Pettersson To Kraken?
Pittsburgh:  If the Penguins lose (or trade) Marcus Pettersson the Seattle Kraken, they already have Plan B plan waiting in the wings.
Who will be Kraken up as Seattle selects its roster Wednesday during the NHL expansion draft? Will the Kraken take Carey Price? Is Vladimir Tarasenko enticing to Seattle? The official final answer Mock Expansion Draft from PHN and our National Hockey Now Editor-in-Chief, Dan Kingerski.
NYI: The Islanders are checking on the availability of Arizona Coyotes RFA Conor Garland. Might there be an offer sheet in the offing?
Philly: What would the impact be of the Philadelphia Flyers losing Shayne Gostisbehere, Jakub Voracek or JVR to Seattle?
Detroit: Like it or not, Detroit has a valuable piece in impending UFA forward Luke Glendening. For all of the complaining about Glendening from a portion of the Detroit fan base, that's actually not a bad thing.
Colorado: Skipping past the expansion draft, the Colorado Avalanche made their chief amateur scout available—here's the Avs 2021 NHL Draft strategy. Shhh!
San Jose: The boys in San Jose are all over the upcoming NHL draft. Here's there updated big board in podcast form.