Kevin's Morning Hash: Eichel Trade Talks Ongoing; Holtby Moving; Pens Seek a Goalie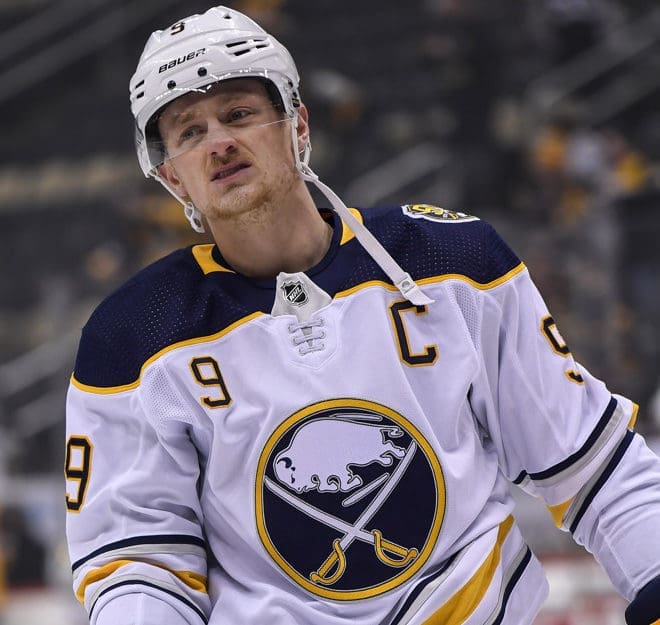 Rasmus Ristolainen is gone. Sam Reinhart is going. It seems only a matter of time before the  Buffalo Sabres' offseason work is completed by dealing Jack Eichel.
"There has been a lot of conversations on a lot of different things on our team, and certainly a player of that level there's going to be phone calls," Sabres general manager Kevyn Adams said. "I said from Day One we have to look at every possible scenario and be willing to see, 'Does this make sense for us and why?' and ask those hard questions. We'll continue to do that. We're having a lot of conversations."
The New York Post has reported the Sabres want four assets that are first round equivalents.
The Minnesota Wild, Rangers and Anaheim Ducks were the teams believed to be trying to acquire Eichel. USA TODAY's Vince Mercogliano says the Rangers unlikely to budge on their offer.
Rumor of the Day
Could Braden Holtby end up back in Washington. Washington Hockey Now has the Holtby story.
Around the NHL
Pittsburgh: The Pens trade or free-agent shopping will be for a goalie "like" Darcy Kuemper and "sandpaper." Sources dished the Penguins' activity. 
Florida: As of this morning, the  Sam Reinhart trade to Florida hasn't happened. But it is going to happen. The latest on The Buffalo-Florida trade story…
Philadelphia The Flyers acquired defenseman Rasmus Ristolainen from Buffalo and paid a hefty price
New York Islanders: The Kyle Palmieri deal is nearly done. Gabriel Landeskog is "intrigued" by the situation in New York, and Islanders still interested in Vladimir Tarasenko.
Boston: Taylor Hall is staying in Boston. Here are full details on Hall's $24 million deal. 
San Jose: There's a party in the bay. William Eklund wasn't supposed to be available at No. 6 for the San Jose Sharks. But he was. And the Sharks were "over the moon." Here's everything–the Draft selection, the player's reaction, and the Sharks reaction. 
Detroit: The Red Wings snagged a big, smooth-skating Swedish defenseman at No. 6. Then GM Steve Yzerman traded up in the first round for a prized goalie. Here's the  story: 
Colorado: Quote of the night came from a drafted prospect. Oskar Olausson, "I'm dangerous in the offensive zone."
Vegas: Quiet draft day for Golden Knights GM Kelly McCrimmon. No trades. No rumors Just another prospect center, Zach Dean.