Red Wings Welcome Back Witkowski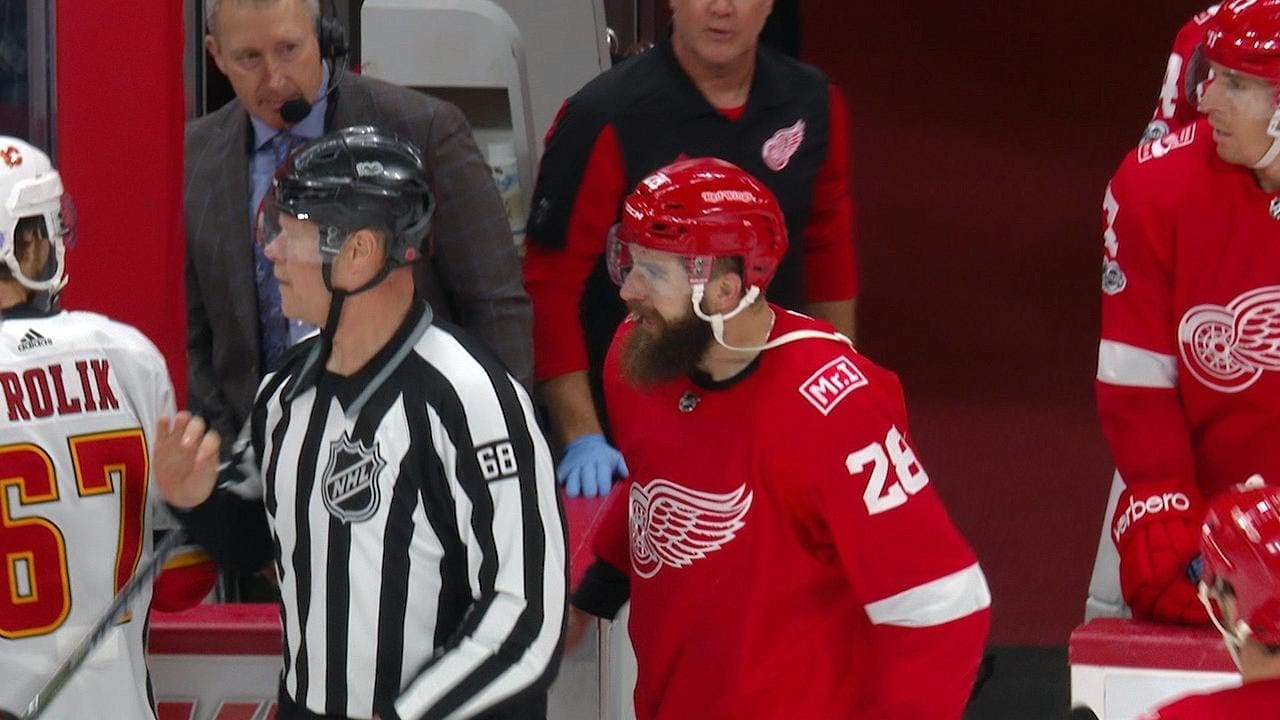 The Detroit Red Wings are welcoming back a familiar face into the fold, someone whose fists helped make him a fan favorite during his first stint in Hockeytown.
The Wings signed unrestricted free agent Luke Witkowski. The versatile veteran agreed to a two-year deal that will pay him the league minimum of $750,000 each season.
Witkowski, 31, is capable of playing on the blueline or the wing and it was this ability that was part of the attraction that encouraged Wings GM Steve Yzerman to bring him back to Detroit
"He can go up and play on the right wing," Yzerman said. "He did that here in Detroit, he did it in Tampa.
"It gives us the flexibility to play him in two positions."
He can fill in on the right wing or along the blueline and that two-way ability can make Witkowski a useful player to serve as the 23rd skater on an NHL roster. That he's willing and able to drop the mitts and keep opponents on the straight and narrow also makes Witkowski a popular teammate.
He played previously with the Wings from 2017-19. Witkowski skated in 65 games for Detroit over those two seasons, collecting one goal, seven assists and 107 penalty minutes.
Witkowski's Detroit tenure is perhaps best remembered for a game against the Calgary Flames. Ejected from the game, Witkowski returned to the ice to fight Flames forward Matthew Tkachuk, earning a 10-game suspension from the NHL for his actions.
Adds Element Of Toughness
"He's rugged, hard nosed," Yzerman said of Witkowski. The Holland, Michigan-born player made his NHL bow playing for Yzerman from 2014-17 with the Tampa Bay Lightning. After leaving Detroit, Witkowski returned to the Lightning organization, although he spent the majority of the past two seasons in the AHL with the Syracuse Crunch.
Detroit's Grand Rapids farm club is Witkowski's likely destination, although his ability to add unique qualities leaves him in with a chance to find a place with the Wings.
"He's a great person, a great leader," Yzerman said. "And again, the versatility. He gives us some depth to play here, to play in Grand Rapids.
"Great leadership and tough as nails."
Minor Matters
The Wings loaded up on players with limited NHL experience who figure to populate the Grand Rapids roster this season.
Defenseman Daniel Renouf is also returning for a second tenure with the Detroit organization. He signed a one-year, two-way deal worth $850,000 at the NHL level. Renouf, 27, played 12 games for the Colorado Avalanche last season. He skated in one game as a Red Wing during the 2016-17 campaign. Renouf was part of the 2016-17 Calder Cup win by Grand Rapids.
UPDATE: The Detroit #RedWings today signed defenseman Dan Renouf to a one-year contract. pic.twitter.com/hRGbZHMefH

— Detroit Red Wings (@DetroitRedWings) July 29, 2021
Goaltender Calvin Pickard, left wing Taro Hirose and center Kyle Criscuolo agreed to terms to remain in the Red Wings organization. Pickard took a one-year, two-way deal worth $800,000 if he's in the NHL. He played six games for Detroit last season, going 2-1-1 with a 3.19 GAA and .874 save percentage.
Hirose got a one-year deal worth $850,000. Signed as a much-hyped college free agent out of Michigan State in 2019, Hirose hasn't lived up to the billing. He's scored three goals in 42 NHL games. Over that span, among Detroit forwards, only Frans Nielsen (.056) shows a lower goals-per game average than Hirose (.0714).
Criscuolo spent last season in Grand Rapids. He agreed to terms on a one-year, two-way deal for the NHL minimum of $750,000. His NHL experience amounts to nine games with the Buffalo Sabres in 2017-18.
Veteran defenseman Ryan Murphy also signed a two-way deal that would pay him $800,000 in the NHL. Murphy, 28, has skated in 175 NHL games over nine seasons. He spent much of the past two seasons playing in the KHL.