Ranking Red Wings General Manager Steve Yzerman's Offseason Moves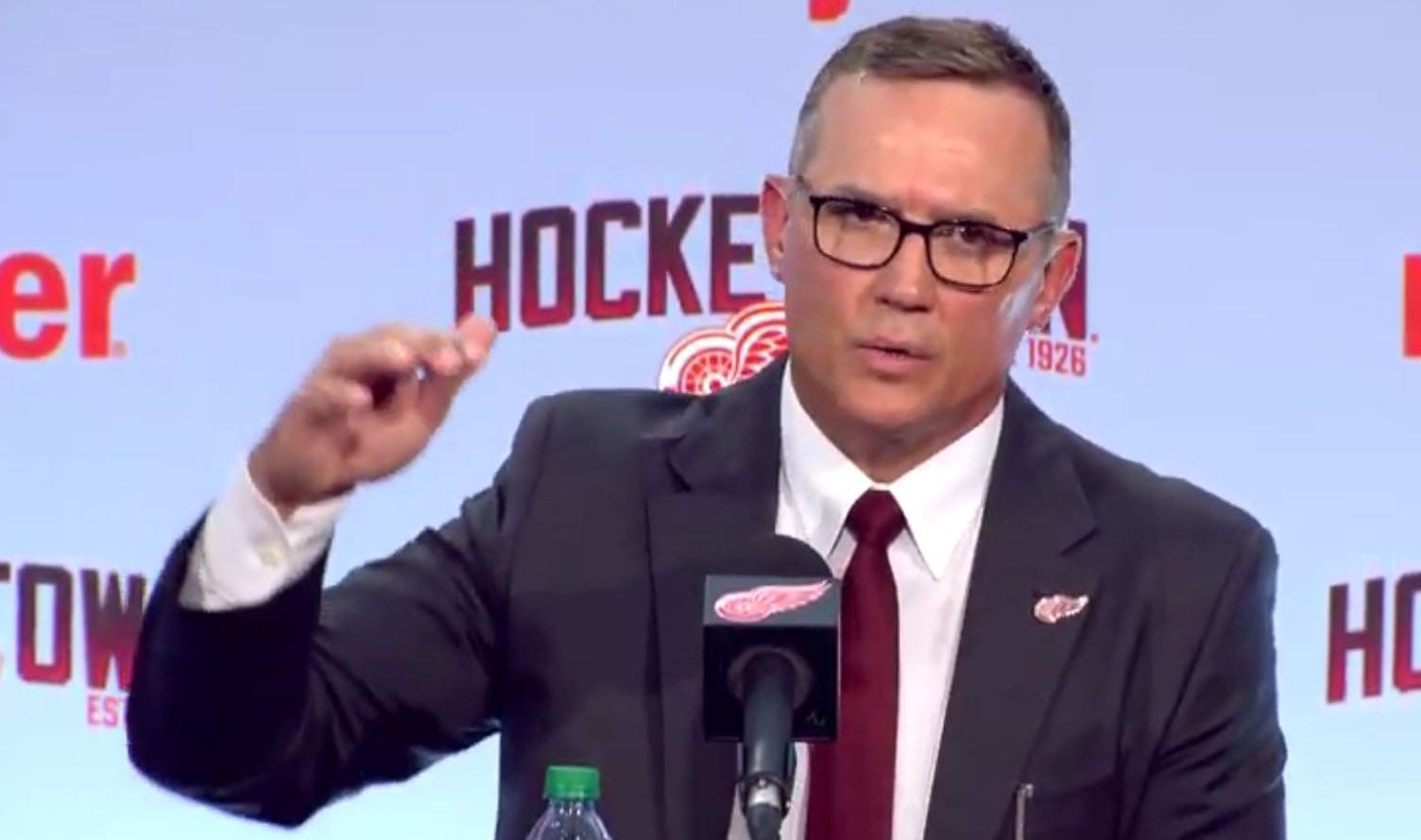 When Steve Yzerman was a dominant offensive player, he always caused defenseman to wonder what he would do next. He could skate wide, power straight ahead or use some of the magic in his game.
He was always effective, usually in a creative fashion.
The same can be said about Yzerman's managerial style. It's impossible to know what he will do next. But he's always effective, and often there is an element of flash to his moves.
By all measures of evaluation, Yzerman had another strong offseason. Here is Detroit Hockey Now ranking of his top 10 moves:
1. Trading for Alex Nedeljkovic
The Red Wings have a collection of rebuild problems, but lack of a young, premium goaltending prospect was probably chief among them. He solved that in extraordinary way by acquiring goalie Nedeljkovic, who was finalist for NHL Rookie of the Year. He had 15 quality starts last season in 23 appearances for the Carolina Hurricanes. His 1.90 goals-against average and .932 save percentage speak to his potential to be Detroit's goalie for years to come.
At 25, Nedeljkovic is still young enough to be the team's No. 1 goalie when the team's rebuild is completed. The bonus of this trade is that Yzerman only gave up a third-round pick and the rights to Jonathan Bernier, who wasn't going to resign in Detroit.
2. Drafting Sebastian Cossa
Yzerman moved from No. 23 to No. 15 in the draft to take Cossa, who is a fiery, 6-foot-6 goalie with overflowing talent. While many in the scouting world were crowing about Jesper Wallstedt, the Red Wings focused on Cossa. They liked Cossa's potential more. He's a trash-talking, cocky netminder who believes strongly in his ability to stop the puck.
The Red Wings only gave up a second rounder and a fifth rounder to the Dallas Stars to get this done. With Nedeljkovic aboard, the Red Wings have no reason to rush Cossa.
3. Signing Pius Suter
Considered putting this acquisition in the top two. The Red Wings desperately need another scoring center and Suter showed last season that he can be that guy. Still surprised the Blackhawks didn't qualify him, although they must have known at the time that they needed extra cap space for Seth Jones and Marc-Andre Fleury.
He'a 25 and potted 13 even-strength goals last season for Chicago. That would have made him Detroit's No. 1 center.  Suter's arrival means that it will be even more challenging for Joe Veleno to make the team this season. But if he looks good, the Red Wings will make room for him.
4. Drafting Simon Edvinsson at No. 6
At least one NHL team had Edvinsson ranked No. 2. But not everyone in Red Wing nation was sold on this pick. Some wanted William Eklund or Dylan Guenther.
But given Yzerman's draft history, it seems ridiculous to believe he made a mistake here. How could they pass on a 6-foot-4 defenseman who projects to be a top pairing NHL defenseman?
5. Acquiring defenseman Nick Leddy
Yzerman wants the Red Wings to be more competitive in this upcoming season, and they won't be more competitive if their power play doesn't improve and they don't do a better job of moving the puck through the neutral zone.
Leddy, acquired from the Islanders, will help in that regard. Plus, he will be there to help Moritz Seider adjust to life as an NHLer. Leddy is a seasoned performer who won a Stanley Cup with the Chicago Blackhawks.
Mitchell Stephens bringing the Stanley Cup to Peterborough later this month https://t.co/wDPXQbUy4N via @ptboexaminer

— PeterboroughExaminer (@PtboExaminer) August 5, 2021
6. Trading for Mitchell Stephens
This deal could be more important than you realize. Center Stephens is a good hockey player who has been a Tampa Bay Lightning during back-to-back championships. He was injured last season. But the season before, he played for the Lightning during their run.
For now, we are penciling him in as a fourth-line center, but he could end up as a middle six forward. He's going to be a dependable, helpful role player.
7. Signing college/AHL free agent Wyatt Newpower
When you are rebuilding, you need to get wins in areas where you didn't win in the past. Yzerman is trying to do this with the Newpower signing. He was unsigned coming out of college and then played in the American League,
The Red Wings watched him play in Cleveland and liked his size, competitiveness and mobility. It's not a slam dunk that he will be an NHL player, but the Red Wings like his chances
8. Hiring Alex Tanguay as an assistant coach
Talking to those who know Tanguay, they say he made the most of his ability as a player. He will be able to relate to players and they will be able to relate to him. People tell me Tanguay will bring a fresh approach to the power play. That is much needed.
9. Resigning Tyler Bertuzzi for two years
Don't believe for a minute that the Red Wings were trying to trade Bertuzzi, although teams called about him. The two-year deal was the right length for the right price.
10. Bringing back Marc Staal and Sam Gagner
The arrival of the younger players starts in earnest this season and it's important to have high character players like Staal and Gagner. Both work hard, compete aggressively and are willing to serve as a mentor.