Red Wings Vrana: Forecheck, Backcheck, Three Czechs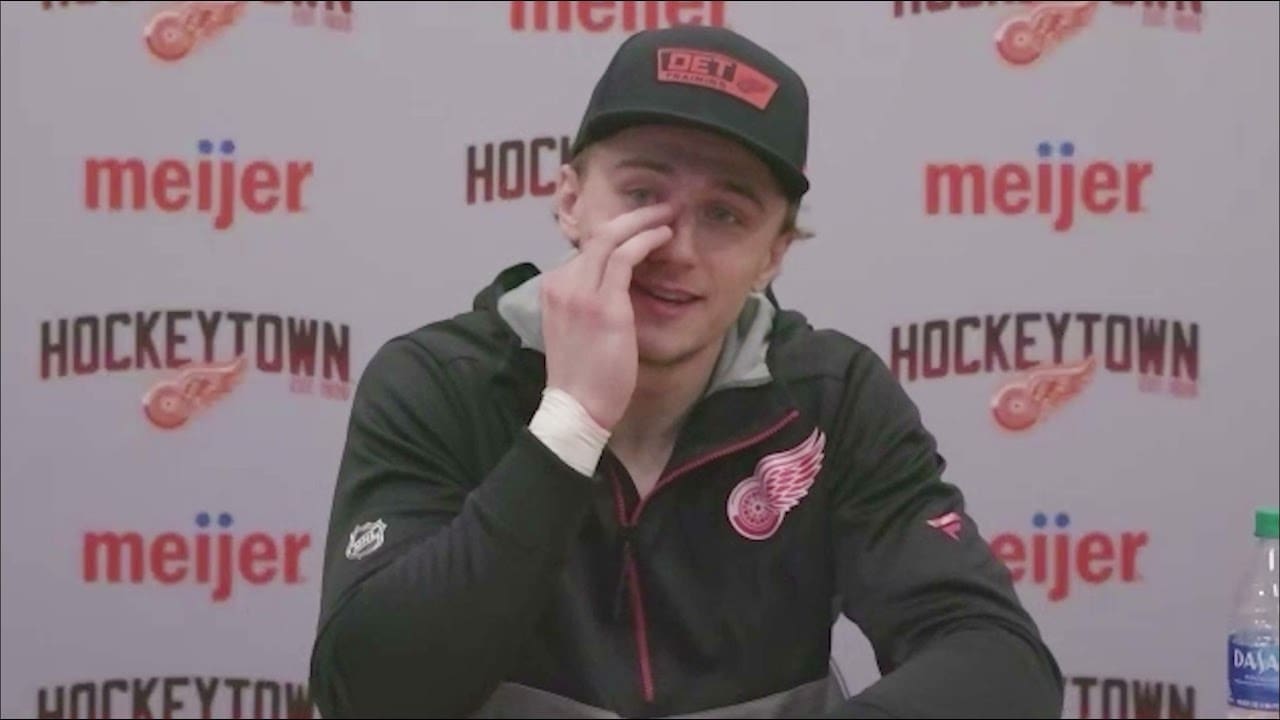 Professional hockey is a great life. There's the adulation of the fans and the healthy stipend that goes into your bank account, not to mention the first-class travel and five-star hotels on the road.
What's not to like about it?
Well, there's getting traded, for instance. And negotiating contracts, for another example of the grind of the job.
Jakub Vrana has dealt with both of these realities of hockey life during his brief time as a member of the Detroit Red Wings. The approach he is taking to these developments is that business is business.
"Obviously, this is part of hockey," Vrana said. "There is moments like that you are going through."
Green New Deal
Signed, sealed and delivered to a new three-year contract with the Wings that will pay him an average of $5.25 million, left-winger Vrana is locked in with Detroit and able to focus solely on becoming a better hockey player.
UPDATE: The #RedWings today agreed to terms with left wing Jakub Vrana on a three-year contract. pic.twitter.com/kewGHCzGZM

— Detroit Red Wings (@DetroitRedWings) August 10, 2021
"Obviously it was kind of a process but I'm happy it works for both sides," Vrana said. "I'm happy that it's over with and I can look forward to preparing for the season."
On the surface, it appears that Vrana fit in seamlessly with the Red Wings after arriving from the Washington Capitals in a trade-deadline deal that saw Anthony Mantha go in the opposite direction, among other moving parts. He netted eight goals and 11 points in 11 games. That included a four-goal outburst on April 22 against the Dallas Stars.
In reality, no transaction goes that smoothly.
Anytime a player is traded, it's a shock to their system. When it's a first-time experience, as was the case for Vrana, it's a bit of a jaw-dropping moment.
"When you go through something like that you don't really know what to expect," Vrana acknowledged. "Everything went kind of quick. Since Day 1 everyone was really kind and helped me to fit in."
Czech Chemistry
A bonus for him upon arrival in the Motor City was the presence of Czech compatriots Filip Zadina and Filip Hronek.
As much as he was welcomed and embraced by the entire organization, there's something about joining people with similar life experiences. Hronek (23), Zadina (21) and Vrana (25) are all around the same age. They've shared common traits. They come from similar hockey backgrounds and have taken the same journey through the development process.
They're able to reminisce and engage in conversation about their homeland that no one else on the team would be able to fully comprehend, everything from food to pop culture. Away from the rink, they can communicate in their native tongue.
"It's always good to have somebody from your country on the team," Vrana said. "You can speak their language and those guys I played with them on the national team, so I've been in touch with them before the trade and they are both great persons.
"They have made the transition easier for me."
It's a comforting sensation for all of them. And it can potentially make all of them more effective players on the ice.
The Russian Five were magical for a Red Wings dynasty of the different generation. Could the Czech trio help lead the Wings back from the hockey hinterlands to once again occupy a place of NHL prominence.
"The chemistry can be there with your countrymen," Vrana admitted. "They're both young guys, they have great potential.
"I'm looking forward to play with them in the coming years."