Status of Raymond, Berggren Uncertain As Red Wings Main Camp Nears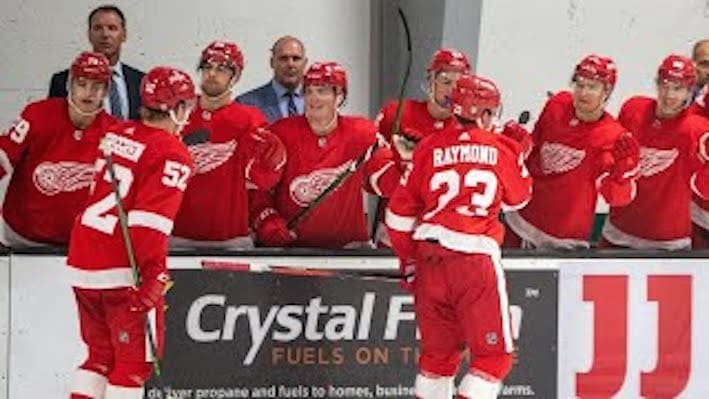 Rookie forwards Lucas Raymond and Jonatan Berggren are expected to challenge for positions on the Detroit Red Wings' roster when main training camp opens on Thursday, September 23. Whether they'll get that chance suddenly seems uncertain, or at the very least, unknown.
How seriously are Berggren and Raymond hurt? The Red Wings certanly know that answer but aren't sharing it.
Raymond and Berggren didn't play in Sunday's 7-3 loss to the Columbus Blue Jackets in Detroit's NHL Rookie Tournament finale at Traverse City, Michigan. Berggren, hurt in the previous game against the St. Louis Blues, wasn't expected to play. Raymond was a late scratch, leaving the Wings with just 10 forwards.
Whatever is ailing either of these young prospects is a closely-guarded secret. Will they be good to go when main camp hits the ice? The Wings haven't revealed what Berggren's injury is, or if in fact Raymond is hurt.
"I can't speak to that," said Grand Rapids Griffins coach Ben Simon, who handled the rookie team in Traverse City.
Berggren and Raymond spotted! They're nice and safe and cozy away from this chippy nightmare#LGRW pic.twitter.com/PONV4IUXXg

— Red Wings Rant (@BODHockey) September 20, 2021
He descbribed the decision to hold both players out of the final rookie game as precautionary.
"We erred on the safe side," Simon said. "Was it more important for them to play in a rookie game or have them ready to go for main camp?"
Will Berggren and Raymond be good to go when main camp begins?
"Our hope is that they are," Simon said.
Center Joe Veleno, who skated on the same line as Berggren and Raymond during the rookie tourney, was concerned to learn of their uncertain status.
"It's really disappointing," Veleno said. "It's a huge loss for us."