Red Wings Injury Update on Vrana, Larkin, McIsaac, Berggren, Raymond and Bertuzzi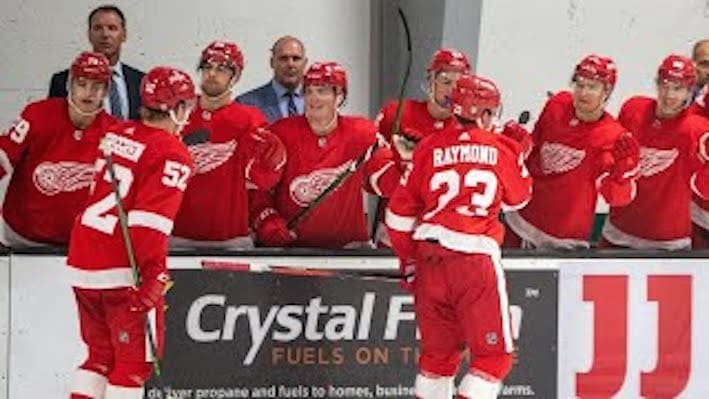 Steve Yzerman has been the Detroit Red Wings' general manager for 29 months and this training camp in Traverse City marks the first time the fan base will truly see how much progress he has made.
Yzerman's first draft pick Moritz Seider is expected to make the team, and his second first-rounder Lucas Raymond could make the team.  Rookies Joe Veleno and Jonatan Berggren also have a shot. Then there's considerable interest in seeing how Yzerman acquisitions Nick Leddy, Alex Nedeljkovic, Mitchell Stephens and Pius Suter improve the team.
"I think this makes for a more interesting training camp," Yzerman said. "I hope players realize…they have a lot to play for. "
The Red Wings haven't even really started in Traverse City, and already there are already players missing and hurt.
Injury Update
Berggren: Suffered a mild upper body injury in the NHL Prospects Tournament and isn't expected to skate on Thursday. He's listed as day-to-day.
Raymond:  Diagnosed with a mild lower body injury in the same tournament. He skated Wednesday with no issues and will skate Thursday. But probably won't go through the full session just as a precaution.
Jared McIsaac: The young defenseman was injured on a scary check-from-behind in the NHL Prospects. "As of yesterday, he was feeling better, but obviously not cleared to play at this point. He is following concussion protocol. Yzerman offered no time frame. "But it is encouraging that he is feeling better each day."
Jakub Vrana: His arrival to training camp has been delayed by visa problems. He is coming from the Czech Republic.
Dylan Larkin: After suffering a neck injury late last season, Larkin has been cleared for controlled contact. When will he be cleared for full contact? "I don't know if it's one day, two days, three days," Yzerman said, "but at some point we will know he is comfortable and our medical staff will be comfortable green lighting him for the next step."
Tyler Bertuzzi:  After playing only nine games last season because of a back injury, he had surgery. He has been cleared for controlled contact. "He's in a similar situation to Dylan Larkin," Yzerman said. He added that Bertuzzi's next step is getting into organized practices.