Alex Nedeljkovic: Why No. 39 Is My Number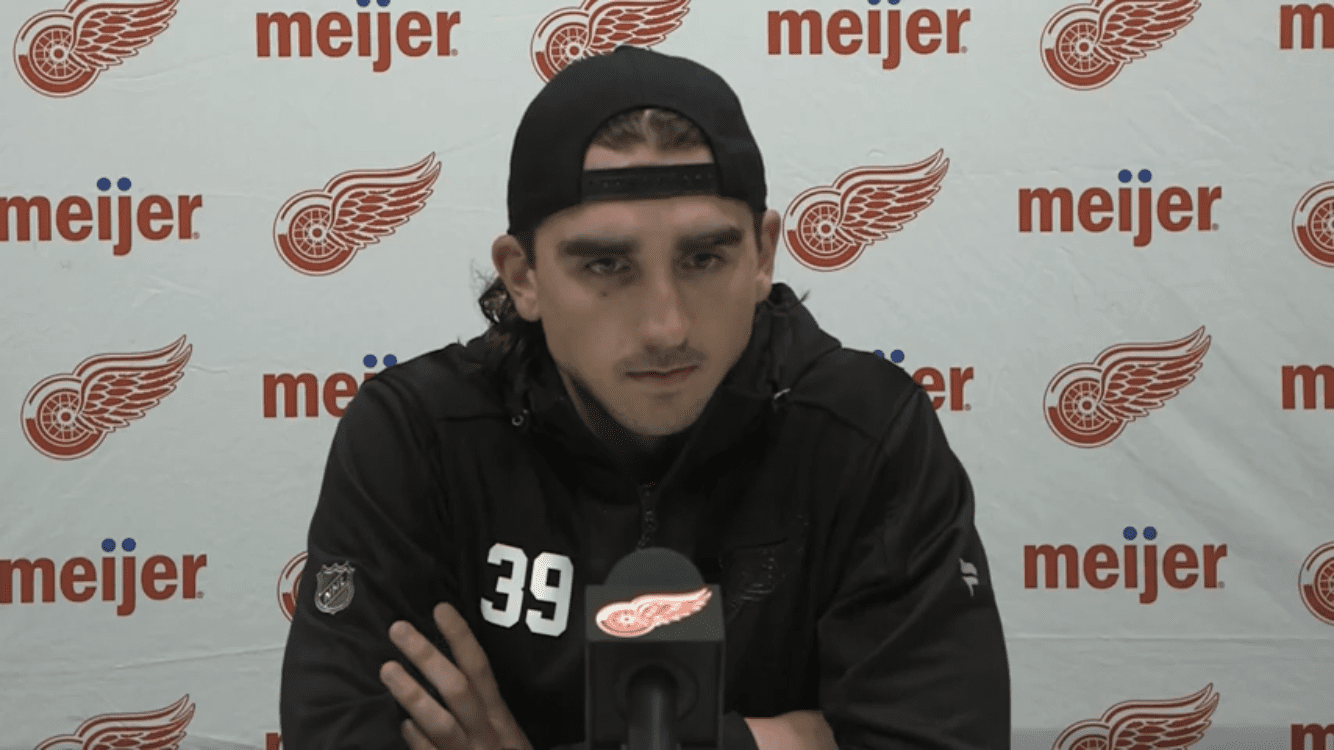 Alex Nedeljkovic hasn't always worn No. 39 on the back of his jersey but his fondness for having the number back there is quite understandable. And how it came to be his number probably isn't the reason you might have been thinking.
It's day one of training camp for new goaltender Alex Nedeljkovic and the Detroit Red Wings in Traverse City. @MISportsNow pic.twitter.com/icFrXVcVDL

— Tyler Driesenga (@tdriesenga3) September 23, 2021
Perhaps you recall the previous Detroit Red Wings goalie to don No. 39. It was Hall of Famer Dominik Hasek. All he did while a Red Wing was help the team win two Stanley Cups.
Sharing It With The Dominator
"He's one of the greatest goalies to ever play this game," Nedeljkovic said. "It's cool to see his picture up in the locker room and to go back and watch some highlights from when he was playing.
"Everyone always talks about how he's one of the best goalies, not only of his generation but of all time."
However, as much as he admires the work of Hasek, that isn't hero worship on his back. His No. 39 is not a tribute to The Dominator.
"No, that wasn't it," Nedeljkovic explained. "Honestly, it's just a number I've worn since I was in juniors. It kind of stuck and I was able to get it again."
The number certainly has proven rewarding to him. Nedeljkokic first wore No. 39 with the OHL's Plymouth Whalers. With those digits on his jersey he won the F.W. 'Dinty' Moore Trophy as the's OHL's top rookie goaltender and was named to the OHL First All-Rookie Team in 2012-13. The following season, Nedeljkovic was named OHL Goaltender of the Year and to the OHL First All-Star Team.
Moving to the Flint Firebirds and Niagara IceDogs, Nedelljkovic switched to No. 31. Internationally, he donned No. 30  for the USA U18s and No. 31 for the USA U20s. Turning pro, Nedeljkovic wore both 31 and 34 with the ECHL's Florida Everblades and No. 30 for the AHL's Charlotte Checkers.
Getting His Number And His Mojo Back
In his first two NHL stints with the Carolina Hurricanes, Nedeljkovic wore Nos. 29 and 31. Finally, when he was called up to the Canes in 2018-19, Nedeljkovic returned to old reliable No. 39.
Last season, wearing that number, he led the NHL in goals-against average (1.90) and save percentage (.932) and was a Calder Trophy finalist.
Alex Nedeljkovic made the NHL All-Rookie Team in 2020-21. What will he do for an encore in his first season with the @DetroitRedWings? #NHLStats pic.twitter.com/yAdcCyc5FV

— NHL Public Relations (@PR_NHL) September 20, 2021
Nedeljkovic was traded to Detroit on July 22.
He might not be wearing No. 39 because of Hasek – who was also traded to the Wings in July of 2001 – but Nedeljkovic hopes that he shares Hasek's good fortune in Hockeytown.
"It's cool," Nedeljkovic said. "Hopefully, I do well and I earn the number."