Will Worlds Success Catapult Stecher Into Greater Red Wings' Role?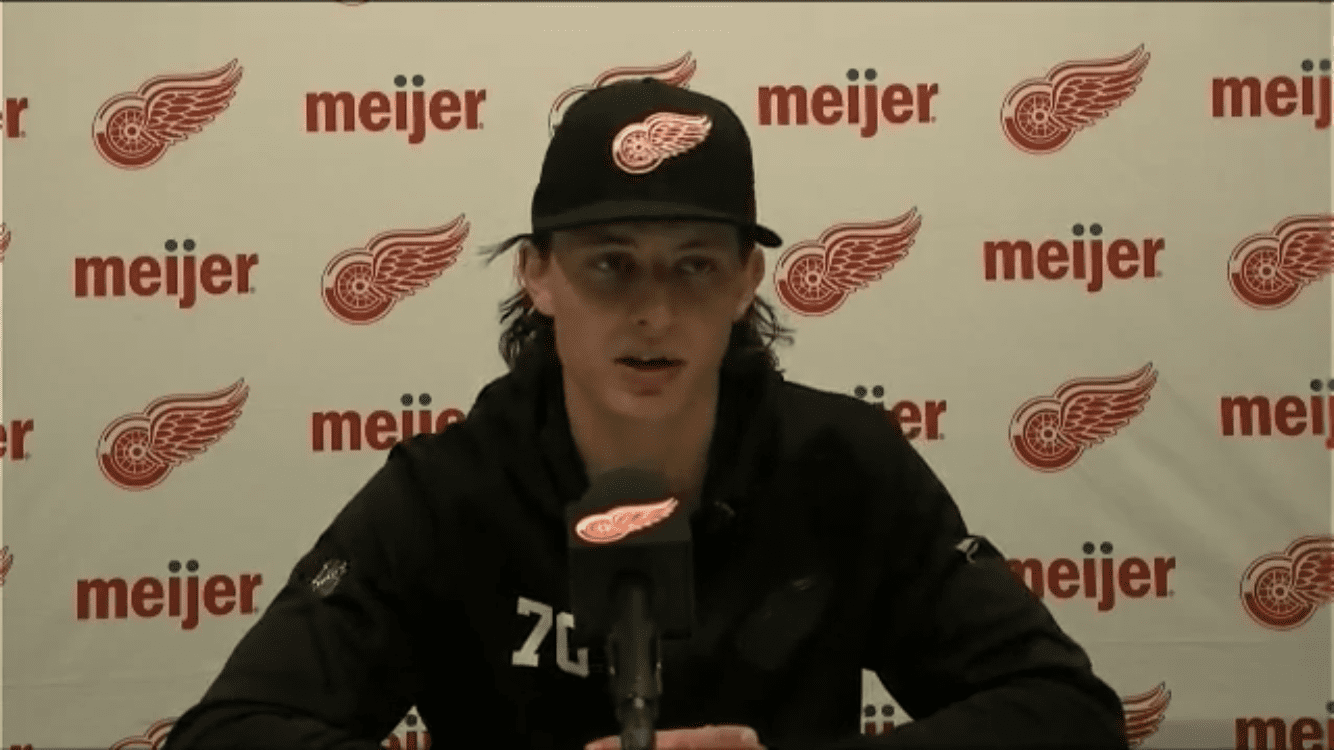 Yesterday the worlds, today Detroit? Is that the path to success that lays ahead for Red Wings defenseman Troy Stecher?
Stecher was a huge piece of the puzzle as Canada won the gold medal at the 2021 IIHF World Championship. He believes that will only serve to make him a more valuable player in Detroit's scheme of things.
"Last year for myself was kind of a season with two different ends," Stecher explained. "I started the season really well. Then I got hurt and came back and didn't play as well as I would have liked, so [going to the worlds] was an opportunity for me to extend my season, go play some meaningful minutes.
"I played a ton there and in an important role for that team. More than anything it gave me a lot of confidence and reassurance in myself as a player that I can play at this level and I can be a factor."
The season prior, Red Wings defenseman Filip Hronek filled a starring role for the Czech Republic at the worlds and was named the tournament's best defenseman. He returned to Detroit and led the team in scoring during the 2021 campaign.
Red Wings coach Jeff Blashill isn't anticipating that sort of magic from Stecher. However, after coaching the USA in two world tourneys, he's been witness first-hand to how it can catapult a player to a bigger opportunity with their NHL club.
Filling Different Roles
"Maybe you see them in certain roles that he's not had a chance at yet in the NHL," Blashill explained. "Then maybe at times that role expands.
"When Fil Hronek did it and Stecher, they're a little different in that Fill was still really, really young and Stech has been in the league a few years.
"What I would say with Stecher's performance over there is in his words, he was disappointed in the second half part of his season. So instead of leaving with a sour taste in your mouth all summer long, he can help build his confidence up by having that real good stretch there in the world championship. Obviously he made the big play to help secure the gold.
"I just think if anything, it helps build your confidence when you go over there and play."
Third Pairing Battle
The way things are shaking out in training as Detroit preps for the start of exhibition season, it appears that Stecher is in a battle for a third-pairing spot. You can probably pencil in the top-four pairings as Nick Leddy-Moritz Seider and Hronek-Danny DeKeyser. That's leaving Marc Staal, Jordan Oesterle, Gustav Lindstrom and Stecher seeking those final pair minutes.
"For me, I pride myself in my work ethic and what I do away from the rink, especially in the offseason,"Stecher said. "This past summer I took only six days off after the World Championship.
"Getting back to Canada, I looked at the schedule. It was June 17. I realized camp was coming up pretty quick.
"I've been on the ice basically for 12 months now, been to the gym the whole offseason. I just wanted to come to camp and show the organization, the coaching staff and management how hard I worked this summer and make sure I was in good shape."