Witkowski's Role With Red Wings: Make Sure Kids Are Alright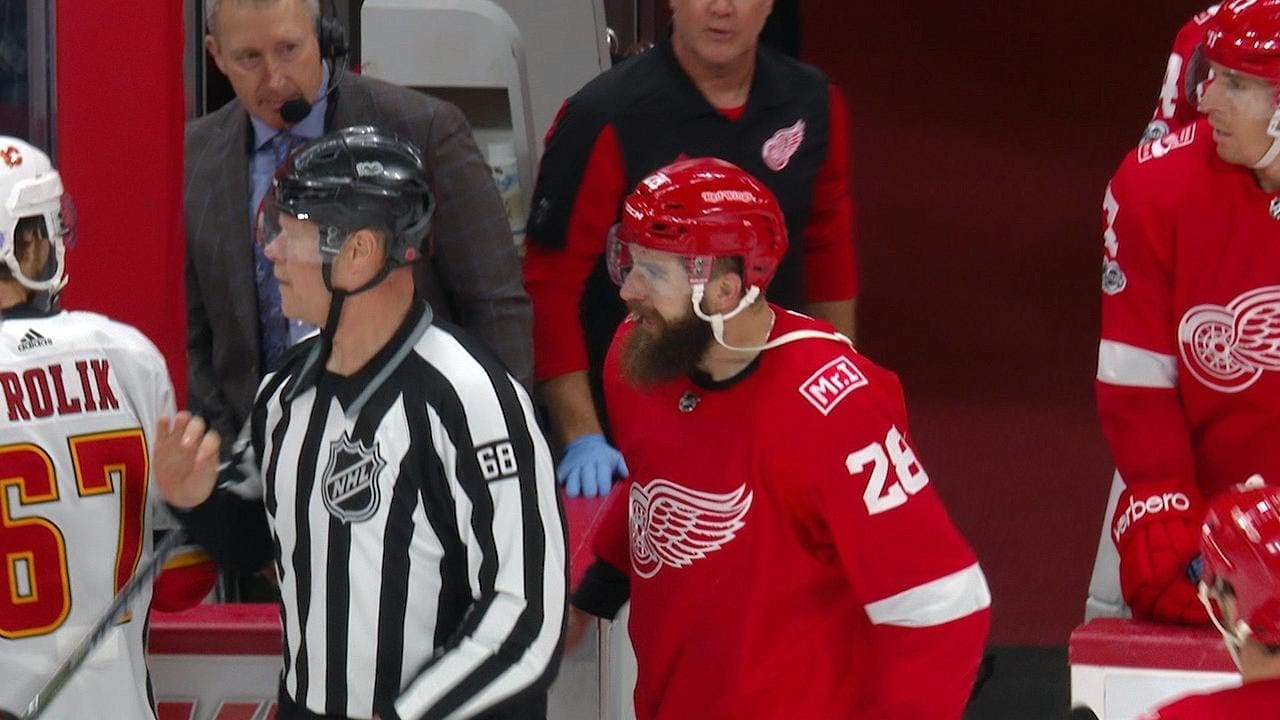 When Kelly Chase was a tough guy with the St. Louis Blues, he knew how NHL discipline worked in Detroit.
"I didn't have to call (NHL Commissioner) Gary Bettman to find out what the punishment was for running a guy from behind in Detroit," Kocur said. "The punishment was (Bob) Probert and (Joe) Kocur."
Certainly, Luke Witkowski's versatility played a role in his return to the Detroit Red Wings. It's already been a factor in preparation for the 2021-22 NHL season.
UPDATE: The Detroit #RedWings today signed defenseman Luke Witkowski to a two-year contract. pic.twitter.com/Oh8FE7P10S

— Detroit Red Wings (@DetroitRedWings) July 29, 2021
"Luke's an outstanding person, works extremely hard, and can play forward and D," Detroit coach Jeff Blashill said. "We had him slated to play forward at this camp and then we had some injuries and put him back to D. He doesn't blink, he just goes back there and plays D."
However, his main role with the organization will be making sure that opposing players do blink – or least, think twice about taking liberties with future of the Red Wings.
Whether it's in Detroit or Grand Rapids, plenty of young talent that figures to be a huge part of the rebuild of the Red Wings will be on display. We're talking about players like Lucas Raymond, Jonatan Berggren and Joe Veleno. Witkowski's role is to ensure that some lunkhead doesn't try to make a name for himself by taking one of them out.
A Deterrent
Detroit coach Jeff Blashill doesn't even try to deny the cause for the Witkowski effect.
"I think that is an important part of it," Blashill said of having Witkowski riding shotgun for their kids. "When you have a young team, if you don't have a deterrent, people try to take advantage of you, whether that's in Grand Rapids or in Detroit. So having some guys that make sure the opponent knows they're going to pay a price if they're going to take liberties with your young players is critically important."
The need for this role was evident during Detroit's NHL Rookie Tournament in Traverse City. Defenseman Jared McIsaac is still out after his head was slammed into the glas via a hit from behind. Berggren is also out due to an injury picked up there.
Luke Witkowski rocks Nordstrom and then tangos with Acciari. This game has been PHYSICAL! #BOSvsDET #LGRW pic.twitter.com/aKMgQK52ya

— Nick (@nickseguin19) April 1, 2019
If someone needs straightening out, Witkowski is a chiropractor on skates. Witkowski has collected 162 penalty minutes in 131 NHL games. In a previous stint with the Red Wings, he sat out 91 PIM in 65 games. During the past two seasons with the AHL's Syracuse Crunch, Witkowski was penalized 95 minutes in 43 games.
"During my years in the American League we had it," Blashill said of such of such a level of protection. "They've had it there the last number of years and we want to continue to have it."
Witkowski is player who does what he's asked without complaint – whether it be skating on the wing, the blueline, or in the path of someone who thinks it's okay to take cheap shots at his teammates.
"Just a real good person," Blashill said. "He brings a lot of things to the table – character, versatility and toughness. All those things are important."