Four Takeaways from the Detroit Red Wings' First Home Preseason Game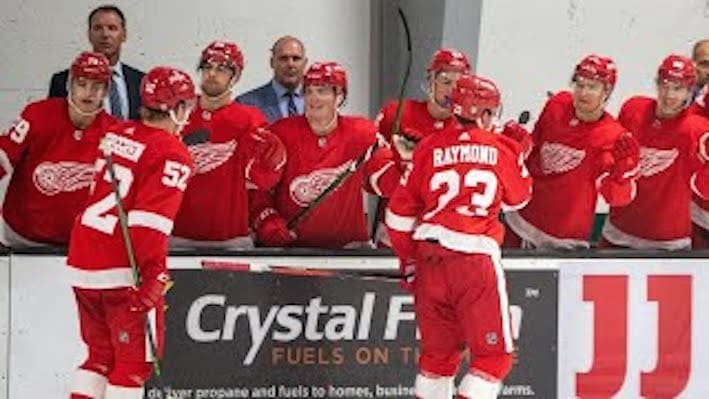 The Detroit Red Wings beat the Buffalo Sabres 6-2 Thursday in their home preseason opener. Here are four takeaways from the game:
Mrs. Blashill are you watching?
Lucas Raymond scored a goal and added an assist in his NHL preseason debut. He pounced on a loose puck 10 feet from the boards, turned toward the slot area and fired a shot through the wickets of goalie Ukko-Pekka Luukkonen. Raymond was also +3 in the contest.
It's only one preseason game against a poor Buffalo team. But Blashill has said Raymond needs to make himself visible in every game he plays and he certainly was noticeable in his debut. Blashill has joked that Raymond, 19, needs to play impressively to the point that even his wife knows he should be on the team.
What we saw in his preseason debut is what Raymond does best, sliding into the soft areas of the defense and beating a goalie with a quick shot.
Suter here, there and everywhere
Against the Sabres, Pius Suter had three assists, five shots on goal and was +4. Suter also controlled the power play and he killed penalties. Before that, Detroit coach Jeff Blashill said he's been exceptional throughout training camp.
Indications are that he will be an impact player on this rebuilding Red Wings' team. Right now, he's penciled in to be the No. 2 center behind Dylan Larkin. But it isn't far-fetched to consider the possibility the Red Wings' top two lines could be similar in their point production.
"He's smart and he's a play-maker and he's strong on his stick for a guy who is a little undersized," Blashill said.
What could a healthy Fabbri do for the Detroit Red Wings?
Robby Fabbri had two goals, four shots on goal and was +4. He showed excellent chemistry with Suter who he once played with in Guelph. Regardless of how sharp he looks in the preseason, the question is: Can he stay healthy? He missed 26 games last season, a handful the season before and another 50 in 2018-19. Fabbri has missed games in every NHL season he has played.
His strength is ability to score in traffic. In tight corners. He can roof the puck when there seems to be no room. He has been impressive in training camp. It would ease the pain of Jakub Vrana's absence if Fabbri could uncork a 25-goal season. He has that kind of skill.
"The big thing on Fabs is that he has been outstanding on his compete level,"  Blashill said.
Power Play has to start somewhere
The Red Wings were 0-4 on the power play. They were 0-for-1 against the Blackhawks Wednesday. That's 0-for-5 after two games. Yes, it's preseason. Of course, these lineups aren't regular-season lineups. Yes, Alex Tanguay has just begun to work the team on a new approach to the power play.
Still, there were regular power play performers out there against Buffalo. And still no one scored. It just seems like it's important that the Red Wings find some power play confidence early. No better time to do that than preseason when opponents don't always have their best penalty killers.
The Detroit Red Wings were 30th on the power play last season and progress is needed, even in the preseason.