Grind Line Will be Honored by Michigan Sports Hall of Fame tonight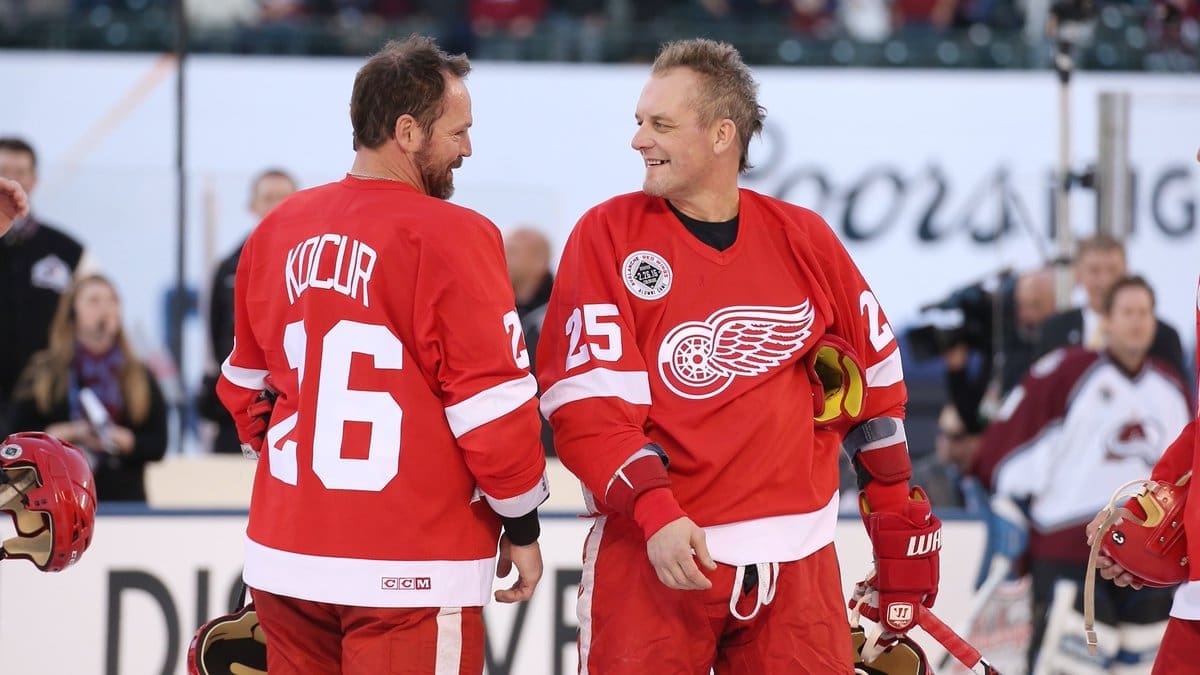 The Grind Line won over Detroit Red Wings fans with a blue collar work ethic and a feisty playing style. When you competed against the Grind Line , you knew were in for a long night. When you talked about lines that were hard to play against, this was the one by which all others were judged.
The line's accomplishment and popularity will both be recognized tonight when The Michigan Sports Hall of Fame  honors it with the Detroit Red Wings'  Grind  Line tonight with the Treasure Award.
The original Grind Line was Joe Kocur, Kris Draper and Kirk Maltby, and then Darren McCarty replaced Kocur.  All four players will be honored.  Draper, McCarty and Maltby won four Stanley Cup with the Red Wings, while Kocur won two. He has previously won a Stanley Cup with the New York Rangers.
McCarty scored the 1997 Stanley Cup-clinching goal against the Philadelphia Flyers. But he is more well-known for taking down Claude Lemieux in a famous fight as retribution for the nasty hit he previously had laid on Draper.
Congratulations to the fighter for mental health advocacy, the veteran supporter, Detroit's Favorite Step-Son, my business partner, and more importantly my friend, Darren McCarty for being inducted into the Michigan Hall of Fame tonight! You deserve it dude. Proud of you man! pic.twitter.com/0eV9V2e9JR

— Nick Antonucci (@NicNooch) October 1, 2021
Around the NHL
Detroit: Lucas Raymond put up two points in his first preseason game in a Red Wings jersey:
New York Islanders: Islanders decide to send rookie Aatu Raty back to Finland  
Philadelphia: Forward Joel Farabee continues to be impressive in the preseason
Pittsburgh: Penguins prospects get a second chance game against Buffalo
San Jose: Who's stock is up and who's is down at the San Jose Sharks training camp
Vancouver:  Canucks close re-signing Quinn Hughes Elias Pettersson to contract extensions
Washington: Capitals do some roster trimming on Friday