Five Ways Red Wings Can Make Up For Lost Vrana Goals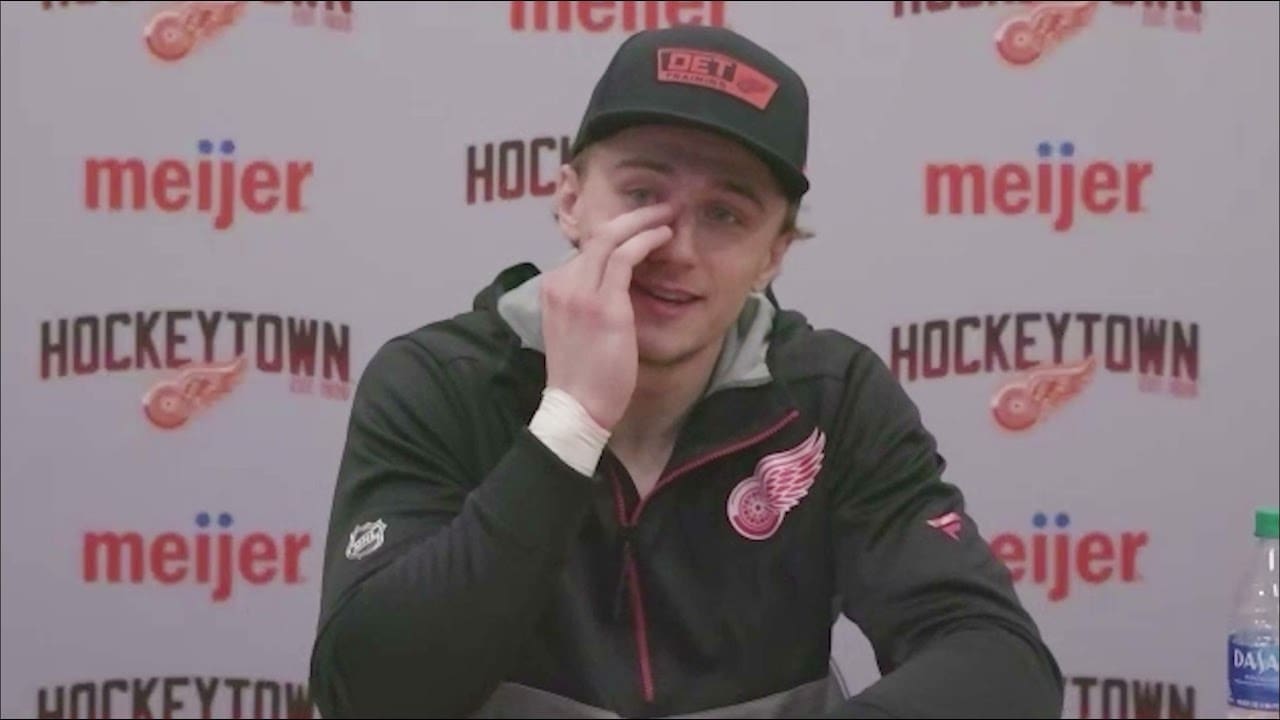 The answer to the question from Detroit Red Wings forward Filip Zadina was as brutally honest and it must be frightenly blunt in the eyes of Red Wings fans.
Expected goals is a category the analytics crowd embraces lovingly. In the case of forward Jakub Vrana, it's fair to say that the Red Wings were expecting a lot of goals from him this season. After all, he scored eight times in his first 11 games with the team.
Jakub Vrana is the first @DetroitRedWings player to score four goals in a game since Anthony Mantha, who he was traded for on April 12. #NHLStats pic.twitter.com/kVcCjUOzmm

— NHL Public Relations (@PR_NHL) April 23, 2021
Shoulder surgery last month assures that Vrana won't be contributing any goals for the next four months. So how are the Wings planning on filling this offensive void?
That's the question Zadina was pondering. His answer wasn't exactly reassuring.
"I guess we'll see during the season," said Zadina, whose answer was giving off a 'your guess is as good as mine' vibe. "Obviously it's a huge loss. Having Jakub here, it was great. He's an offensive player, he's a goal scorer for sure.
"We just gotta figure it out and do it on our own and wait for him until he comes and then he will help us playing good hockey."
Here's five methods through which the Wings can set out to figuring out this dilemma.
Zadina Taking Another Step Forward
The answer that would've proven to be music to everyone's ears would be Zadina saying that he expects to put away many more goals than the six he registered in 49 games last season.
The way that can happen is twofold. Firstly, Zadina needs to be using his teammates more effectively as an offensive weapon. Secondly, he must be more of a presence in the goal-scoring locales.
"Ultimately with Z, the two areas that we worked with him to be effective is to become more of a give-and-go player and then . . . the net front and slot," Red Wings coach Jeff Blashill said of Zadina. "When he's been effective, if you look at it statistically over the years, that's where he's scored from. That's where everybody scores from and that's where he's got the majority of his shots from.
Filip Zadina (@zadina_filip) natáhnul, zamířil a vyslal nechytatelnou švihovku do šibenice! 🎯 pic.twitter.com/rztMLSCW3g

— NHL Česko (@NHLcz) October 3, 2021
"When he's not as effective, he's on the outside too much. And you can't get to that area a lot of times just by beating people yourself. You have to give and go. We've put an emphasis on that. Hopefully he can excel at that."
Over 86 NHL games, Zadina is showing 15 goals. Even were he to get 15 this season, that would prove satisfying.
Red Wings Power Play Keeps On Clicking
Quick, draw a finish line. The Red Wings are the NHL's No. 1 power-play unit. Entering Thursday's game against the Pittsburgh Penguins, the Wings are clicking at a 40% (8-for-20) success rate with the man advantage.
True, it's only preseason but this a team that rated 30th overall (11.4%) in the league on the power play a year ago. No, they won't keep scoring at that rate. But even a jump into 18% range, which would still leave them in the bottom third of the league, would add another 20+ goals to the team's output.
Certainly, the addition of defenseman, an expert at zone entries, has helped their cause. The players are also embracing the philosophies of assistant coach Alex Tanguay, the club's new power-play guru.
"We just got a new energy on our team, a new coach for power play," Filip Zadina said. "He told us what we should do and we are listening and trying to do the things he wants. I think it's going in the right direction right now."
Community Projecting
Zadina isn't the only one among Detroit's top-six forwards who could help by taking a step forward in the lamp-lighting department.
Not only is captain Dylan Larkin bouncing back from a season-ending neck injury, he'll be looking to rebound from a career-low nine goals in 44 games. He netted 32 goals as recently as 2018-19. Back surgery shut down forward Tyler Bertuzzi after just nine games last season. He scored five times in those nine games and was the author of 21 goals in each of the two previous seasons.
Center Pius Suter was a 14-goal scorer last season as an NHL rookie in Chicago despite almost no special teams work. How much more can he score with a regular turn on the Red Wings power play? Vladislav Namestnikov was a 22-goal scorer in 2017-18. No one is expecting that level of production but counting on him for much more than the eight goals he delivered last season isn't out of the question.
Bobby Ryan, on a pro tryout, ought to be able to hit double digits in the goal column if he earns a contract. If Robbie Fabbri can stay healthy, he's capable of scoring into the high teens.
Raymond Keeps Lighting It Up
Perhaps the biggest X-factor in all the scoring equations is rookie forward Lucas Raymond. Is he going to be making the team? If so, will he continue to be a consistent offensive producer during the regular season?
Lucas. Raymond. pic.twitter.com/7fN5sUzNnu

— Detroit Red Wings (@DetroitRedWings) October 5, 2021
Entering Thursday's game, Raymond was leading the Red Wings in the preseason with 2-4-6 totals from four games. No one can realistically be expecting him to be maintaining that pace. It would amount to a 123-point season. But if Raymond can score more than 10, it will really help fill the Vrana void.
Red Wings Role Players Get Rolling
Last season, Adam Erne ended up finishing with a career-best 11 goals. Off-season addiition Mitchell Stephens has displayed a touch aound the net in camp and during the preseason. Michael Rasmussen should end up closer to the eight he scored in 2018-19 than the three he got last season.