Five Takeaways From The Detroit Red Wings' Last Preseason Game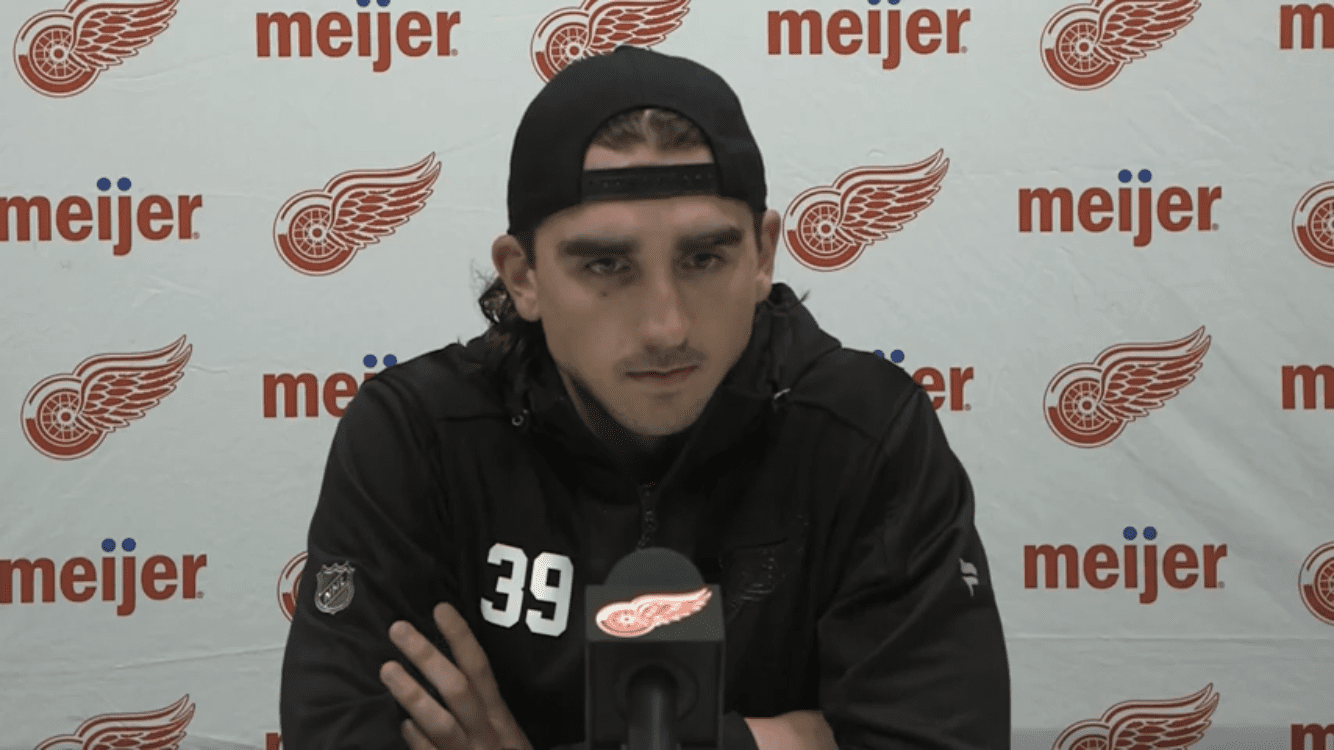 Wrapping up the NHL preseason on Saturday in Buffalo, the Detroit Red Wings were in mid-season form. It could've been last mid-season, or the season before that, or the season before that. Take your pick.
The performance by Detroit wasn't very good at all during a 3-1 loss to the Sabres. It served as a stark reminder of how ugly it can get when the Red Wings don't bring their A-game to the rink.
"Especially early on, have to make better plays, get open for each other, execute, be harder on pucks," assessed Wings forward Sam Gagner. "It's important for us to all be on the same page."
Red Wings coach Jeff Blashill echoed those sentiments. "We weren't very good," Blashill said. "They were good. They won way more puck battles and puck races than we did, so it felt like we were a step slow, a step behind most of the night."
Some other takeaways from the Red Wings' last audition prior to the curtain going up on the 2021-22 NHL regular season.
Game Winner A Real Puck Up
Despite being badly outplayed, the Red Wings found themselves in a 1-1 tie and on the power play as time was about to expire in the second period. Red Wings goalie Alex Nedeljkovic abandoned his net to handle a Buffalo dump in, seeking to make a quick feed up ice with seconds to go in the period. Instead, his pass attempt banked off the leg of Red Wings defenseman Moritz Seider to Buffalo's Zemgus Girgensons for an easy tap in.
In the words of @Steve_Dangle: "That's a Dang-It". 😬

🎥: @BuffaloSabres pic.twitter.com/ejwqrRzfRk

— Sportsnet (@Sportsnet) October 9, 2021
"The second goal is obviously a miscue but it's not a miscue that can't be corrected," Blashill said. "I'm not really long-term worried about that miscue. We'll get that corrected, we'll make sure he understands the proper time to play it, and when it's not."
Other Than That Goal, How'd You Like Ned's Play?
The worrying from Red Wings fans regarding Nedeljkovic's uneven play during the preseason should've subsided somewhat on Saturday. He was the only person keeping the Red Wings in the game. Nedeljkovic made 35 saves, 29 of them during the first two periods.
"He got tested a lot, especially the first half of the game," Blashill said. "I thought he was really good. I thought he saw the puck well."
Kids Aren't All Right
If this was the final exam to determine if they'll earn a spot on the team, those test papers are going to come back to rookie forwards Lucas Raymond and Joe Veleno with a lot of red marker all over them.
Neither player distinguished themselves. Did they extinguish their chances of sticking with the big club? That remains to be seen.
"It does show guys, our young guys, the relentless nature of the league," Blashill said. "You got to show up every single night and you got to find a way to have a great 'B' game when you don't quite have your best stuff.
"That's good experience and it's good for evaluation purposes."
Red Wings Stephens Hitting It Old School
Center Mitchell Stephens made the play to create the Red Wings' only goal. Going in hard on the forecheck, Stephens took an old-time hockey approach to bodychecking. The modern method is to go into the corner blasting the defender into the boards and blowing things up.
Sam Gagner's bury to knot this one up. #LGRW

📺: https://t.co/a1ZFiGyALB pic.twitter.com/oLix1vArLZ

— Detroit Red Wings (@DetroitRedWings) October 9, 2021
Instead, Stephens was opting for the old school forecheck. Bumping Sabres defender Vinnie Hinostroza off the puck. Stephens skated off with it, quickly feeding it out to Gagner who scored.
"That was a great job eliminating the guy's hands, using body position to win the puck and made a nice play there for the goal," Blashill said.