Lucas Raymond Will Launch his Detroit Red Wings Career on Top Line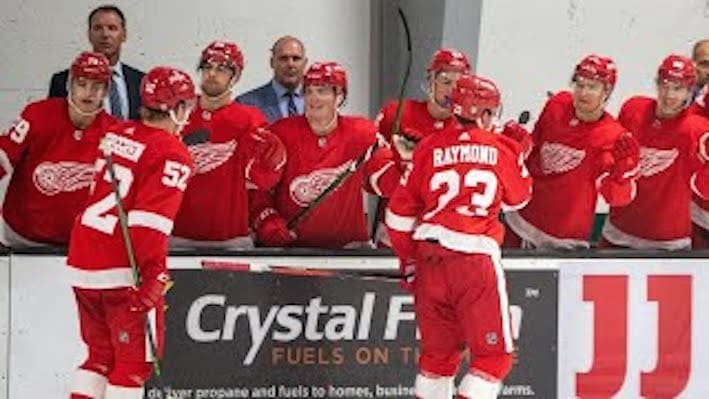 Moritz Seider is expected to be a full service defenseman, contributing offensively, defensively and as fellow rookie Lucas Raymond's chauffeur.
That became necessary Monday when Steve Yzerman held a meeting with Raymond, 19, and told him he had made the team.
"He told me that I played good during the preseason, but it's a lot of work still to do,"  Raymond said.  "Just because I made the opening night roster doesn't mean I will play the entire season. For me, it's just go out there and play good and prove myself and take it from there."
Raymond is expected to play on a line with captain Dylan Larkin and Tyler Bertuzzi when the Red Wings play the Tampa Bay Lightning on Thursday at Little Caesars Arena. Raymond spent time playing with Larkin and Bertuzzi at different times in the preseason.
"When I played with (Larkin), it's been really easy because he's a really, really smart player with a lot of speed," Raymond said. "And he does everything at a high pace and has a great mind as well. So, it's easy to read off and he makes great plays as well. It makes the people around him better."
Raymond and Larkin now share the accomplishment of making the NHL at age 19, 15 months after their draft year.  Detroit arena native Larkin was drafted 15th overall in 2014 and started his career in 2015-16. Swedish-born Raymond was drafted fourth overall in the 2020 draft and will play this season.
Raymond and Larkin Made Red Wings as Teenagers
"(Larkin and Raymond are) very different people," Red Wings coach Jeff Blashill said.  "I think both of them have an inner belief in themselves. Both have an inner drive to be great. Both can accept coaching. But they're definitely different people. They're coming in at different times. Larks was able to play with (Henrik Zetterberg) right away, which was a positive for him and hopefully Raymond playing with Larkin can help Razor. Are there some similarities? I think some. But they're definitely different people."
Raymond registered six points in his first three preseason games. More importantly, he looked offensively dangerous on most of his shifts. One of his strengths is reading the defensive coverage and understanding where the soft spots are located.
But Raymond had no points in his final three preseason games. That's why he wasn't sure what to expect when he was told Yzerman wanted a meeting.
"You never know what's going to happen," Raymond said. "So I was really unsure. I didn't really know what to expect, but I try to keep it positive, but also have like both sides. Like if it goes, well, it goes, well, if it doesn't go well, then we'll take it from there. But I was sure nervous."
A reporter asked him if it was like being called to the principal's office.
"I've never been called to the principal," Raymond said. "But for sure. I mean, he's the boss."
The Red Wings need scoring to replace the goals lost when Jakub Vrana was lost for four or five months because of shoulder surgery. Vrana was
injured during the opening 10 minutes
of his first training camp practice.
Replacing Vrana's Goals
"(Vrana) is a big player in this team and then of course when a player like him gets injured, it opens up a spot," Raymond said. "And I think everyone during the training camp had a chance to get in that spot."
But it was Raymond who took advantage of it. The Red Wings only had one real roster spot open up front. Veteran Bobby Ryan was released from his tryout contract Monday. Another promising rookie, Joe Veleno, was sent to Grand Rapids yesterday. He had played solidly in training camp, but doesn't boast the offensive magic that Raymond commands.
Jonatan Berggren might have had a shot, but he was injured early in training camp and never really got going. He also ended up in Grand Rapids.
It's interesting to note that Seider and Raymond, the only two prospects to make the team, were Yzerman's first round picks over the previous two seasons. Raymond is moving in with Seider. Raymond said early in training camp that Veleno had been his "Uber Driver."
Seider just bought a new car. "So now he has that spot," Raymond said.
Expectations are high for both players.
"But potential has to become reality and I think both Seider and Raymond have attributes to be real good hockey players and real good winners, which matters," Blashill said.  "How good can they become? I don't know that answer, and how quickly, I don't know that answer. That's for them to decide with their play on a night to night basis. But you always have to measure your expectations. What is the potential of each guy and how quickly can they reach it?"