Red Wings' Larkin Can't Rewrite History But Can Write New Chapters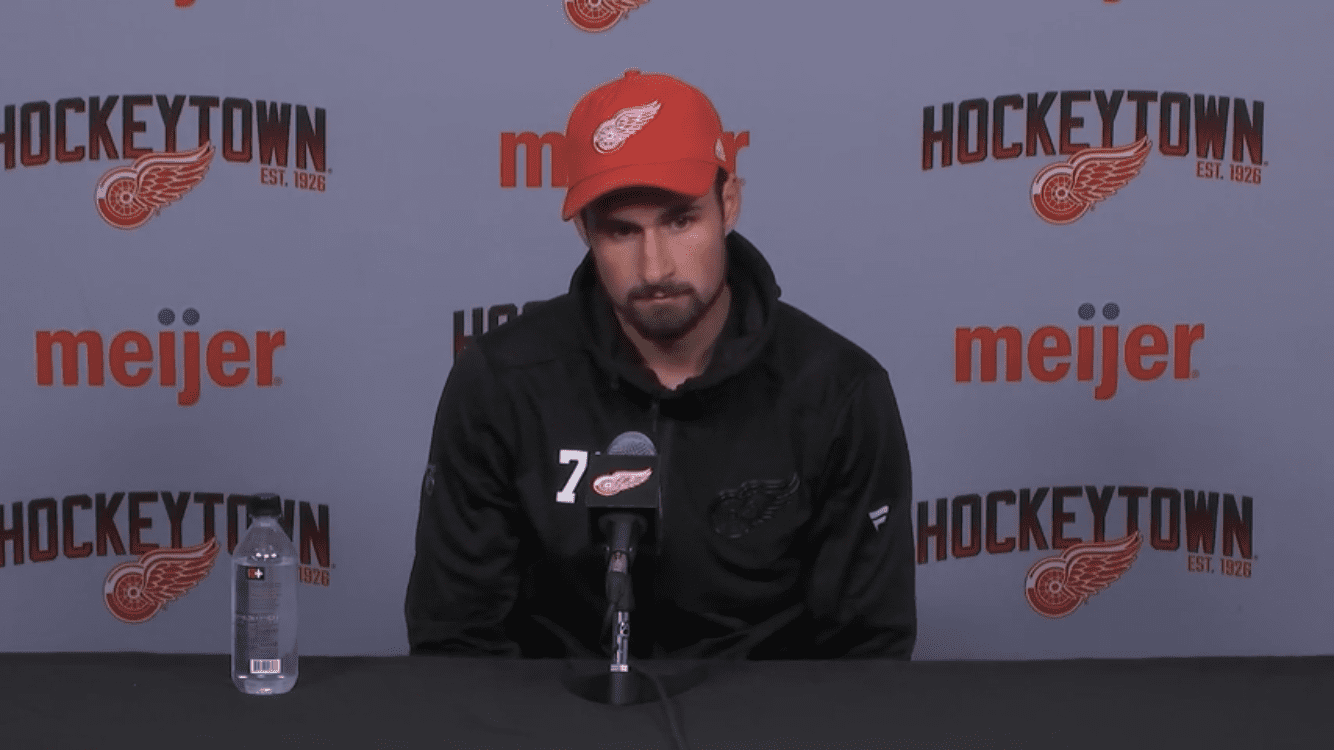 Seeking change, Dylan Larkin is putting forth a cause that might be viewed as understandable and in some circles, perhaps even noble. In reality what the Detroit Red Wings captain wishes to do is not possible.
"We've talked about starting our own thing,"Larkin was explaining on the eve of the 2021-22 NHL season. "We're our own team and we're gonna write our own history, I guess.
"Just start our own history."
Sorry Dylan. It doesn't work that way.
Your 2021-22 Captain & Alternate Captains. 🤩 pic.twitter.com/RpcxaKP74U

— Detroit Red Wings (@DetroitRedWings) October 13, 2021
You can't erase history. This isn't a high school textbook in which the happy events are emphasized and the unfortunate parts are glossed over or mentioned in brief.
Eventually, though, the truth will always be found out.
The mostly disatrous history of the Red Wings during Larkin's six seasons with the franchise is seared in the memory of the team's fanbase. Dylan Larkin can't borrow Dr. Emmett Brown's Delorean, go back in time and make it all go away.
Changing The Narrative
He can't change history. However, what he and his teammates can most certainly do is change the narrative.
All Larkin has to do to know that is to have a conversation with his boss.
Today, the opinion of Red Wings GM Steve Yzerman is that he is one of the game's greatest winners, the ulimate in exemplary leadership.
That wasn't the viewpoint offered of Stevie Y during the first decade of his NHL career. There's an infamous story of Yzerman heading to Las Vegas for a vacation following another early Red Wings playoff exit in the early 1990s.
Dylan Larkin and @DetroitRedWings open up season play against the Tampa bay Lightning at the LCA Thursday night puck drops at 7:30 #goblue #RedWings pic.twitter.com/Qaw3UwdbmW

— Tony (@detroitmediamag) October 13, 2021
Taking a seat to partake in some table game action in a Sin City casino, Yzerman was instantly recognized by two fellows already playing there. After Yzerman confirmed his identity, the one guy turned to his buddy and suggested that they play elsewhere. It was obvious to them that this table would be a loser.
Without a doubt, the view of the current Red Wings team aligns with that assessment. They've missed the playoffs in five successive seasons. Their offensive productivity and special teams rate among the worst in the NHL.
Red Wings Believe They Can Turn Things Around
Larkin believes in this team. He likes how the offseason additions of Pius Suter and Nick Leddy are boosting the club's ability to generate offense. The schemes of new assistant coach Alex Tanguay are going to beef up the output of the power play. The influx of defenseman Moritz Seider and forward Lucas Raymond, two of the club's last three first-round draft picks, is deepening the Red Wings' talent pool.
"Absolutely," Larkin said. "Suits (Suter) is a solid player. He's really good at everything and plays the game the right way. He's made the players around him better. Getting Bert back, adding a guy that we missed all of last year, is like adding a new top six player. We get him back, we get Suits in there, it's on us to produce now.
dylan larkin ❌ dylan parkin✅ pic.twitter.com/o7XLrSo6OC

— wayne gretzky twink era (@furless_gritty) October 13, 2021
Ultimately, it's up to the players to take the necessary steps to move this team forward. There are ways that this can be done.
"Well, the power play's one," Larkin said. "It's a huge emphasis, a huge aspect for any winning team. We didn't get enough the past couple of years.
"I know we got Alex Tanguay in to run the power play but it still is on our shoulders. We have 82 games here to prove that we can produce on the power play and put pucks in the net in key moments."
Larkin Seeking To Emulate Conquering Heroes
Larkin grew up watching the Red Wings dominate the NHL, winning four Stanley Cups between 1997-2008.
"There's so much history with this team," Larkin said. "You can look at that as pressure but things haven't been going well. We're gonna focus on trying to start something right now. Start something with a push for the playoffs, and playing meaningful games and playing the right way and the power play, penalty kill and special teams.
"We need everyone contributing and then it's fun. You win hockey games and then we can start to write history on our own."
No, the Red Wings can't change history but they can change the narrative.
It all starts in Game 1 against the Tampa Bay Lightning.