Duff: Larkin One Game Suspension–Punishment Fits the Crime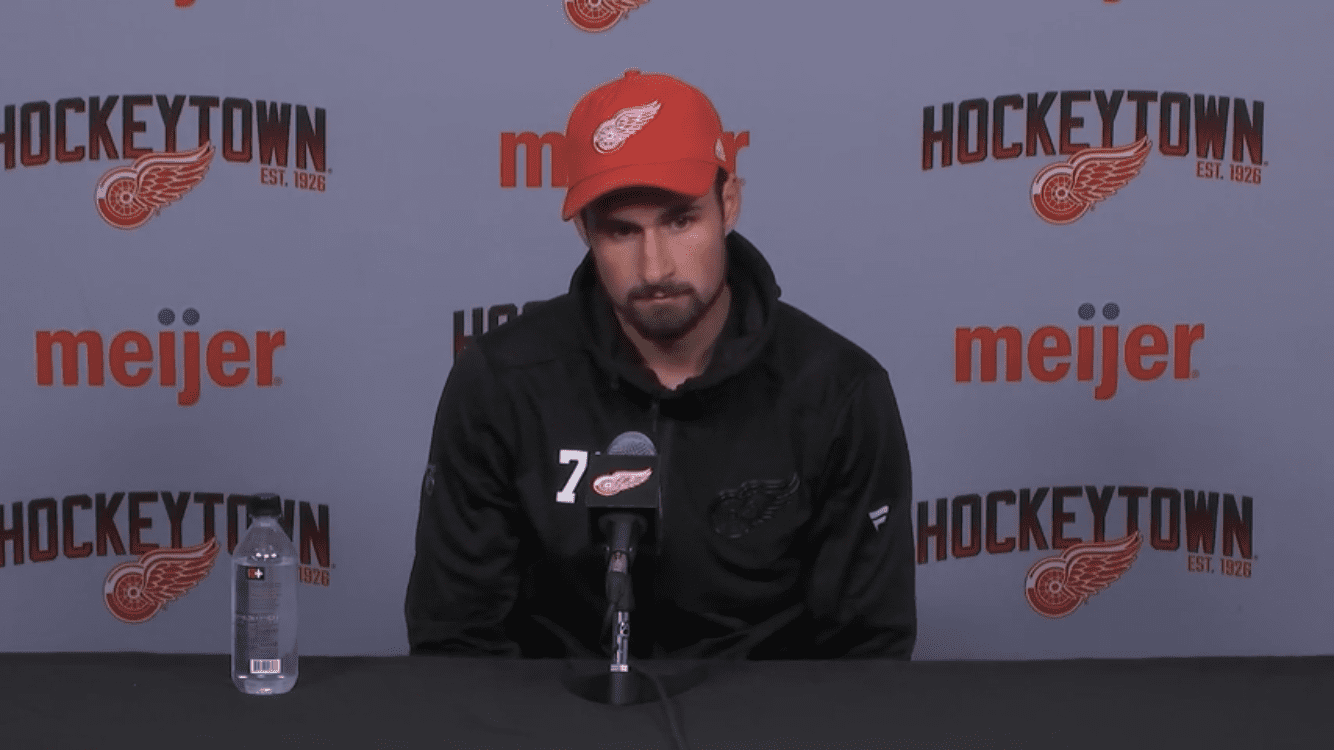 Considering the mitigating circumstances, Dylan Larkin's reaction to being hit into the boards by Matheiu Joseph of the Tampa Bay Lightning was entirely understandable.
That being said, Larkin must also recognize and understand why it was necessary for the NHL to respond to his actions in the manner that the league did.
The Detroit Red Wings captain is being issued a one-game suspension by NHL Player Safety for sucker-punching Joseph. In this case, the punishment fits the crime.
Detroit's Dylan Larkin has been suspended for one game for Roughing Tampa Bay's Mathieu Joseph. https://t.co/xcYgB6dnjh

— NHL Player Safety (@NHLPlayerSafety) October 15, 2021
Thursday's NHL season opener was Larkin's first regular-season game since last April. His season came to a sudden and painful end after absorbing a cross-check to the neck from Dallas Stars captain Jamie Benn.
Thus, when Joseph pushed a hunched-over Larkin head-first into the boards during second-period action, the captain's rage ended up overflowing. He arose and drove a right–handed, gloved sucker punch directly to the face of his attacker.
Larkin was assessed a match penalty, calling for an automatic hearing with the league's disciplinarians. That hearing went forth Thursday. A few hours later, the suspension announcement was forthcoming.
Empathy For Larkin's Plight
Viewing it from Larkin's point of view, there is room for empathy. He endured several weeks of painful rehab on his neck. Larkin was wearing a cervical neck collar for much of that time.
"I didn't really like the hit at all," Red Wings teammate Robby Fabbri said. "He kind of saw his numbers the whole way and after what Larks has been through the last three months with his injury, it wasn't nice to see.
"I'm not surprised at the way he reacted."
Jeff Blashill on the Dylan Larkin/Mathieu Joseph incident:

"(Joseph) hits him right in the numbers … (Larkin) gets up, there's no penalty called. I think at that point he's thinking, 'We have to police ourselves out here.'"

Later adds, "I certainly understand it." #LGRW pic.twitter.com/rn9MOwIi1X

— Nolan Bianchi (@nolanbianchi) October 15, 2021
However, the bottom line is that frontier justice isn't acceptable as a form of behavior. That's a fact of life at the rink and in the street.
Suppose you ended up suffering a neck injury after being rear ended. After months of rehab, you're finally given the 100% cured notification following a check up. On the home from the hospital, your joy is suddenly subisded when another car rear ends your vehicle.
Rushing back and punching the other driver in the face might seem a logical choice in the heat of the moment. But rationalizing your circumstances to the police isn't going to keep them from arresting you for assault.
Red Wings' Larkin Serving Notice
Taking the law into your own hands must always be met with consequences. Otherwise, there'd be anarchy, whether it's on the ice or in the neighborhood.
Larkin's action are serving a purpose. It's putting the rest of the league's rats on notice that if they try to board his ship, they'll be going down for the count.
Handing Larkin the minimal sitdown is also serving a necessary purpose. It was a way for the league to tell the Detroit captain that they get it, while also reminding him that he can't keep doing that.
Message sent – by Larkin and by the NHL.