Duffer's Dabbles: Ex-Red Wing Larionov Joins Russian Staff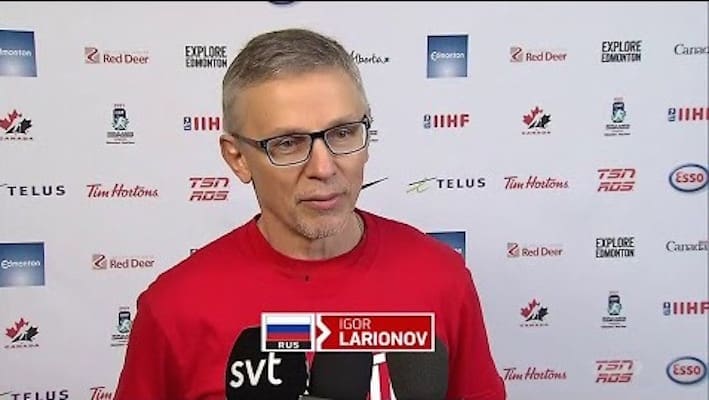 It looks as though another Detroit Red Wings connection is heading to Beijing for the 2022 Winter Olympics. In this case, it's a former Red Wings player.
Igor Larionov, who won three Stanley Cups with the Red Wings, is being added to the Russian national team coaching staff by head coach Alexei Zhamnov.
Larionov coached the Russian team to a fourth-place finish at last year's world junior championship. It's interesting that four of five members of Detroit's famed Russian Five now occupy places of prominence within the Russian hockey and sports hierarchy. Besides Larionov, Slava Fetisov is in charge of the Russian Sports Federation. Sergei Fedorov is coaching CSKA Moscow and Slava Kozlov is an assistant coach with Dynamo Moscow.
All of them played for two of the most successful coaches of their generation – Viktor Tikhonov with the Soviet National Team and Scotty Bowman while performing for the Red Wings.
Howe Enduring For Red Wings
It was 75 years ago today that Gordie Howe made his NHL debut for the Red Wings. He scored a goal in a 3-3 tie against the Toronto Maple Leafs. Howe's first (Turk Broda) and last (Tony Esposito) goals for the Red Wings were netted against Hall of Fame goaltenders.
Howe's last NHL regular-season goal was also scored on a Hall of Famer, Rogie Vachon. What's also interesting about that goal, Mr. Hockey's 801st NHL tally, is that it was the only one he ever scored against the Red Wings.
Around The League
Toronto: Off to a 1-1 start, it's not difficult to make the case that another season of failure will cost the Maple Leafs plenty.
Vegas: The Golden Knights, in the Stanley Cup final four, are also proving slow when it comes to breaking from the gate. And now they'll be without captain Mark Stone.
Calgary: Oliver Kylington is a lot like Juuso Riikola. Depth defensemen with the talent to be a regular but have been buried by bad luck, lack of opportunity, and coaches' decisions. Fan-favorite Kylington is still fighting in Calgary. 
Montreal: Last spring's Stanley Cup finalists are 0-2 after a 5-1 loss . . .  to BUFFALO?!
Vancouver: Our exclusive chat with NHL Deputy Commissioner Bill Daly COVID-19, Olympics and Alex Ovechkin with our man Rob Simpson.
Boston: Bruins defenseman Charlie McAvoy got paid.
Pittsburgh: Penguins bandwagon fans are jumping overboard. 
Power Outage On Island
NYI: Scoring goals continues to be a deal breaker for the Islanders, even on the power play.
Washington: Hendrix Lapierre is leading the Capitals' youth movement.
Florida: Just what the Panthers needed – another high-end skill plyayer. Rookie Anton Lundell turned heads in the Florida opener. 
Detroit: The Red Wings will be without captain Dylan Larkin for one game due to an NHL suspension and perhaps longer due to injury.
Colorado: Avalanche forwards Nathan MacKinnon, Valeri Nichushkin (injuy) and Gabriel Landeskog (suspension) are all out for Saturday's game with the St. Louis Blues.
San Jose: Rookie William Eklund turned 19, and celebrated his birthday with a trip to that Swedish staple IKEA.