Lucas Raymond Nets First NHL Goal to Spark Detroit Red Wings' Win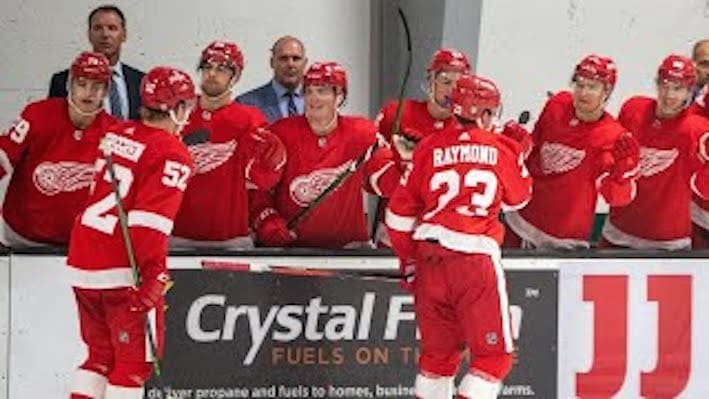 Former Detroit Red Wings Jimmy Devellano says he sees a hint of Steve Yzerman in 19-year-old rookie Lucas Raymond
Raymond showed an Yzerman-like shot Tuesday night when he sniped his first NHL goal to get the Red Wings started on the path to a 4-1 win against the Columbus Blue Jackets.
"I had some looks tonight and feels great that one finally went in," Raymond said.
The Swedish teenager fired the puck into a mail-slot sized hole on Jonas Korpisalo's short side to give the Red Wings 1-0 lead at 6:17 of the third period. The game had been a defensive stalemate before then, particularly from the Red Wings' side.
Later in the period, Raymond earned an assist with an outlet pass that sent Dylan Larkin and Tyler Bertuzzi down the ice on the rush. Bertuzzi finished a Larkin pass for his fifth goal of the season.
"Those are a couple of real dynamic offensive plays," Detroit coach Jeff Blashill said.
Raymond now has three points in his first three NHL games. He has looked comfortable playing on the top line with Larkin and Bertuzzi. The line has seven goals and the Red Wings are 2-0-1.
"The thing that (Raymond) does consistently is he plays a complete game," Blashill said.
FIRST NHL GOAL. FIRST NHL CELLY.

Big time congrats to Lucas Raymond‼️ #NHLFaceOff pic.twitter.com/TgoAkjy6Aw

— NHL (@NHL) October 20, 2021
Later in the period, Raymond was crunched from behind along the boards by Columbus forward Jack Roslovic. Raymond's linemates responded by going after the Roslovic, although cooler heads prevailed.
"You can see it on the ice that we really stick up for each other," Raymond said. "We play with a lot of energy."
Raymond ended up in concussion protocol. However, he passed the examination and was available to meet the media after the game.
"I feel good," he said. "I hit the boards, but I'm happy I'm OK."
Larkin and Bertuzzi tag team Roslovic after he boards Lucas Raymond #LGRW pic.twitter.com/KEAVogV31y

— Nolan Bianchi (@nolanbianchi) October 20, 2021