Red Wings Seider Leading All NHL Rookies In Ice Time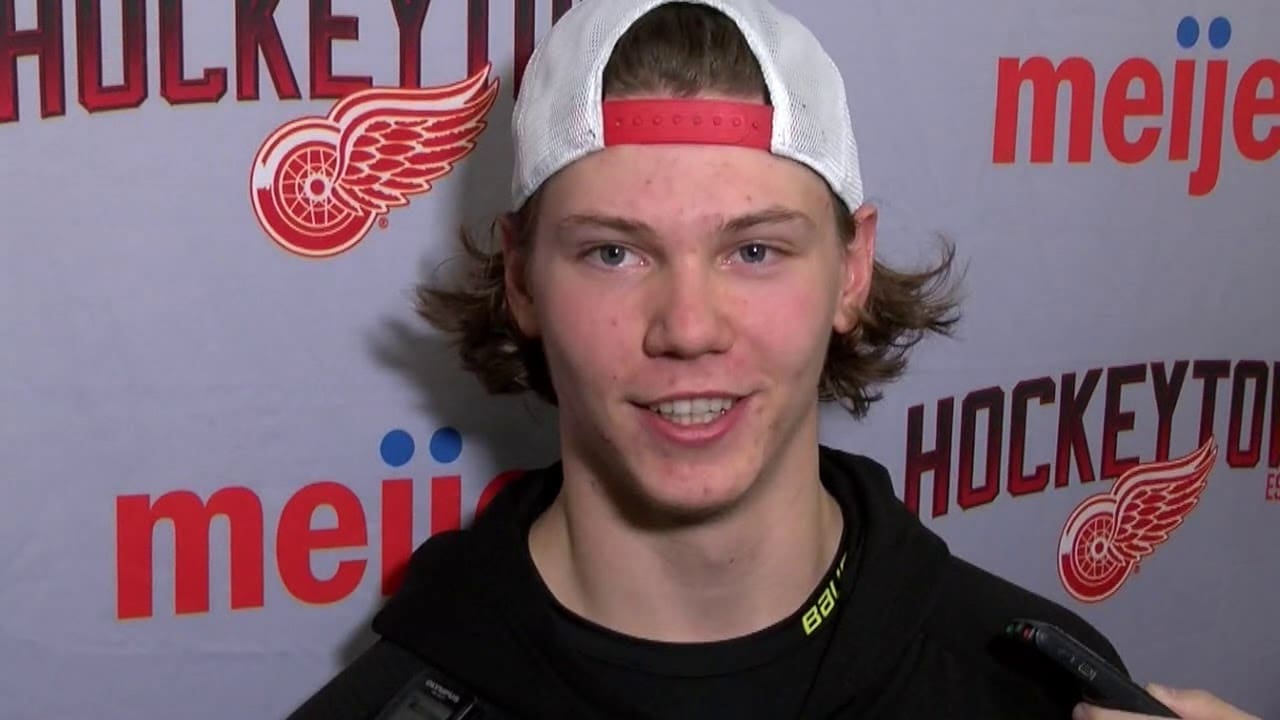 The presence of Moritz Seider is quickly adding up to big numbers for the Detroit Red Wings. Three games into his NHL career, the 6-foot-4, 197-pound defenseman is proving to be a towering presence on the stats sheet as well as on the ice.
Seider is leading all NHL rookies in ice time. He's playing 21:34 per game. While it's certainly early in the season, thus far, only one other NHL first-year player, Nashville Predators defenseman Alexander Carrier (20:38), is playing as much as 20 minutes per night. Both Seider and Carrier are skating a league-high 26.7 shifts per game.
Red Wings coach Jeff Blashill made it abundantly clear that this excessive workload for Moritz Seider, Detroit's top pick in the 2019 NHL entry draft is about on-the-job training. Seider is getting out there on the ice the old-fashioned way. He's earning it.
"First off, we're making those decisions beyond just his development," Blashill said. "He's getting those minutes because he's earning those minutes. I think he's done a good job."
"Don't do that." – Mo Seider #LGRW pic.twitter.com/NdO9qEZ6cJ

— Nolan Bianchi (@nolanbianchi) October 20, 2021
It's all part of the continuing master plan that is implemented in the Red Wings' development system. While sometimes the fanbase doesn't approve, it remains club policy that no player will play before his time.
"I think for his personal development, one of the things that we've tried to do here, that we've done since (GM) Ken (Holland) was here and certainly with (current GM) Steve (Yzerman), is try not to bring players up until they're really ready to make an impact," Blashill said. "I think when you do that, then you get into a positon where you're not playing minimal minutes. You're playing more minutes and that's gonna help you grow."
NHL Rookie Time On Ice Leaders
| Season | Player | Team | TOI |
| --- | --- | --- | --- |
| 2021-22 | Moritz Seider | Detroit Red Wings | 21:34 |
| 2020-21 | Mikey Anderson | Los Angeles Kings | 21:11 |
| 2019-20 | Ethan Bear | Edmonton Oilers | 21:58 |
| 2018-19 | Miro Heiskanen | Dallas Stars | 23:07 |
| 2017-18 | Neal Pionk | New York Rangers | 22:23 |
Seider is playing in all situations. He's leading all NHL first-year defenders in total power-player ice time (11:05) and power-play time on ice per game (3:42). He's third among rooke rearguards in shorthanded ice time per game (1:50).
"Certainly Moritz has done some really good stuff," Blashill said. "He's got some real good abilities. I think there's definitely room for growth and we're gonna help him grow and try to become a great player.
"I don't want Sides to be a good player, I want him to be a great player. And so we're gonna push him to try and become a great player."
Based on his past learning curve, the Red Wings are extremely confident that the best of Seider is yet to come.
Seider Displaying A Willingness To Learn
"His first month in (AHL) Grand Rapids (in 2019-20) was okay by all accounts from when I talked to people," Blashill said of Seider's rookie pro season. "And then he was really good after that.
"I think in Sweden (last season with Rogle) the same could be said a little bit. He's somebody who seems to gather his information, whether it's from the coaches, whether it's just from experience, and is able to apply it and get better.
Moritz Seider is 20 year old, this is his NHL debut. That's the reigning cup champions. #LGRW pic.twitter.com/jCOzp81TrC

— IcehockeyGifs (@IcehockeyG) October 15, 2021
"That's a huge part of player growth – can they take that information and then get better? There's lots of things that go into that. One of which is being able to look in the mirror and know you gotta get better. Be willing to accept coaching. I don't think that means criticism. It's coaching. And then apply it and yet at the same time not lose your confidence.
"He seems to have that mental make up to be able to do that."