Which Detroit Red Wings Need to Give a Little More?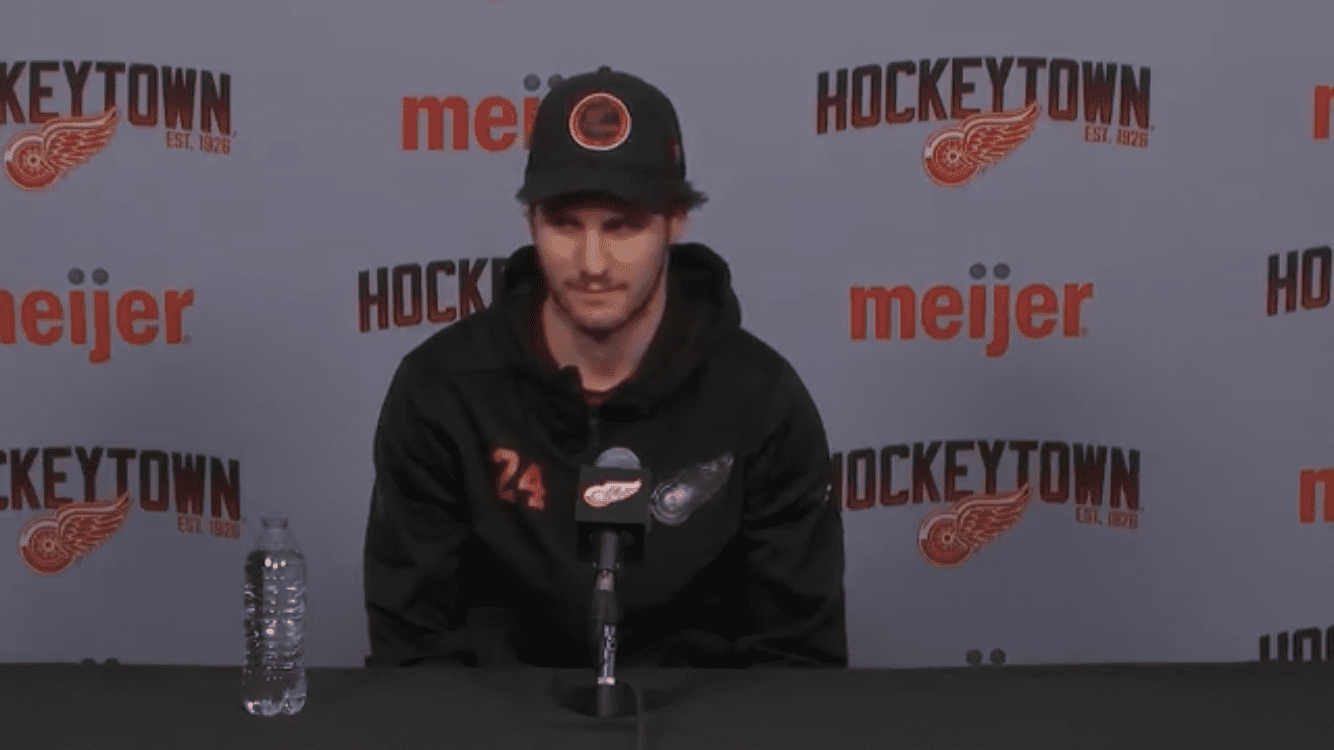 The Detroit Red Wings' 3-0 loss to the previously winless Calgary Flames Thursday was a reminder that this rebuilding team still has much work to do.
The Red Wings team needs consistency in its effort, energy level and drive. Darryl Sutter's Flames team outworked the Red Wings. They were harder on the puck, more relentless, particularly in the third period.
But four games into the season, there's already some Detroit players who need to do more to help this team show some improvement this season:
Center Pius Suter
After playing superbly in the preseason, Suter's offensive touch has gone cold. It's not about effort. Suter leads the team with 12 shots on goal. But he doesn't have a point yet. To make matters worse, he's minus-3. He's a smart player who helps even when he doesn't get points.
But Suter has to score for the Detroit Red Wings to show any measurable improvement this season. They must have two scoring lines.
Right wing Givani Smith
He has been a disappointment since training camp. The coaching staff wants more impact from him in all areas. He can be an intimidating presence as a hitter, fighter and forward who goes hard to the net. Smith needs to force the defenses to deal with him. He is not doing that.
He should be noticeable every shift he's on the ice. Smith has the skill to score 10 or more goals as a third line player. But he has to get more involved.
Center Michael Rasmussen
The Red Wings coaches are trying to convince Rasmussen he can be another Jordan Staal. To do that, Rasmussen will need to be more physical. This season, Staal has played three games and Rasmussen had played four. They each have two assists. But Staal has 10 hits and Rasmussen shows two.
The Red Wings appreciate that Rasmussen works at his game. He is trying to become a better player. He's 6-foot-6 and he needs to use that size to his advantage. Quality teams usually have a No. 3 center that plays with an edge.
Power play guys
You know the group. Dylan Larkin. Tyler Bertuzzi. Nick Leddy. Mo Seider. Filip Hronek. Lucas Raymond. Robbie Fabbri. Etc. In the preseason, it looked like Alex Tanguay was changing the Red Wings' power play for the better.
Short crisp passes. Taking what the defense gives you. Wait until the opening develops. Patience. But all of that seems to have been forgotten over the past two days. The Red Wings, with no power play goals over the past two games, have watched their power play percentage sink to 14.3%. It hasn't slipped to 11%, like it was last season. But if you watched the Red Wings on the power play against the Flames, it reminded you of last season.
It was sloppy, too many forced plays. You can't score enough goals in this league unless your power play is working. The Red Wing have to turn around this power play immediately, or there will be no improvement.