Red Wings in Montreal for Game Without non-vaccinated Tyler Bertuzzi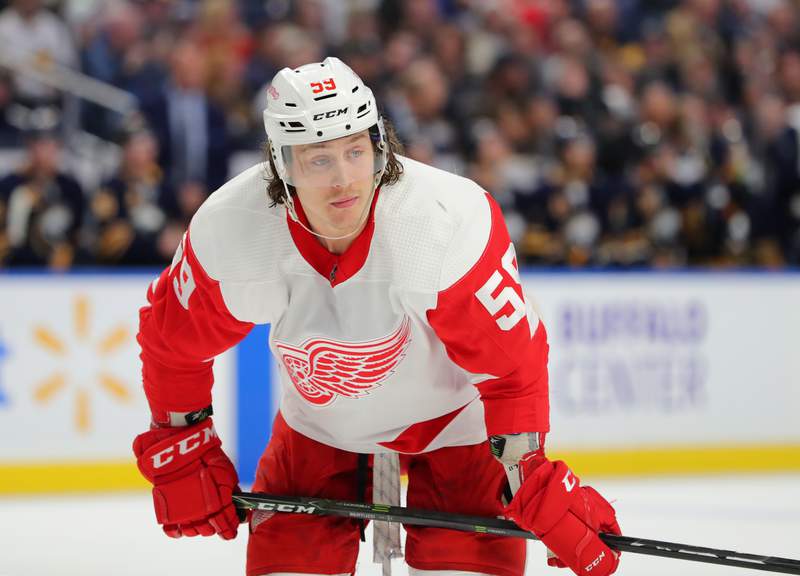 Detroit Red Wings coach Jeff Blashill suggested Thursday night after a 3-0 loss to the Calgary Flames that his team needs more energy and emotion if it wanted to beat the Canadiens in Montreal on Saturday.
"We have to have it every night, and we have to be as close to perfect in that area as possible," Blashill said.  "We need to be way better in terms of our approach come Saturday night."
One snag in the plan to bring more energy and emotion to Saturday's game is Tyler Bertuzzi is one of the team leaders in energy and emotion. He is a guy who flies around the offensive zone like he's a Tasmanian Devil. But he can't play in that game because his native Canada won't let Bertuzzi across the border because he is not vaccinated against Covid-19.
Saturday's game will be the first of the nine Bertuzzi will miss unless Canada changes its border policy regarding the pandemic.
"Of course I'll be watching," Bertuzzi said. "I'll be cheering on the guys from home and then I'll be back with them on Sunday."
Bertuzzi is one of four NHL players who have refused the vaccine. He hasn't explained his reasoning, just offering it is his "personal choice."
Bertuzzi's Absence Will be Felt
The impact of his absence is not insignificant. He is the team's leading goal scorer with five, and dating to last season he has 10 goals in his past 13 games. Bertuzzi plays on Detroit's top line with Dylan Larkin and rookie Lucas Raymond. That line has shown good chemistry.
The Canadiens are struggling, owning an 0-5 record. They have only scored four goals.  However, Feeling desperate, playing at home on a Saturday night, playing an opponent that wasn't sharp on Thursday, the Habs should come out strong against Detroit.
Tyler Bertuzzi will rejoin the team Sunday for a game against Chicago. Earlier this week, Bertuzzi said he wasn't sure whether he would have to make arrangements to get there or whether the team would handle the logistics.
It doesn't seem likely the Red Wings will call up someone from Grand Rapid to replace Bertuzzi. The Griffins are in Winnipeg. Instead, the Red Wings will likely use Carter Rowney. Possibly, they could go with 11 forwards and seven defensemen. Blashill has indicated that he planned to use defenseman Jordan Oesterle and Troy Stecher at some point. Most coaches are more likely to change up a lineup after a loss.
Tyler Bertuzzi to Miss More Games Next Week
Next weekend, the Red Wings play in Toronto on Saturday and then in Montreal on Tuesday as part of a four-game road trip.  GM Steve Yzerman is more likely to call up a player from Grand Rapids when Bertuzzi misses two games.
Presuming Bertuzzi will join the team in Boston on Wednesday, he will miss two practices in Montreal. When he takes the ice Thursday in Boston, he will not have played for six days.
Bertuzzi knows it's important for the rebuilding Red Wings to have a strong start.
"Not just this start but look at the first 10-15-20 games," Bertuzzi said. "Just play good hockey and try to have a winning record and just build from there. The chemistry is there and it's going to continue to be there. If we can just keep playing the way we're doing, playing a little bit smarter just keep doing it the right way, we're gonna get some more wins.
It's not as if the Red Wings aren't used to playing without Bertuzzi. He only played nine games last season because of injury. But it is different when you know a teammate is sitting in his living room watching on TV when he could be playing.