Five Takeaways: Detroit Red Wings No. 1 line gets them back on track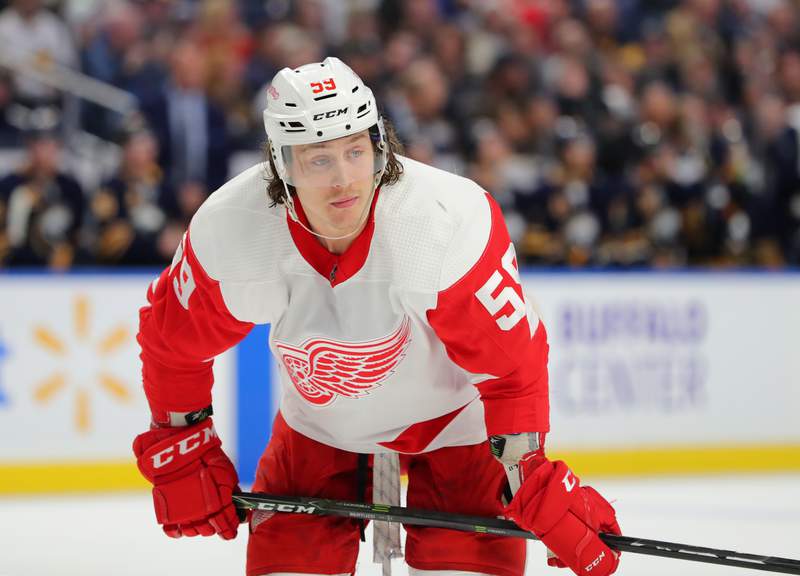 The Detroit Red Wings shook off a poor performance Saturday in Montreal to down the Chicago Blackhawks 6-3 Sunday to improve their record to 3-2-1. Defenseman Filip Hronek was scratched for the second consecutive game. Coach Jeff Blashill said it was a coach's decision. Hronek led the team in minutes played for the first four games.  Here are the takeaways
Raymond Isn't Going Anywhere
Lucas Raymond should buy himself a car and start looking for his own place. Detroit Red Wings coach Jeff Blashill made a point to say Raymond's appearance on the opening day roster didn't mean he officially made the team. If he didn't measure up, the Red Wings were prepared to send him to their minor-league affiliate in Grand Rapids.
But based on his three-goal, four-point performance Sunday against the Blackhawks, it's now hard to imagine Raymond won't be with the Red Wings for the rest of the season. He now has four goals and seven points in his first six NHL games. Of course the Red Wings won't tell him he's safe because it's too early. But it certainly looks good for Raymond.
Long-time Red Wings executive Jim Devellano says Raymond has traits that remind him of a young Steve Yzerman. That seems particularly relevant now that Raymond is the first Red Wings player 19 or younger to register a hat trick since Yzerman did it in 1985.
Bertuzzi Stirs the Drink
With Tyler Bertuzzi back in the lineup, the Red Wings' top line looked dominant again. They combined for four goals and six assists.
Bertuzzi now has six goals in the five games he has played this season. Going back to last season, Bertuzzi has 11 goals in his past 15 games for Detroit.
The line seemed more energized, drove harder to the net and played with confidence now that they were back together.
Because Bertuzzi refuses to take the Covid-19 vaccine, he can't play in Canada. He missed Saturday's game and will miss nine games total this season, unless Canada changes its border entry rules. He will miss a game next Saturday in Toronto and another Tuesday in Montreal.
Gutsy Red Wings challenge
Chicago's Jonathon Toews appeared to score a power play goal to make it 6-4, but it was waved off thanks to a successful challenge for goalie interference.
Blashill smiled when asked if the call was an easy one to make. "It was not a slam dunk ," Blashill said. "It is a big decision at that point."
Goaltender interference still has subjectivity attached to it. It's not black and white. Five people can look at the video and see something different.
"If we are wrong on that challenge, they get another 5-on 3, and they just scored , and we are giving them an opportunity," Blashill said.
When his video coaches L.J. Scarpace and Jeff Weintraube wanted to challenge, Blashill told them they had to be sure
"They told me: We are 100% right on this. We are not wrong. They felt we were going to win that challenge for sure," Blashill said.
The video coaches were right and that all-but-sealed the triumph.
Nedeljkovic Earns First Red Wings' Win
Goalie Alex Nedeljkovic looked confident in this game, more confident than he had previously looked in a Red Wings' jersey. He  looked particularly sharp on the Blackhawks' power play.
"The third period was excellent for him," Blashill said.
It's still unclear where the Red Wings are at on goaltending. Thomas Greiss looked like he might take command early, but he wasn't sharp against Montreal. Nedeljkovic has been OK, but hasn't done enough to grab the net. For now, it still looks like a tandem approach.
Good win, not a great one
Let's not forget the Blackhawks are 0-5-1 or that they have given up 27 goals in those six games. Marc-Andre Fleury's goals-against is above 5.00. They didn't have Patrick Kane who is in Covid-19 protocol.
However, this was the Red Wings' second game in two nights. They didn't arrive Chicago until after 2 a.m. They had played poorly in Montreal. They came out playing hard against Chicago. It wasn't just the top line going strong. Carter Rowney scored for Detroit. Vadislav Namestnikov scored his third goal of the season. Mitchell Stephens had a pair of assists.
The forward group graded out much better than it did the previous night in Montreal.  The Red Wings still took ill-advised penalties, which has been an ongoing problem. But there was more good than bad.