Red Wings, Ferris Bueller Latest Stars Of Wonderful Halloween Tradition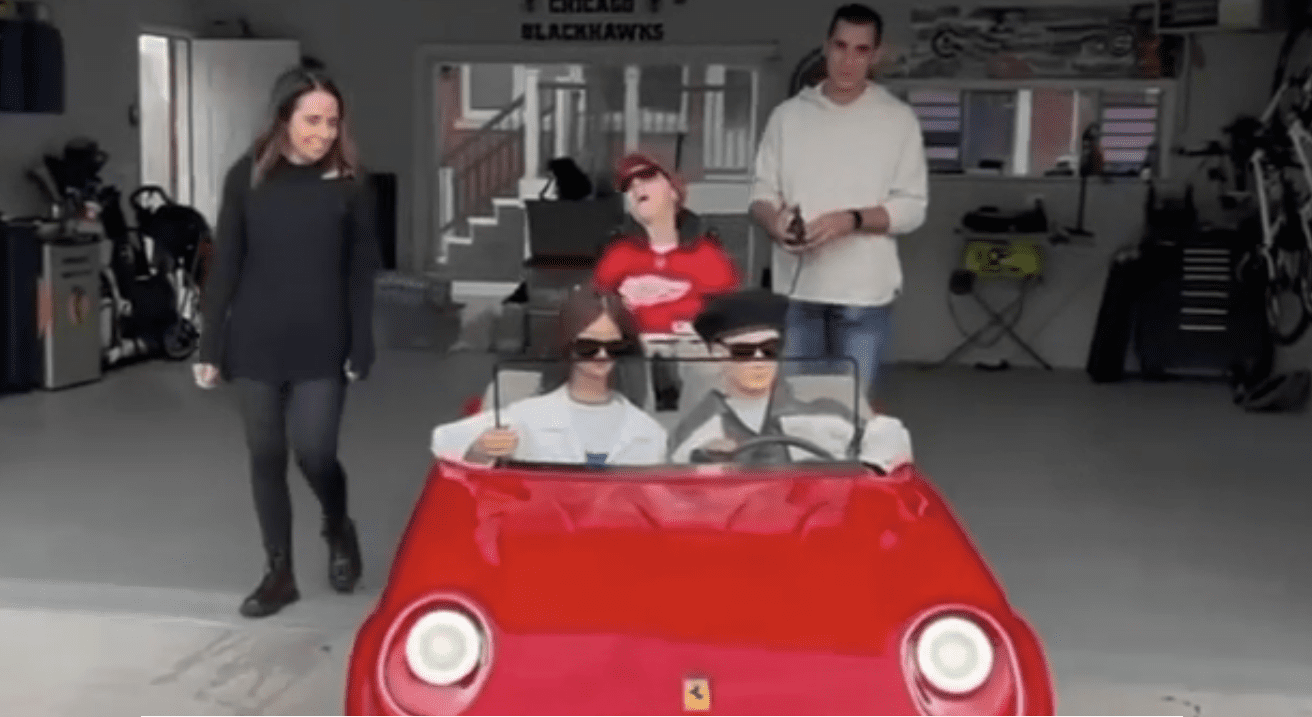 Ferris Bueller and the Detroit Red Wings are playing starring roles in the latest Halloween creation of Tony and Deanna Alfano for their son Anthony.
The suburban Chicago couple come up with unique ways each October 31 for their son to go trick or treating. Anthony, 12, has cerebral palsy.
This year, they are opting to go with that 1980s cult classic Ferris Buelller's Day Off. In particular, they ended up deciding to recreate their iconic ride for the day – the 1961 Ferrari 250 GT California.
Mannequins in the front seat are filling the roles of Ferris (Matthew Broderick) and Sloan (Mia Sara). Playing the starring role in the back seat is Anthony, dressed as Cameron, resplendent in his Detroit Red Wings No. 9 Gordie Howe jersey.
"Had the pants, got the jersey, and we're telling all of our Blackhawks family don't be mad," Deanna Alfano told ABC7Chicago.com. "This is only for this year."
When you think about it, though, maybe not advertising an affinity for the Blackhawks at the moment isn't such a bad outcome.
Red Wings/Bueller Costume Three Months In The Making
Tony Alfano comes up with a unique Halloween costume for his son every year. In past years, Anthony, who is wheelchair-bound, has appeared in a Lincoln Memorial snow globe and as a member of the Blue Man Group.
"I wish he could be running around with the kids, but this is his time to just be the guy," Tony Alfano said. "This is a . . . perfect thing for him. It makes me feel like I'm doing something right."
Tony Alfano began working on this year's creation in August. The attention to detail is astonishing, right down to the correct mileage on the odometer.
Why A Red Wings Jersey?
Certainly, one of the oddities of the smash-hit film Ferris Bueller's Day Off, which is set in Chicago, is that Bueller's best friend, Cameron Frye, played by actor Alan Ruck, spends the majority of the movie
cavorting through the Windy City in a Gordie Howe No. 9 Red Wings jersey.
When Kevin Allen and I wrote our book 100 Things Red Wings Fan Should Know & Do Before They Die, we investigated why this was so. The reason behind this seeming faux pas is that it is in fact a deliberate move.
Although he lived in Illinois and set the majority of his films in the state, John Hughes, the director of this and several other iconic 1980s movies, was a huge Red Wings fan.
"I grew up in the Detroit area," Hughes told NHL.com while attending the Red Wings–Blackhawks Winter Classic Game at Wrigley Field in 2009. "Gordie Howe was my hero growing up. We listened to games on the radio. . . . [That's why] I used the [Red Wings] number 9 [in Ferris Bueller]."