The Five: Iconic Red Wings Goalie Masks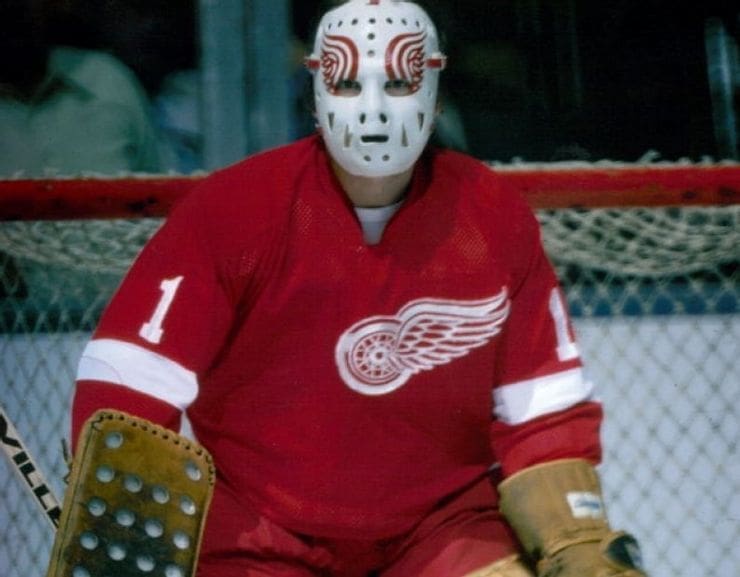 What's the most appropriate costume for a Detroit Red Wings fan on Halloween? How about a Jason Voorhees mask?
It's a little-known fact that the goalie mask worn by slasher killer Voorhees in the Friday The 13th horror film franchise was in fact a replica of a 1970s-era Red Wings fiberglass mask.
The Friday the 13th horror flicks were into a third film when killer Jason's trademark goalie mask first appeared, thanks to a series of fortunate circumstances

Doing a lighting check and not wanting to have to apply hours of makeup to Richard Brooker, the actor portraying Jason, 3-D effects supervisor Martin Jay Sadoff came up with an alternate plan.
An avid hockey fan, by coincidence, Sadoff just happened to have his gear in the trunk of his car. He retrieved a fiberglass goalie mask from his hockey bag. It was a replica of masks worn by Wings goalies Doug Grant, Bill McKenzie and Terry Richardson in the mid-1970s.
Director Steve Miner loved the mask, and so did audiences. It became a staple of the film and an ever-present item on the shelves of costume stores each Halloween.
With that in mind, and Halloween upon us, let's look at the most iconic goalie masks in Red Wings history.
Frankenstein Mask: Terry Sawchuk
The name alone makes it suitable to headline a Halloween list of facial protection worn by Red Wings netminders. Sawchuk's mask, designed by Detroit trainer Ross "Lefty" Wilson, did give him a robotic appearance between the posts. The texture of the fiberglass and the pale yellow coloring allowed the impression that it was like a second layer of skin, designed to cover up some sort of hideous disfigurment, much like the Phantom of the Opera.
Terry Sawchuk after playing 16 years of hockey without a mask pic.twitter.com/76VyiCiVPf

— Hockey Posts™ (@HockeyPosts) January 7, 2015
Maybe there was something to that. Sawchuk took hundreds of stitches to his face during his pre-mask days. In 1962, he became the first Red Wings goalie and only the third NHL netminder to opt for a facemask on a permanent basis. The mask's dark, crude and primal appearance even seemed to reflect Sawchuk's well-documented moody personality.
Winged Wheeler: Jim Rutherford
Traded to Detroit by the Pittsburgh Penguins in the midst of the 1973-74 season, it just so happened that Jim Rutherford's Detroit debut would be coming in Toronto against the Maple Leafs. He was able to drop his blue Penguins mask off with designer Greg Harrison, with instructions to paint it white.
Some cool Jim Rutherford close-up Red Wings mask clips..👍#LGRW pic.twitter.com/WflCBm70vT

— Old Hockey Cards (@oldhockeycards) October 4, 2021
When Harrison arrived at Maple Leaf Gardens the next morning, the mask was indeed white, with Harrison adding some artistic flare. He painted two wings coming off the eyes of the mask.
Not an attention seeker, Rutherford wasn't happy at all. However, after earning one of the three stars during a 2-2 tie, Rutherford ended opting to keep his new design, and the era of the goalie mask as work of art was born.
Rabid Dog: Curtis Joseph
CuJo's career as a Red Wing was forgettable; his mask was unforgettable.
It keeping with the nickname he acquired from a rabid dog in a Stephen King horror flick, Joseph's mask featured a vicious dog, mouth agape, razor-sharp teeth ready to devour their prey.
Red Wings Engine: Dominik Hasek
A two-time Stanley Cup winner with the Red Wings, when Hasek returned for his third tour of duty with Detroit in 2006, he added artwork to his helmet and cage-style mask.
The Dominator's mask displayed an engine block coming off a winged wheel, flaming exhaust shooting out the tail pipes.
Who Was That Masked Man: Claude LaForge
Another bit of unqiue Red Wings mask history – the first Detroit player to don one in an NHL game wasn't a goalie.
On December 28, 1961, the Red Wings played host to the Chicago Blackhawks at Olympia Stadium. In the lineup for the Wings was left-winger Claude LaForge, recalled from the AHL Hershey Bears.
LaForge took the ice wearing a Lefty Wilson-designed goalie mask for protection of a fractured cheekbone he'd suffered in Hershey. "Who's the masked marvel?" cackled Maple Leafs assistant GM King Clancy, who was scouting the game.
LaForge netted the tying goal in a 2-2 draw, becoming the first masked man to score in an NHL game. The next day's papers carried the bizarre photo. It was the masked LaForge breaking in alone on maskless Blackhawks netminder Glenn Hall.