Larkin, Bertuzzi Out As Red Wings Face Habs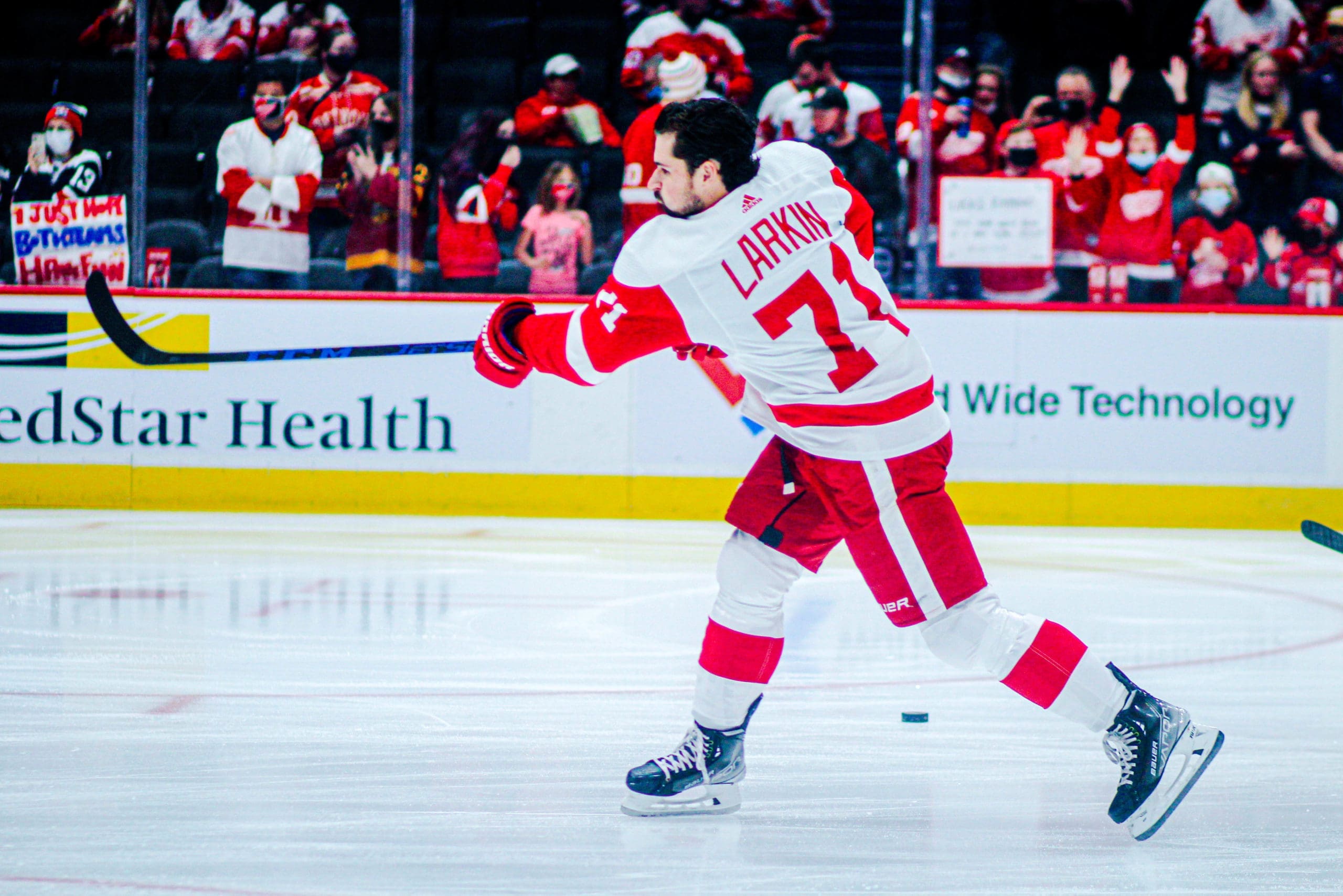 The Detroit Red Wings could be poised for another long night in Montreal.
The Red Wings will be without two-thirds of their top forward line as they tangle with the Montreal Canadiens on Tuesday at the Bell Centre.
Left-winger Tyler Bertuzzi is missing his second straight game. Unvaccinated for COVID-19, he's unable to cross the border into Canada.
However, the absence of captain and No. 1 center Dylan Larkin was unexpected. And evidently, it's not related to the neck injury that halted his 2021 campaign last April. A similar injury kept Larkin out one game earlier this season.
Detroit Red Wings captain Dylan Larkin will miss tonight's game against the Montreal Canadiens for personal reasons.#LGRW pic.twitter.com/gIgaPuUa6B

— Complete Hockey News (@CompleteHkyNews) November 2, 2021
"Dylan will miss today's game for personal reasons," Red Wings coach Jeff Blashill said. "I'm not going to expand further than that. He's just going to miss tonight's game for personal reasons and that's it."
Blashill wouldn't say whether Larkin will be back in time for Thursday's game against the Bruins in Boston.
Larkin was also absent from Monday's practice. At the time, Blashill claimed it was a maintenance day for the team captain.
Rasmussen In The Middle
Michael Rasmussen will center Detroit's top line on Tuesday between Robbie Fabbri and Lucas Raymond. Blashill is hopeful that the 6-foot-6, 221-pound Rasmussen will provide the unit with a different dynamic. Montreal doesn't show a lot of size down the middle.
"Ras has played good hockey," Blashill said. "He gives that line size, strength. They can use some of that beef, and then I can move Joe Veleno to center.
"It just kind of evens out the lines."
Rasmussen's gameplan while filling his new role makes perfect sense.
"Just give the puck to those guys," Michael Rasmussen said. "They can make a lot of plays."
How Red Wings Lines Shake Out
Pius Suter remains at center on the second line with Filip Zadina. Adam Erne is expected to skate on that line if he's good to go. Erne is returning following a one-game absence. He was out after beng hurt blocking a shot in Friday's game aganst Florida.
"We anticipate Erne playing tonight," Blashill said.
If Erne is unable to play, Bashill indicated he'd suit up 11 forwards and seven defensemen rather than recall a forward from AHL Grand Rapids.
Filip Zadina (@zadina_filip) doesn't need much time to let the puck fly.

📺: @Sportsnet 👉 https://t.co/RCR6iZZSKs pic.twitter.com/koOX92CMQn

— NHL (@NHL) October 31, 2021
Zadina has just two goals this season, but did score in Saturday's 5-4 loss at Toronto.
"I'm trying to put the puck on net way more than I did last year," Zadina said. "Good things happen when you shoot the puck on the net – rebounds and creating chances for the next shift."
Veleno will work with Sam Gagner and Vladislav Namestnikov. Mitchell Stephens is between Carter Rowney and Givani Smith on the fourth line.
Remembering Montreal Smackdown
The last time Detroit visited Montreal, the Red Wings were drubbed 6-1 by the Canadiens.
"It should be a reminder that if we don't play at a high level, if we give away easy chances, if we spend too much time in the box, that the game can get out of hand the wrong way in this building," Blashill said. "We've had lots of cases of that over the last number of years and we got to make sure that doesn't happen tonight."
Blashill suggested that it's up to everyone in the lineup to pick up the slack for the missing pieces of the team's core.
"Depth matters a ton," Blashill said. "Part of that depth may be Joe Veleno coming in. Can he have a real good game for us? I think Carter Rowney is a guy who's played well the last little bit. Can Givani Smith chip in offensively, which we know he's capable of doing.
"Certainly depth matters. We got to play a great team game to be successful."