Bertuzzi's Absences Will Be An Ongoing Issue For Red Wings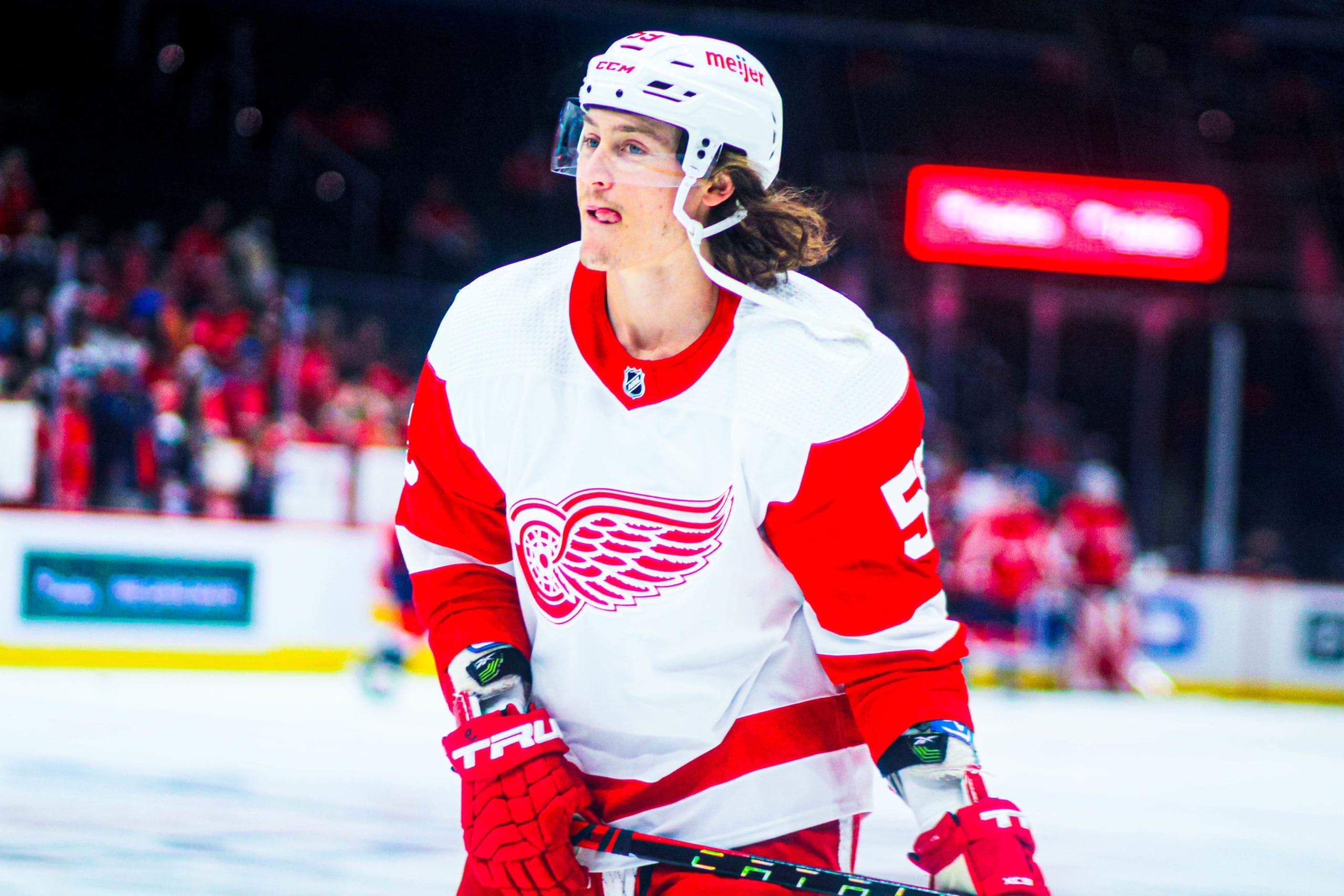 The Detroit Red Wings are 4-1 this with forward Tyler Bertuzzi in the lineup.
They are 0-3 when Bertuzzi chooses not to play for the team.
Like it or not, this is an issue that isn't going to go away for the Red Wings. On the heels of Tuesday's 3-0 shutout loss to the Montreal Canadiens at the Bell Centre, it was raised again.
Red Wings coach Jeff Blashill admitted that yes, he's discussed with Bertuzzi the decision the player has made to forego the COVID-19 vaccine, making him unavaiable for all of the team's games in Canada. Bertuzzi is the lone unvaccinated NHL player.
Take a drink every time Tyler Bertuzzi is mentioned when the #LGRW are playing in Canada this season.

— Nick Alberga (@thegoldenmuzzy) October 30, 2021
"I've had lots of conversations with Bert about a lot of things and certainly this is part of the conversations I would have," Blashill said. "I have a great amount of respect for Bert as a person, a great amount of respect for him as a player.
"The NHL allowed players to make a choice with consequences and he's made that choice and I respect his decision.
"It's not something we talk about lots. It's his decision to make and he's made it and I'm more worried about when he's with us how well he plays and when he's not with us how well everybody else plays. We've had good enough lineups to win.
"I like our lineup when he's in it but that shouldn't preclude us from winning when he's not."
Bertuzzi Absent By Choice
Well, yes and no. It's one thing for a team to rally together and overcome the absence of a player through injury or other uncontrollable factors.
While Bertuzzi will be back for Thursday's game at TD Garden against the Boston Bruins, captain Dylan Larkin will miss a second consecutive game due to an undiclosed personal matter.
"He's away for personal reasons and I'll leave it at that," Blashill said.
It serves no purpose to speculate about the cause for Larkin's absence. Recognizing that it's more significant that Larkin's burning desire to compete tells you it's a very serious matter.
There's no reason to speculate on the cause of Bertuzzi's absences this season. Personal choice. That's what he calls it. That's what his anti-vaxxer supporters call it.
The key word being choice. When he's not on the ice, it's because Bertuzzi has chosen not to be out there.
Suppose Moritz Seider shows up for work tonight, decides he doesn't like TD Garden and informs the team that he's made a choice not to play.
If you're okay with Bertuzzi's choice, then you couldn't criticize that choice, either.
This Isn't Politics, It's Hockey
Let's be clear on another fact. This isn't a political issue. It's a hockey issue.
Being a science denier, perhaps Bertuzzi doesn't recognize how his choice is impacting team chemistry.
You can be certain the Red Wings GM Steve Yzerman recognizes this fact. There's only one thing that matters to Yzerman when it comes to hockey and the players on his team. They better be all about winning. They'd better all be in this together.
In Stevie Y's world, you're either on board, or you go overboard.
You can bet your bottom dollar that Yzerman is seething inside while he watches his Bertuzzi-less club get dismantled in Canadian rinks. In those three losses, the Wings have been outscored 14-5.
You have to wonder how Bertuzzi feels while sitting on his couch at home, watching the same thing. All the while knowing that it's his choice not be there to help while his teammates are foundering.
Especially knowing how much of a difference he makes when he's on the ice.
Player to Watch » Tyler Bertuzzi.@Huntington_Bank | #LGRW pic.twitter.com/eG4vKYiI7b

— Detroit Red Wings (@DetroitRedWings) November 4, 2021
"Certainly Tyler's a big part of our team and a really good player," Blashill said. "The one thing that he is a lot of nights and what makes him special is he's an engine for us.
"He gives us tons of energy, tons of puck battle wins, drives our ability to win those battles for the puck and play with the puck more."
Bertuzzi Could've Made Other Choices
Publicly, the other Red Wings talk about their fondness for Bertuzzi, how he's a good teammate.
Really? Do good teammates choose to sit back and watch while the rest of the team is hung out to dry?
Bertuzzi could've made a couple of other choices this season. He didn't choose to turn down the two-year, $4.75-million contract offer from the Wings.
He also could've chosen to sit out this season, to be all-out instead of just some of the way in.
His lack of a vaccination ensures that Bertuzzi has a much greater likelihood of testing positive for COVID-19 at some point this season.
He's already testing positive for putting the I in team.