Pius Suter Will Center Top Line Because He's the Detroit Red Wings' Best Option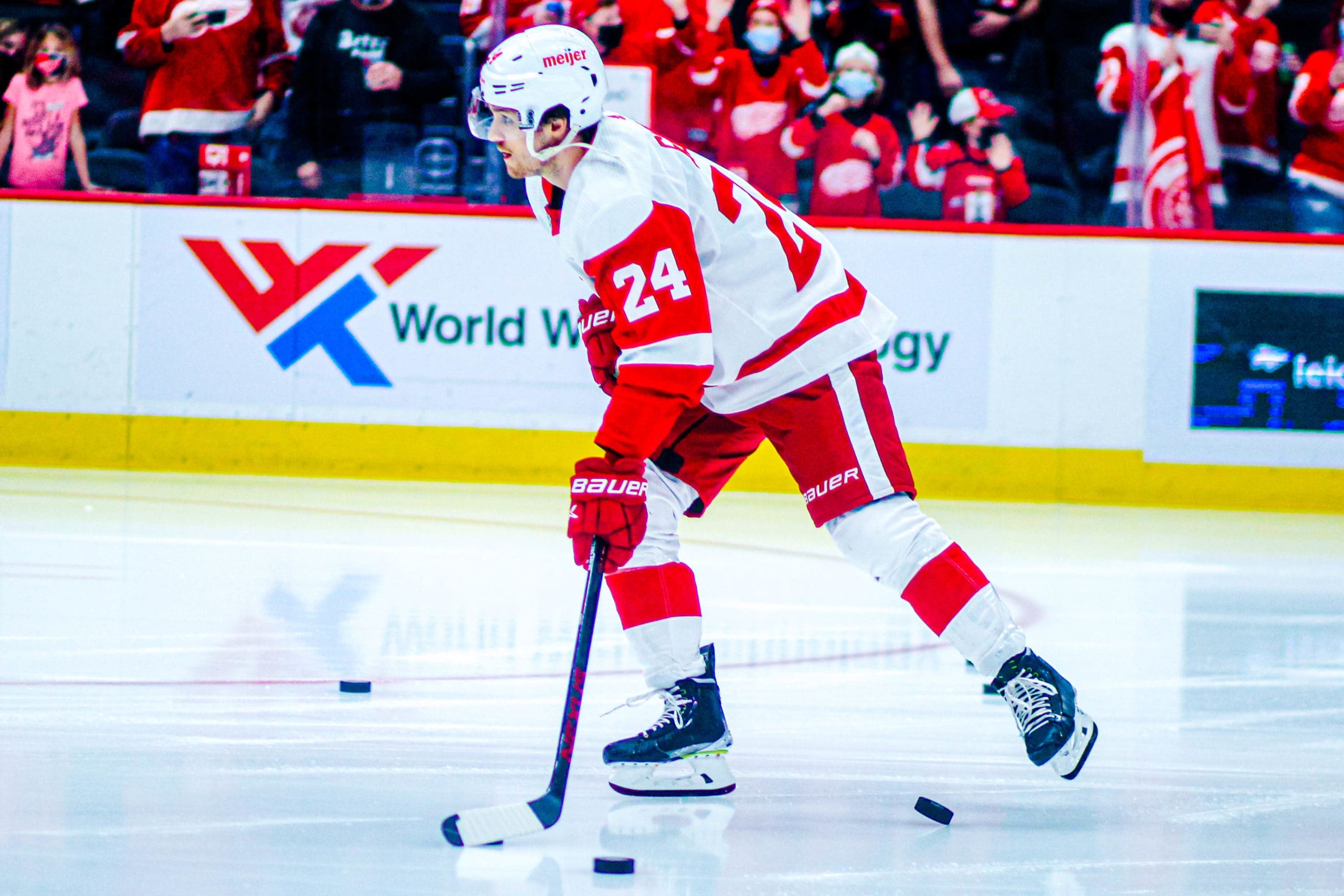 Pius Suter has played 66 NHL games at center. He posted 29 points in those contests. This season, the Swiss forward has two points in his first 11 games. He only has five shots on goal in his past five games.
But right now, with Dylan Larkin out of the lineup, Pius Suter is the Detroit Red Wings' No. 1 center going into Saturday's game against the Buffalo Sabres. Suter will be between Lucas Raymond and Tyler Bertuzzi.
"He is our most experienced center right now," Red Wings coach Jeff Blashill said. "He did a good job last season playing with Patrick Kane (in Chicago) and good players. We just thought the makeup of that line gives him some beef potentially with the strength of Bertuzzi. Potentially it gives the other line some beef as well."
Detroit's second line now has rookie Joe Veleno, who has added muscle in the offseason, centering Filip Zadina and Robby Fabbri.
The Red Wings are juggling lines because Dylan Larkin remains out of action for what the Red Wings are calling "personal reasons."
"No further update," Blashill said Friday afternoon.
If Larkin doesn't play Saturday, it will be the third consecutive game he has missed. The Red Wings are in a four-game losing streak.
Larkin also missed a game because an NHL suspension earlier in the season. In his missed games, the Red Wings have tried Fabbri and Michael Rasmussen at No. 1 center, and weren't happy with either fit. In Friday's practice, Rasmussen was centering the fourth line with Givani Smith and Adam Erne. Mitchell Stephens centered the third line with Sam Gagner and Vladislav Namestnikov. Maybe we can view that as two third lines or two fourth lines.
Pius Suter Needs to Step Up
What we know for sure is that the Red Wings' offense needs a boost, and it needs more production from Suter. The Red Wings have been outscored 8-1 in their last two road games.
"I think he's a good playmaker and he can score around the net…," Blashill said. "But we need more guys going at a high level."
Fabbri has one point in the four-game losing streak. Rasmussen hasn't scored this season. Zadina has one shot on goal over the past two games.
"Each guy has to find a way to take it to another level," Blashill said. "If it takes a little bit of line juggling, then it takes a little bit of line juggling. We don't want to do that too much, but it gives an opportunity for new looks and maybe it sparks someone.  I hope it sparks the whole lineup to be honest with you."
Suter is comfortable with the idea of playing on the top line.
"I think we've got some good speed there," Suter said. "We can win those battles and just try to create things. Interesting because I haven't played much with them."
He's not worried much about that.
"Maybe it takes a bit, but I've seen them now," Suter said. "Even when I'm sitting on the bench and they're playing. I can see how they play together, how they read off each other."
The Red Wings seem to be at a crossroads: Are they going to show themselves to be an improved team or are they going to be the same team they were last season? With Larkin missing now and Bertuzzi out when the team plays in Canada, it is starting to feel like last season.
The only way to right the ship is to get more consistent scoring.
"I think it's just taking advantage of the chances sometimes," Suter said. "If you look at some games when we didn't score a lot, we kind of had the same chances, same positions, just didn't put it in."