Five Takeaways: Bertuzzi's Engine Fires, Red Wings Rally, End Skid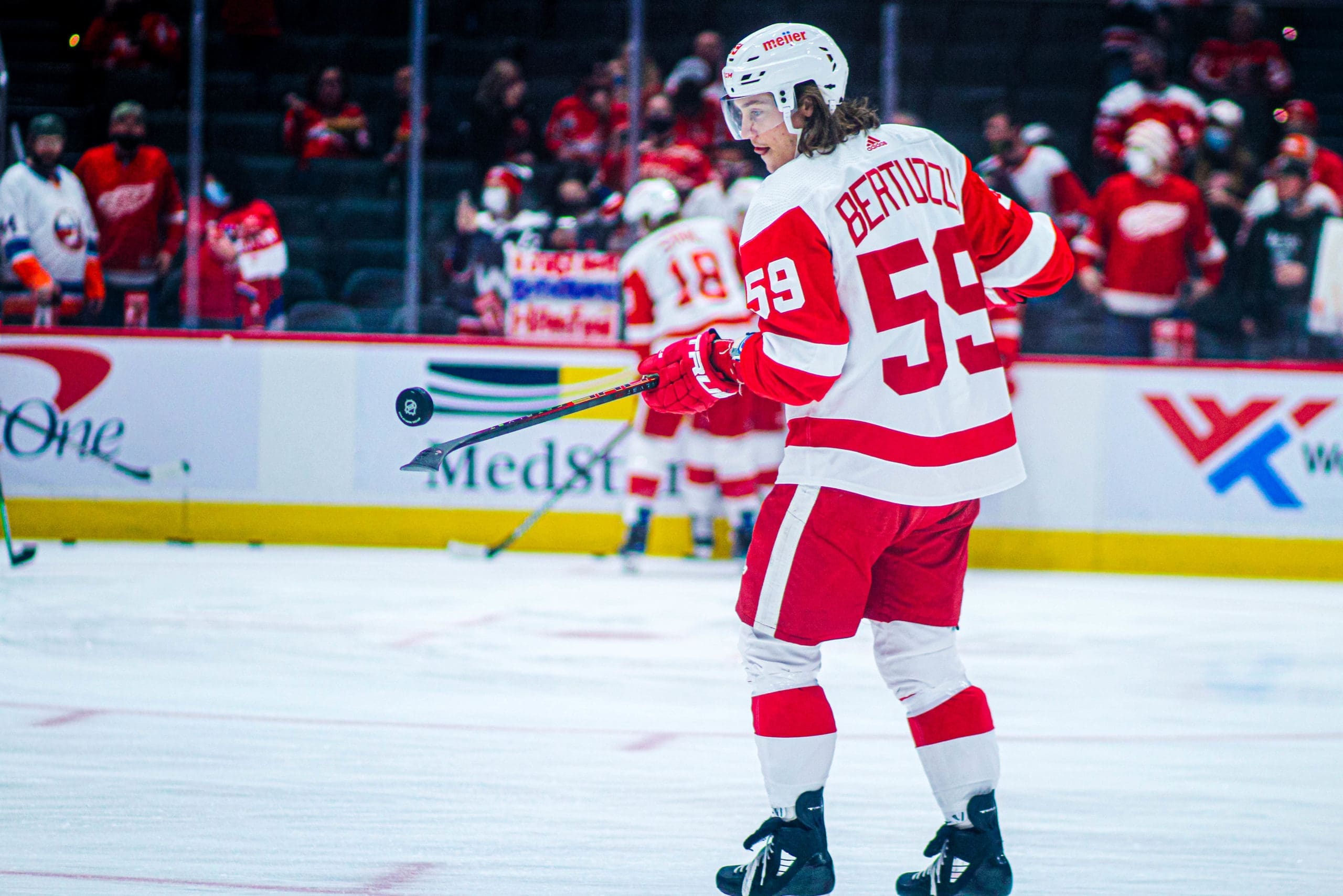 Detroit Red Wings coach Jeff Blashill describes Tyler Bertuzzi as one of the engines that powers the team. In third period of Saturday's game at Buffalo against the Sabres, the Wings found themselves down 3-1.
That's when the No. 59 engine answered the call and began firing on all cylinders.
Bertuzzi scored twice and nearly added a third. His two goals sent the game to overtime. At this juncture, rookie defenseman Moritz Seider picked an opportune time to pot his first NHL goal, earning the Wings a 4-3 come-from-behind victory.
The result was an ending to Detroit's four-game (0-3-1) losing skid. Let's look at five takeaways from Saturday's triumph as the Red Wings come home to face the Vegas Golden Knights on Sunday at Little Caesars Arena.
Bertuzzi Be Buzzing
The game emphasized all that Bertuzzi means to the success of this team. He's a vital cog in the winged wheel.
"Bert's a hell of a player," Blashill said. "He's a great competitor, he's a great person and he's a hell of a player. I don't if he gets his due all the time for as good a player as he is.
Tyler Bertuzzi puts Rasmus Dahlin in the blender to tie the game at 3 👀 Not done quite yet #LGRW pic.twitter.com/5Q0Z9k8XDb

— Nolan Bianchi (@nolanbianchi) November 7, 2021
"He's had a big impact on the games he's played in for sure. Certainly tonight he had a huge impact."
When Bertuzzi got his first goal to make it 3-2, Blashill sensed that his engine was engaging, so he just kept on sending him over the boards.
"He went out and played," Blashill said. "I thought he dug in. We started double shifting him a little bit and he started to feed off that ice time."
Seider Snipes First
Though 11 games had passsed, Seider wasn't the least bit worried that his time to light a red lamp would finally arrive.
"We play 82 games so hopefully at some point one will get in," Seider said. "I wasn't looking for something, I wasn't shooting for something. I was just happy to finally get it."
His first NHL goal proved to be an OT winner, supplying a much-needed win to the team. That was the element in which Seider was finding the most pleasure.
FIRST CAREER NHL GOAL.
OVERTIME GAME-WINNER.

MO. SEIDER. pic.twitter.com/yJkDR5CGCE

— Detroit Red Wings (@DetroitRedWings) November 7, 2021
"It's nice getting the game-winner, but you don't get any more pride for that," Seider said. "So it's just one goal. I'm way more happy with the two points tonight and the way we played, because we did it the right way in the third period.
"I think we can be proud of ourselves. We just got to turn this page and look forward to tomorrow."
Raymond Razor Sharp
His Red Wings teammates have taken to calling rookie left-winger Lucas Raymond by the nickname Razor. He's certainly been razor sharp all season long.
He was at his best on Saturday. The NHL leader in rookie scoring with 13 points, Raymond dished out assists on three of the club's four goals.
Lucas Raymond (0-3—3) also became the fifth teenager to record a three-assist game with the @DetroitRedWings, joining Steve Yzerman (4), Alex Delvecchio (1), Gordie Howe (1) and Harry Watson (1).#NHLStats: https://t.co/nRsXGZgCRQ pic.twitter.com/wZfZ09WpTZ

— NHL Public Relations (@PR_NHL) November 7, 2021
"There's a reason he was drafted that high," Seider said of Raymond, the fourth player chosen in the 2020 NHL entry draft. "I think he's showing what he's got. We know what his abilities are in the locker room.
"Obviously, he's just doing his job but he's doing it phenomenally."
Raymond is the first Red Wings rookie to be posting a three-assist game since Bertuzzi did it in 2018.
Suter Stepping Up
Captain Dylan Larkin was missing his third game for personal reasons. The Wings were trying out a third different player in Larkin's role as first-line center between Bertuzzi and Raymond.
16 seconds into the first period, Suter makes it 1-0! assists from Bertuzzi and Raymond! #LGRW pic.twitter.com/Pqlv9gC6j6

— everett (@borntodanhard) November 6, 2021
Where Robbie Fabbri and Michael Rasmussen came up wanting, Pius Suter clearly passed the audtion. He scored his first goal of the season 16 seconds into the contest. That tally ended up allowing Detroit to play with a lead for the first time in six games.
"I think Suits has played good hockey for us," Blashill said. "He definitely got rewarded a little bit here tonight, so that's good."
Smoother Sailing For Red Wings
What's the difference between the Red Wings and the Titanic? The Titanic only went down in the Atlantic once.
Before Saturday, Detroit had gone down in the Atlantic six times in a row. The Red Wings were 0-4-2 against Atlantic Division opponents.
They lost home overtime decisions to Tampa Bay and Florida. On the road, the Wings fell at Montreal (twice), Toronto and Boston.