Emotional Larkin Struggles While Discussing Absence From Red Wings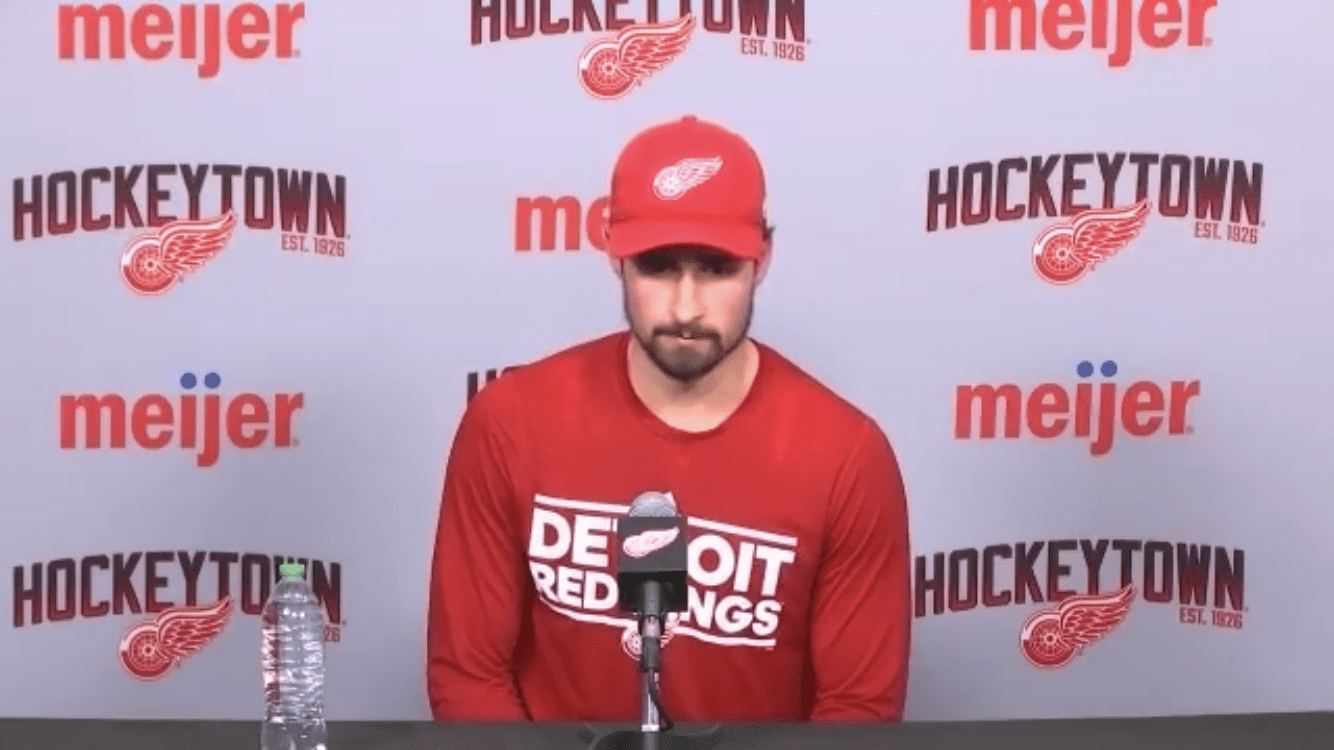 The pain that Detroit Red Wings captain Dylan Larkin is confronting was written all over his face. It was spoken by his stilted body language, and through his inability to discuss the personal matter that's kept him away from the team for a week.
Larkin returned to the for his first game action in eight days on Sunday at Little Caesars Arena. Following a 5-2 victory by the Red Wings over the Vegas Golden Knights, Larkin spoke publicly for the first time about the cause of his absence.
He chose not to get into specifics, only allowing the it was a family issue.
"It was a tough week for me personally," Larkin said. "I had to be home for a family emergency, had to be with my family.
"It's a private matter. I hope everyone can respect myself and my family's privacy right now during this tough time."
Whatever the matter is, it's clearly very serious. The toll it is taking on Dylan Larkin is also apparent. On more than one occasion, he required long pauses to compose himself before speaking. A couple of times, he was certainly on the verge of breaking down emotionally.
"It's hard to put into words right now," Larkin said. "It really is."
Red Wings captain Dylan Larkin on missing three games: "I had to be home for a family emergency."

"I hope everyone can respect my family's privacy at this time." pic.twitter.com/K4VX5kDFgu

— Brad Galli (@BradGalli) November 8, 2021
For some fans, the challenge when cheering for an athlete is also keeping mind that they are more than a performer on their favorite team. They aren't merely someone whose sole purpose is to pile up points for your fantasy sports team.
They are human beings with the same frailities as everyone else, who must deal with the same daily ups and downs and family tragedies as the rest of us. Only they do so while the public spotlight shines glaringly upon them.
In Praise of Red Wings Teammate Bertuzzi
While discussing his own difficult situation, Larkin alluded to that and to the firestorm that's engufling teammate Tyler Bertuzzi, the only NHL player who's chosen not to get the COVID-19 vaccine.
"People like to think of us as just figures and we all know Tyler made his own decision," Larkin said. "People think it's not hard on him, people think it's not hard on us to live our own lives and make the decisions.
"But he stuck with it and he's come to play every time he's been in the lineup and I couldn't be more proud of him. When he's been on the ice with us he battles, he battles for his teammates.
"He's one of my best friends. It's great to see his confidence take off."