Five Takeways: Larkin Back, Pius Suter Finds Mojo, Greiss Dependable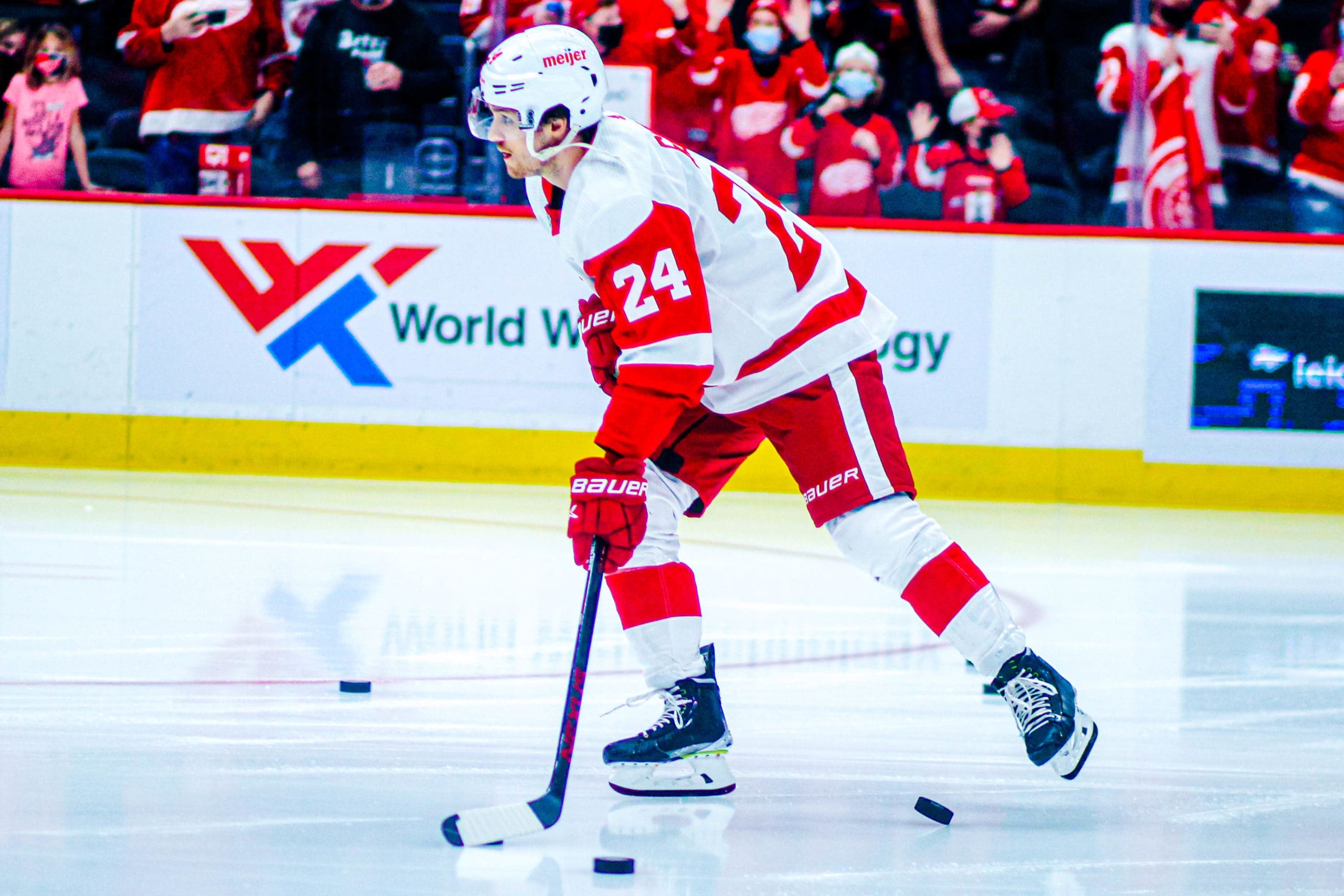 Pius Suter registered a goal and an assist to help the Detroit Red Wings down the Vegas Golden Knights 5-2 for their second consecutive win.
Secondary Scorers are Primary
It's been clear the Red Wings desperately need the second line to be more effective. They needed more production out of Filip Zadina, Pius Suter and Robby Fabbri.
Those players stepped up over the past two games. Pius Suter has two goals and two assists over the past two games. It is the first time in his young career that Suter has had back-to-back multi-point games. Fabbri also scored against Vegas. Zadina had an assist. The line combined for 12 shots on goal.
"I thought the line was our best line," Detroit coach Jeff Blashill said. "That's what we need. We can't be in a situation where one line is always the line."
Bertuzzi's Strong Start Continues
Some fans are mad at Tyler Bertuzzi because he declines to be vaccinated. That decision means he can't play games in Canada. Others admire him for sticking to his principles.
What no one can debate is that Bertuzzi is playing the best hockey of his career.  Bertuzzi scored nine goals in 10 games this season. Going back to last season, he has 15 goals in his past 19 games. He has three goals, including an empty-netter against Vegas, and three assists in Detroit's last two victories.
"I couldn't be more proud of him," Detroit captain Dylan Larkin said. "People like to think of us as just figures. We all know Tyler made his own decision. People think it's not hard on him, not hard on us to live our own lives and make decisions, but he has stuck with it and came to play every time he's been in the lineup."
Greiss Makes 38 Stops
A 5-2 decision doesn't sound like a goalie game. But Detroit goalie Thomas Greiss was as important as any of the Red Wings against the Vegas Golden Knights. He made nine saves, some of them on prime scoring chances, when the Golden Knights pulled their goalie for an extra-attacker.
Greiss had given up five goals in each of his past two starts against Toronto and Boston.
"Greisser was big when we needed him to be big," Blashill said.
Namestnikov Quietly Productive
In case you have forgotten, Vladislav Namestnikov is Slava Kozlov's nephew. He was a Steve Yzerman draft pick in Tampa Bay. Yzerman has liked him through the years because he is a two-way forward who can skate and play smart.
Fans in Detroit have been disappointed in his lack of offensive production. But that's now true this season.
Namestnikov scored his fifth goal of the season Sunday. Only Bertuzzi and Lucas Raymond have more goals than Namestnikov in the Detroit lineup.
"I don't know that he's played a whole lot different," Blashill said. "I know that he's scored more and certainly scoring helps your confidence. "
One concern in Detroit is secondary scoring and Namestnikov has been doing his part in that regard.
Not a Perfect Game
As you would expect from a team that counts on younger players, the Red Wings are still inconsistent. They were both strong and shaky at different times in this game.
When the game was on the line in the third, they couldn't win a defensive zone faceoff. They surrendered too many scoring chances in the third period.
"I thought for two periods, maybe a period and a half, we played good hockey," Blashill said. "We got a lead and then we got away from it a little bit and they pushed hard…so we still have to learn to be smarter in those situations."