Five Takeaways: Larkin's 300th Point Earns Red Wings Victory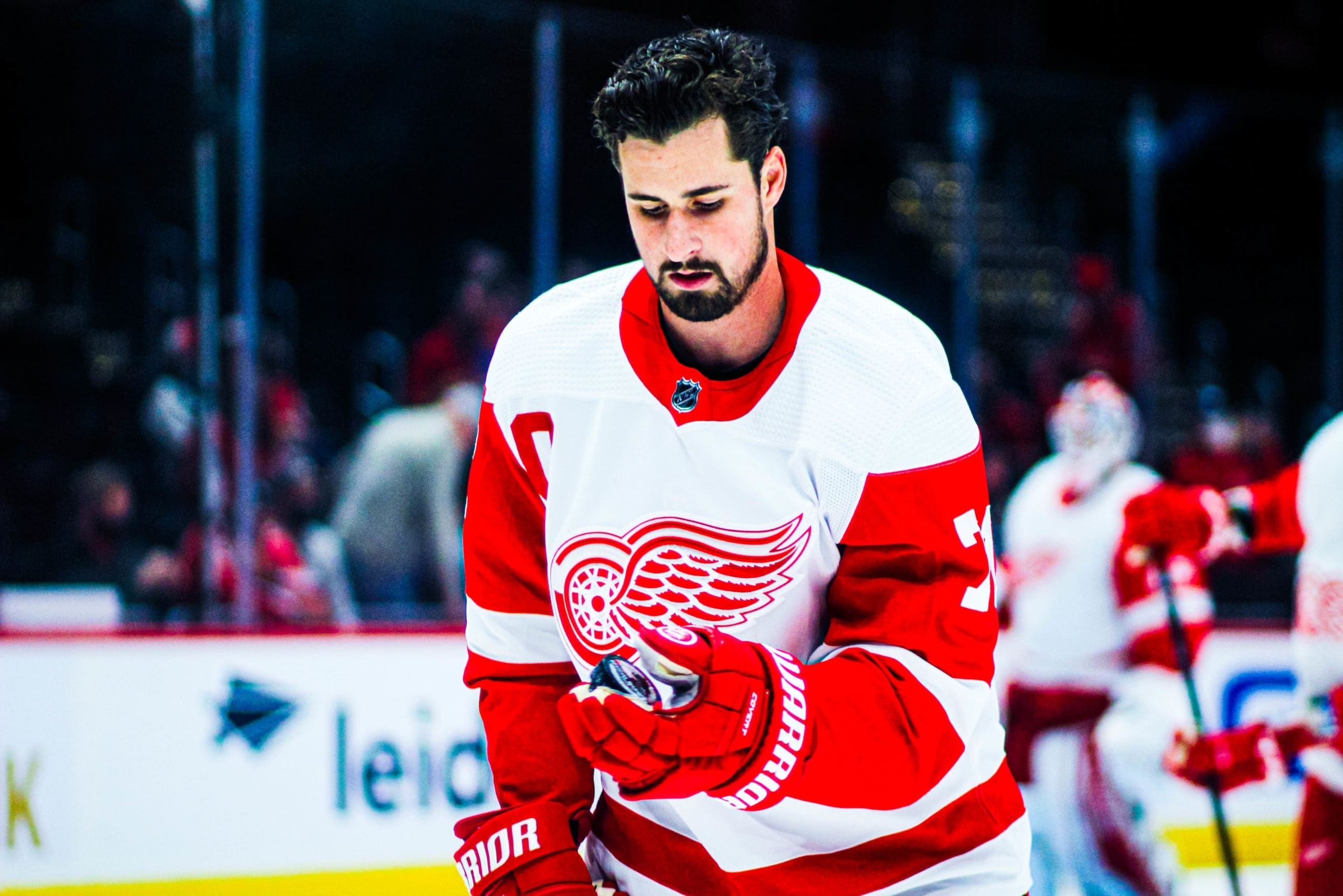 The Detroit Red Wings battled back from a 1-0 defict. Then they blew a 2-1 third-period lead. In the end, they had their captain to thank for their fourth victory in the last five games.
Dylan Larkin's second goal of the game 1:41 into overtime provided the winning margin in a 3-2 victory over the Montreal Canadiens on Saturday at Little Caesars Arena. The game winner was also the 300th NHL point of the Detroit captain's career.
"I see a guy who has great passion and cares a ton," Detroit coach Jeff Blashill said of Larkin. "That to me is his best attribute. I think lots of people would say it's his speed. For me it's his drive, it's his want to win, it's his want to be a great player.
"I think it's that that's pushed him to have that milestone."
Larkin also extends his point streak against the Habs to six games. The Canadiens had posted a 3-0 win over the Wings in Montreal while Larkin was out dealing with a family emergency.
Five takeaways from Saturday's victory.
Red Wings Larkin Using His Head
Dylan Larkin has won games for the Red Wings with his silky smooth hands and blazing feet. Saturday, an argument can be made that the key to victory was Larkin's head.
Late in the first period, Larkin was driving to the net when his feet were taken out from under him by Canadiens defenseman Jeff Petry. The Red Wings captain ended up crashing face first into the Montreal net. Canadiens goaltender Jake Allen was injured on the play and left the game.
Dylan Larkin scored the sixth overtime goal of his NHL career to move past Brett Hull, Gustav Nyquist and John Sorrell for sole possession of seventh place on the @DetroitRedWings' all-time list.#NHLStats: https://t.co/bQq4zywIRa pic.twitter.com/JAgYrKmdR2

— NHL Public Relations (@PR_NHL) November 14, 2021
"I was worried about Jake Allen," Larkin admitted. "I can't do much at full speed, Petry's at full speed. Just a little push and I can't move.
"I'm tired, I'm at the end of my shift and I can't do anything. I think about him, I think about myself, with injuries.
"It's a tough play and I feel really bad about it."
Over The Shoulder, Under The Bar, Nothing But Net
Detroit scored all three goals on Sam Montembeault, Allen's replacement. Two of the goals were top-shelf efforts.
"Mickey Redmond . . . he's always talking about roofing it and that's what you got to do," Larkin said, referring to the two-time 50-goal scorer for Detroit who works on Red Wings broadcasts. "The goalie that came in there tonight, he's a big guy and you got to get it up to beat him, or get him moving, and we did.
"Mickey will tell you guys all the time that's how you score goals in this league."
Just how do you score from that angle… HOW!? 😳

📺: @Sportsnet ➡️ https://t.co/uEVY6yXLpz #NHLonSN pic.twitter.com/tqDFbUIJ3z

— NHL (@NHL) November 14, 2021
This was including Larkin's first goal, which he shot from just before the goal line near the corner boards, slipping it over the shoulder of Montembeault and under the cross bar, where there was barely inches of room.
"He was down and I saw the top of the net and just shot it," Larkin said. "We hadn't gotten much going, hadn't tested their goalies. I saw an opening and just fired it.
Big Ned Looming Large Between the Pipes
Another strong performance in goal from Alex Nedeljkovic was a key contribution to the victory. The Detroit netminder stopped 35 shots.
Hugs for all! #LGRW pic.twitter.com/fiAkxVJ4HI

— Detroit Red Wings (@DetroitRedWings) November 14, 2021
"I thought tonight was his best game," Blashill said. "I thought the puck stuck to him a ton, and I think that's a huge key for goalies, especially if you're undersized at all, that the puck sticks to you. They hit him in a lot of different areas and he was able to control all those rebounds.
"Montreal does a very good job of being hard at the net, so for him to do the job he did in terms of controlling his rebounds, I thought was critical for us."
Stephens Injury Is Serious
It wasn't all bouquets for the Red Wings. Fourth-line center Mitchell Stephens, who's proving to be a useful addtion to the team this season, was chasing a loose puck behind the Montreal net. Losing an edge, Stephens crashed feet-first into the back boards. He left the game, unable to put weight on his left leg and didn't return.
Mitchell Stephens appears to have injured his ankle during this crash into the boards #LGRW pic.twitter.com/IxBIdvsk7K

— Nolan Bianchi (@nolanbianchi) November 14, 2021
"Mitch is a lower-body injury, as you probably could tell," Blashill said. "He'll miss some time here. I don't know the exact amount yet. But he'll miss some time."
With only 12 healthy forwards, expect the Red Wings to call up a player from AHL Grand Rapids for their upcoming road trip. Joe Veleno or Jonatan Berggren would appear to be the most likely options.
Red Wings PK Sublime
Going 3-for-3 while shorthanded Saturday, the Red Wings have now successfully killed off 17 consecutive penalties over their past six home games.
Keeping the sheet clean in this category on Saturday assured that victory would be attainable.
"That's an easy way to quell momentum, is to give up a goal there," Blashill said. "Our PK needed to step up and they did.
"We just gotta keep grinding away at that PK, because I do think we gave up a chance or two more than we wanted to, but in the end our thought our PK was solid and we need it to be real good.