Duffer's Dabbles: Was This The Best Prank Red Wings Legend Gordie Howe Ever Pulled?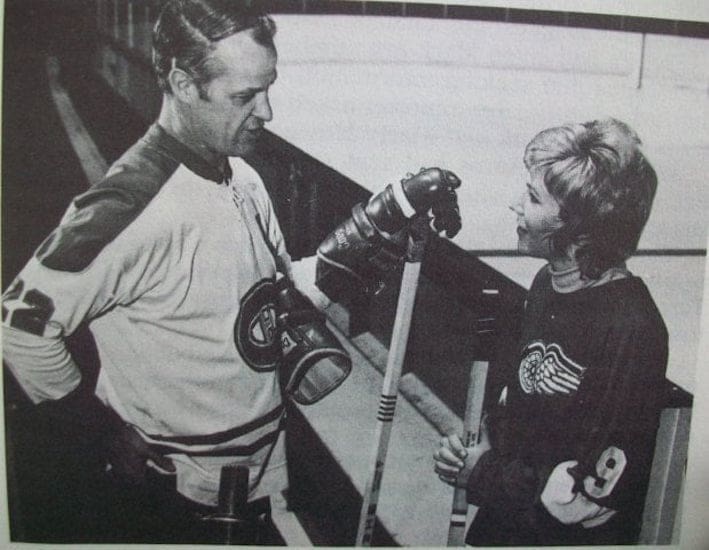 The Montreal Canadiens are in Detroit to face the Red Wings on Saturday night at Little Caesars Arena. But no matter what occurs on the ice, it will never match the stunning events that unfolded when Red Wings legend Gordie Howe met up with Canadian signing icon Anne Murray at the Montreal Forum in 1970.
Howe was in Montreal making some promotional appearances for Canadian department store Eaton's. Arrangements were put into motion for him to meet up with Murray at the Forum. She was taping an upcoming TV special and Howe was to join her for a segment.
When Howe arrived, the plan was for Murray to be adorned in his No. 9 Red Wings jersey for the segment. Ever the playful fellow, Howe countered by donning the sweater of one of his fiercest rivals. He pulled on the No. 22 of Canadiens tough guy John Ferguson.
It makes for a cringe-worthy photo in the eyes of Wings fans. Not to mention that it's one of the most frightening jersey fouls in franchise history. Just the thought of Mr. Hockey in a Habs sweater is enough to make the Hockeytown faithful shudder.
It would be like Rocket Richard joining the Maple Leafs, Sidney Crosby playing for the Capitals, or Wayne Gretzky suiting up for the Flames.
Red Wings Draper To Michigan
Detroit: Red Wings draft pick Kienan Draper, the son of Detroit director of amateur scouting and former Red Wings player Kris Draper, has committed to play next season for the University of Michigan.
NEWS: Kienan Draper commits to Michigan Wolverines

🔗 https://t.co/hre0hlAbrA #ChwkChiefs pic.twitter.com/BFUusKFDiQ

— Chilliwack Chiefs (@Chiefs_Hockey) November 12, 2021
Washington: See you later, Brett Hull. Capitals captain Alex Ovechkin scored his 742nd NHL goal to move past ex-Red Wings forward Hull and into sole possession of fourth place on the NHL's all-time goals list.
Boston: In search of secondary scoring, the Bruins are promoting forward Oskar Steen from AHL Providence.
Pittsburgh: COVID-19 and the crossing the Canadian border are conspiring to force the Penguins into some serious roster juggling prior to Saturday's game at Ottawa against the Senators.
Montreal: The Canadiens are coming to Detroit off a 4-2 win over the Calgary Flames, their fourth victory of the 2021-22 campaign. That means the Wings have only accounted for 50% of the Habs' victories this season.