Six Ways to Improve the Detroit Red Wings Now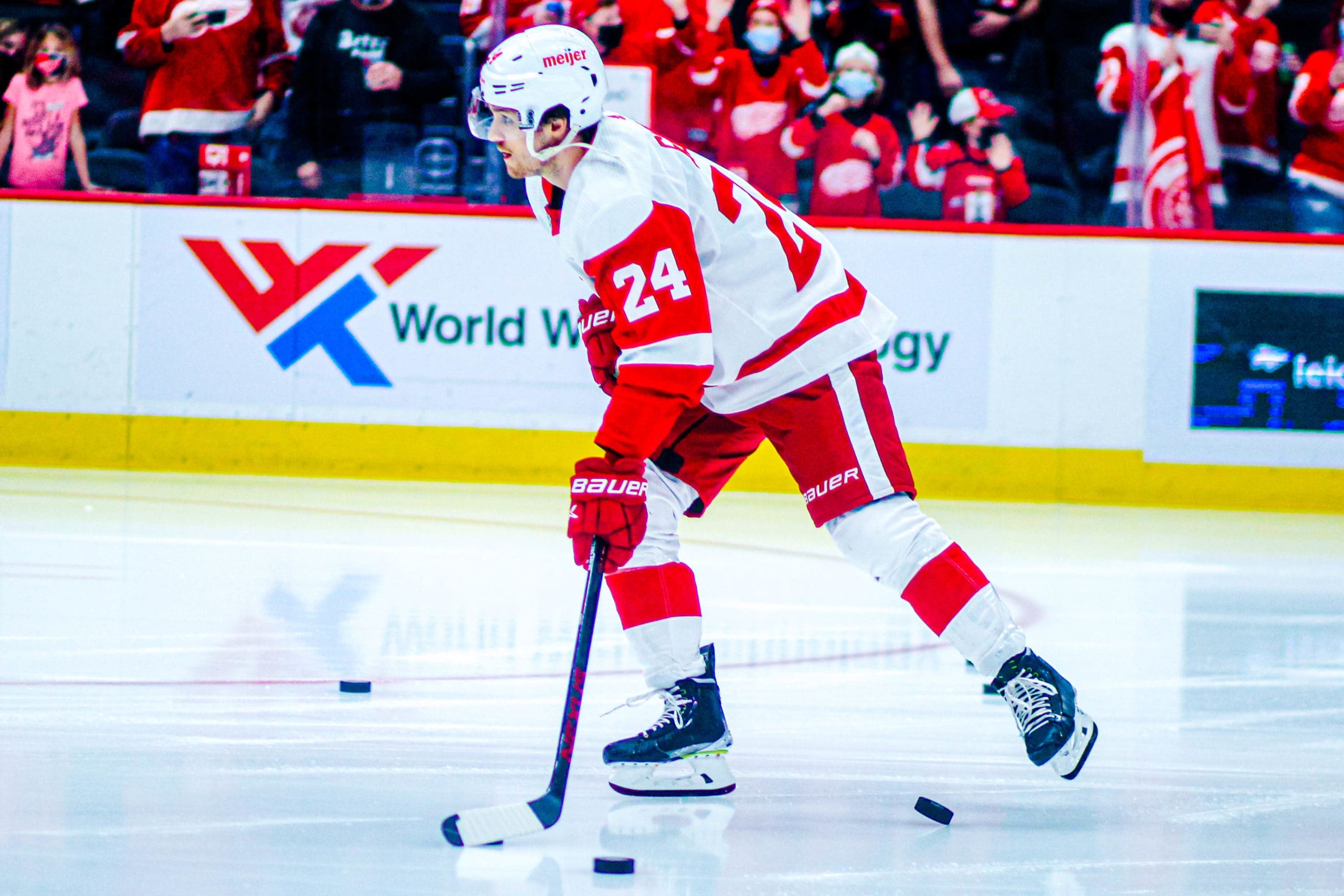 The Detroit Red Wings have lost three of their last four. They are 4-7 in their last 11. They picked up bad habits along the way, particularly when it comes to their defensive play.
Their goaltending has been credible to strong on most nights, and yet they rank 26th with a 3.33 goals-against average. The Detroit Red Wings' offense also has some issues.
Here are moves the Red Wings could make to improve themselves:
1. Change up defensive personnel
This isn't working. Why not give Jordan Oesterle a shot? He has 255 games of NHL experience. If Troy Stecher goes on the injured list, it might also be time to consider taking a look at some of the defensemen in Grand Rapids or explore the trade market.
2. Beef up the third line
The Red Wings are a smaller team. They need some size and/or aggressiveness. If Givani Smith can't fill the role, they need to find a Darren McCarty-type or a Barclay Goodrow-type to play with Michael Rasmussen. Although Rasmussen isn't scoring goals, he's starting to will himself into becoming an effective third-line center. He is beginning to use his 6-foot-6 frame effectively. If you add someone else to that line who is hard to play against, it would give the Red Wings a line to use when they want to protect a lead or create some chaos.
3. Play stronger in the Neutral Zone
This is where the Red Wings' defensive problems start. The Red Wings make it too easy for teams to move the puck through center ice. Think back to when the Calgary Flames beat the Red Wings at Little Caesars Arena. The Flames, under coach Darryl Sutter, made it difficult to move the puck through center ice.
Too many times, the Red Wings' opponents come into Detroit's defensive zone with speed or on an odd-man rush. The Red Wings have to play harder in the neutral zone.
4. Add one more scorer
The Red Wings' top line players Lucas Raymond, Dylan Larkin and Tyler Bertuzzi have combined for 24 goals. That represents 47% of the team's goal production in the first 18 games. Detroit's second line, based on analytics, was recently rated as one of the NHL's top 10 lines, according to Moneypuck.com. But the players on that line — Filip Zadina, Pius Suter and Robby Fabbri — have combined for 10 goals and 21 points in 18 games. That's 1.2 points per game for that line.
Detroit needs more production from the No. 2 line. It feels as if the Red Wings need one more proven scorer. They have one of those (Jakub Vrana) on the injured list.
Would guess today that the Red Wings will keep the first line intact when Vrana returns. Vrana might join the second line with Suter and Fabbri. Zadina would move to the third line.
The best option for a potential scorer at Grand Rapids would be Jonatan Berggren. But he doesn't seem quite ready. The other option is the trade market. Not much available there unless you like Phil Kessel.
5.  Find playing time for Joe Veleno and Sam Gagner
We know Veleno is going to play in the NHL. He is smart and he can skate. What we don't know is if he will score. Veteran Gagner is playing well and putting those two together will help Veleno's development and perhaps generate some offense on the fourth line.
6. Hope Larkin Finds Some Luck
Larkin is playing well, and yet he has had a string of bad luck. If he does indeed have Covid, he will probably miss another three or four games. He has already missed four of the first 18.
Top forward lines this season with at least 75 minutes played together 5 on 5. https://t.co/3qd1ufVXHS pic.twitter.com/wU8vWJ844T

— MoneyPuck.com (@MoneyPuckdotcom) November 17, 2021