Five Takeaways: Seider Hurt, Red Wings Crap Out In Vegas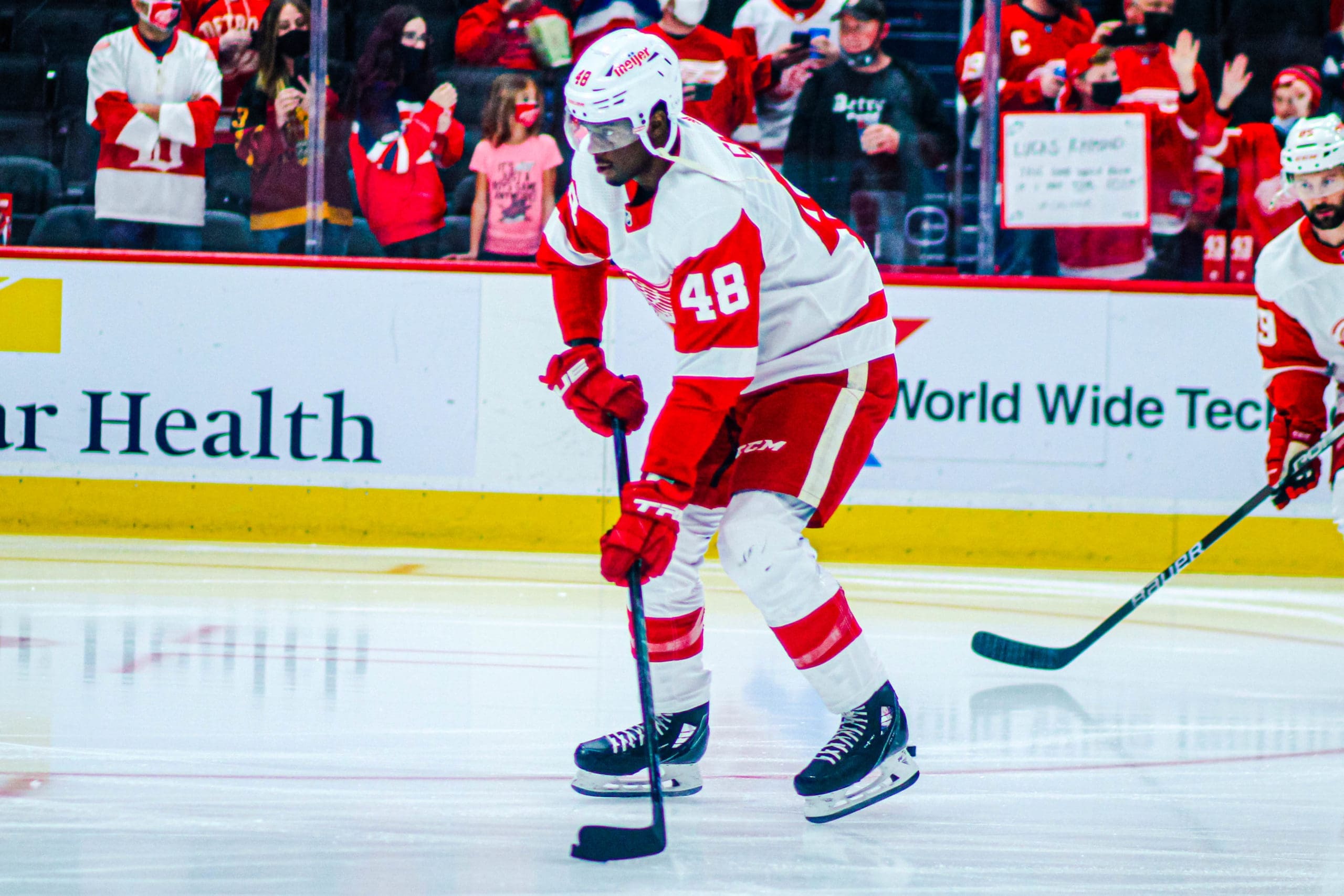 In the case of the Detroit Red Wings, what happened in Vegas . . . was pretty much what's been happening to the team throughout the entire span of this current four-game road trip.
Missed defensive zone assignments, lost faceoffs, quick goals, last-minute goals, five goals against – and the beatings go on for Detroit. A 5-2 loss to the Vegas Golden Knights on Thursday was following the Red Wings' recent blueprint for away game failure.
Five takeaways from their latest road debacle.
I've Got Him . . . No You Take Him
Defensive zone coverage continues to be a glaring issue for the Red Wings. It was captain Dylan Larkin who didn't have his man Nick Hague on the first Vegas goal. Givani Smith lost Zach Whitecloud on the second goal.
"We made some mistakes and when we made them, they ended up in our net," Red Wings coach Jeff Blashill said. "We gotta get our structure back, we gotta get our habits back, specifically in D-zone coverage and track."
Vegas scored two goals in a span of 2:25 in the second period to grab a 2-0 lead. It was 3-1 Golden Knights in the dying seconds of the frame when a soft clearing attempt by veteran defenseman Danny DeKeyser was held in the zone. It was quickly converted into a fourth Vegas goal.
"It's a goal on the board and it's a huge momentum goal," Blashill said. "At the very end we just gotta find a way to grind through the rest of that shift."
The Wings surrendered five goals for the third successive game.
Seider Leaves Game After Blocking Shot
Red Wings rookie defenseman Moritz Seider collapsed to the ice after taking a Reilly Smith shot off the inside of his right knee late in the game. Seider was eventually able to hobble off the ice but went straight to the dressing room and did not return.
"Too early," Blashill said when asked for an assessment of Seider's condition. "I'm not certain. I didn't even have a chance to talk to our trainer yet."
Moritz Seider takes a puck to the knee and looked to be in serious pain. Barely made it off the ice on his own. #LGRW pic.twitter.com/gwdVnXPilq

— Ryan Hana (@RyanHanaWWP) November 19, 2021
Seider is second among NHL rookie scorers with 2-11-13 totals. He's trailing only teammate Lucas Raymond (7-11-18). Seider also leads rookies in ice time per game (22:19).
"He's huge for us, the confidence and the poise he plays with, the aggressiveness," teammate Sam Gagner said. "He's been unbelievable for us. He is a guy that's leading for us even as a young guy, so huge importance to our team."
Red Wings Faceoff Follies
Detroit entered the game 16th in the NHL in faceoff percentage (50.0) and 15th in defensive zone faceoff wins (49.2%). For the second game, though, a lost faceoff in the defensive zone led directly to an opposition goal. Whitecloud made it 3-1 after Michael Rasmussen lost a draw in the Red Wings end.
"Tonight we got picked a bit to the inside, so they were able to get the shot through," Blashill said. "
I think we gotta make sure in those situations with a D zone faceoff you're not losing it clean. We gotta make sure we find ways if you're not having a great night in the faceoff circle that you're ending up tying those up way more and there's more scrums.
"When you lose it clean, they're able to get picks on you and it's hard to get through (to the point for a shot block)."
In Tuesday's 5-2 loss at Dallas, the Stars made it 2-0 after Larkin was beaten on a D-zone draw.
Among Detroit's regular centers, Rasmussen (56.2) and Larkin (54.6) are the team's best on the faceoff in the D-zone this season. Joe Veleno is 46.2, injured Mitchell Stephens is 45.2 and Pius Suter is a disappointing 43.3.
Red Wings Smith Gets On The Board
Playing for the first time in four games, Smith tallied Detroit's first goal by going to the net and shoveling home a loose puck.
"They were on the ice for a goal against that was a mistake but I thought Givani Smith gave us a spark and played really well," Blashill said.
Later in the game, Smith was proving to be a net-front annoyance as Joe Veleno potted the Red Wings' second goal.
"He's a guy who can create a lot of havoc with his size and I thought tonight he did that," linemate Gagner said. "He got a goal in the paint, and that's something we've talked about."
Red Wings No Longer Golden In Vegas
Detroit became the 31st visiting NHL team to lose a game at T-Mobile Arena. The Red Wings had been 2-0 there prior to Thursday's setback.
On October 13, 2017, the Red Wings were 6-3 winners. They handed the Golden Knights their first-ever loss. MArch 23, 2019 saw the Red Wings collect a 3-2 overtime verdict at Vegas.