Maturation Process Of Red Wings Captain Larkin Impressive To Watch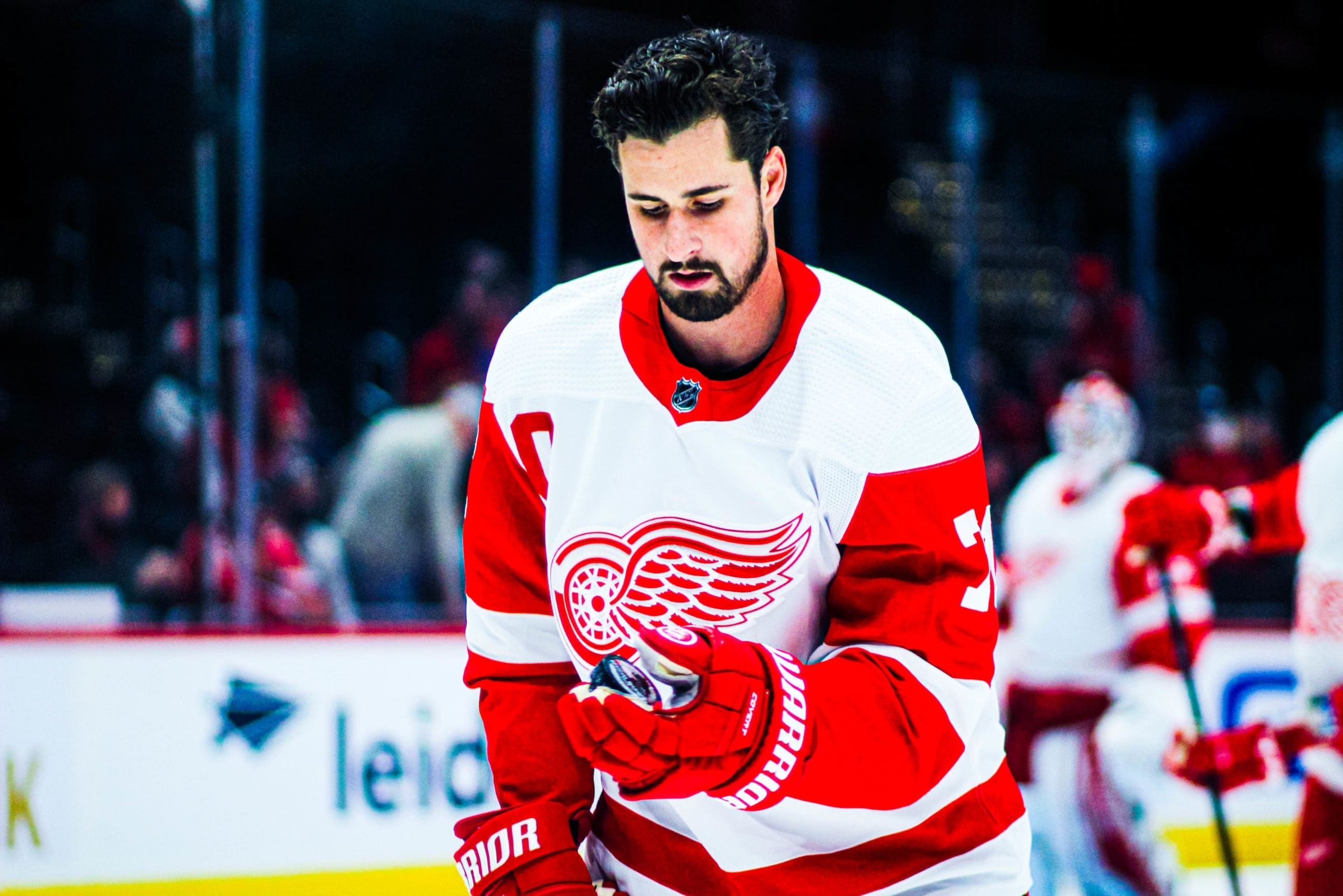 Three times this season, captain Dylan Larkin has been gone in an instant from the Detroit Red Wings' lineup. Twice, it's been the result of mistakes made by league officials.
In each instance, he had every reason to go off and rip the NHL a new one. In both cases, he did not.
These examples are shining the light on just how much Larkin, 25, is maturing into his role as leader of the team.
While his frustration was abundantly clear for all to see, Larkin bit his tongue, which was absolutely the right thing to do.
Larkin Controlling What He Can Control
Players talk all the time about controlling what they can control.  In his case, Dylan Larkin isn't just talking the talk. He's walking the walk.
In Detroit's season opener, his first game back from a season-ending neck injury, Larkin was propelled into the boards from behind by Tampa Bay's Mathieu Joseph. It should've been a major penalty to Joseph, yet there was no call on the play.
Larkin responded by punching Joseph in the face. He was assessed a match penalty and one-game suspension. In essence, Larkin was forced to sit out for doing what the on-ice officials should've been doing – protecting him from such assaults by enforcing the rulebook.
I asked Larkin at the time if he was disappointed that the league was forcing players into vigilante justice in order to fend off such attacks.
Larkin sat quietly for the longest time before answering. You could almost see the wheels turning inside his brain.
"I think with that, I don't know," he finally answered. "I can't really put something out there. It's a dangerous play. Guys get hurt. I got hurt.
"I think everyone is on board that something needs to happen."
Larkin had every right to blast the league for not protecting his players. But such an outburst, while initially satisfying, would only cause more unrest from both him and his team.
So he took the high road. That's a sign of maturity.
False COVID Positive Removing Larkin From Game
Last week, only recently back from a family emergency that took him away from the team for almost a week, Larkin was pulled from the Detroit dressing during the second intermission of a game at Dallas. He was told he'd given a positive test for COVID-19.
Late in the second period, Larkin scored, narrowing the Dallas lead to 3-2. The Red Wings were coming on strongly. There was every reason to believe that they could be rallying to win the game in the third period. Instead, minus their leader, the Wings stumbled to a 5-2 setback.
Bar. Down.@Dylanlarkin39 pic.twitter.com/RmpmMI5FWj

— Detroit Red Wings (@DetroitRedWings) November 17, 2021
The next day, it was revealed that Larkin's test was a false postive. The Stars, unlike the majority of NHL teams, did not have the necessary equipment at American Airlines Arena to do a second test that would've confirmed the false positive in 30 minutes. That outcome would've likely enabled Larkin to get back in time for at least some of the third period.
Again, he was victimized by league incompetence. If Larkin hadn taken the entitled 'why me' stance that is commonplace among athletes, Red Wings fans would have absolutely been on board with his complaint.
Instead, Larkin was opting to big picture the scenario. His initial notion took into account the others on his team.
"I thought a lot about the guys and not having a bigger situation come out of it," Larkin said. "The possibility that I had COVID . . . trying to get out of there and not infect anyone.
"Just an unfortunate situation."
Larkin's Maturity Showing
Dealing with a serious neck injury over the summer and a family crisis earlier this year, Larkin is admitting to taking stock of his life. He is trying to step away from emotional reactions. Instead he's choosing to take a step back, seeking out the best response during such trying situations.
"I think the highs and lows . . . they're pretty dramatic at times, especially if you let them be," Larkin said. "I feel like at times I've really let them get to me.
DYLAN. LARKIN.#LGRW pic.twitter.com/I5oIXRdDfO

— Detroit Red Wings (@DetroitRedWings) November 21, 2021
"This year, I really worked on not letting that happen, whether it's going well or it's not, whether things come into your life and take you out of the lineup for a week or you can't play a third period.
"I'm really just trying not to let it get to me and be grateful that I'm here."
That's certainly the mature way to handle such scenarios. And perhaps it's also playing a role in what's so far been a tremendous rebound campaign for the Detroit captain. Already, Larkin has scored nine goals. That's as many as he tallied all of last season.
Regardless, Larkin's ability to also recognize that it's the best approach for him and his team is quite impressive.