Blashill to Filip Zadina: Don't Fret About Scoring, Focus on Winning Hockey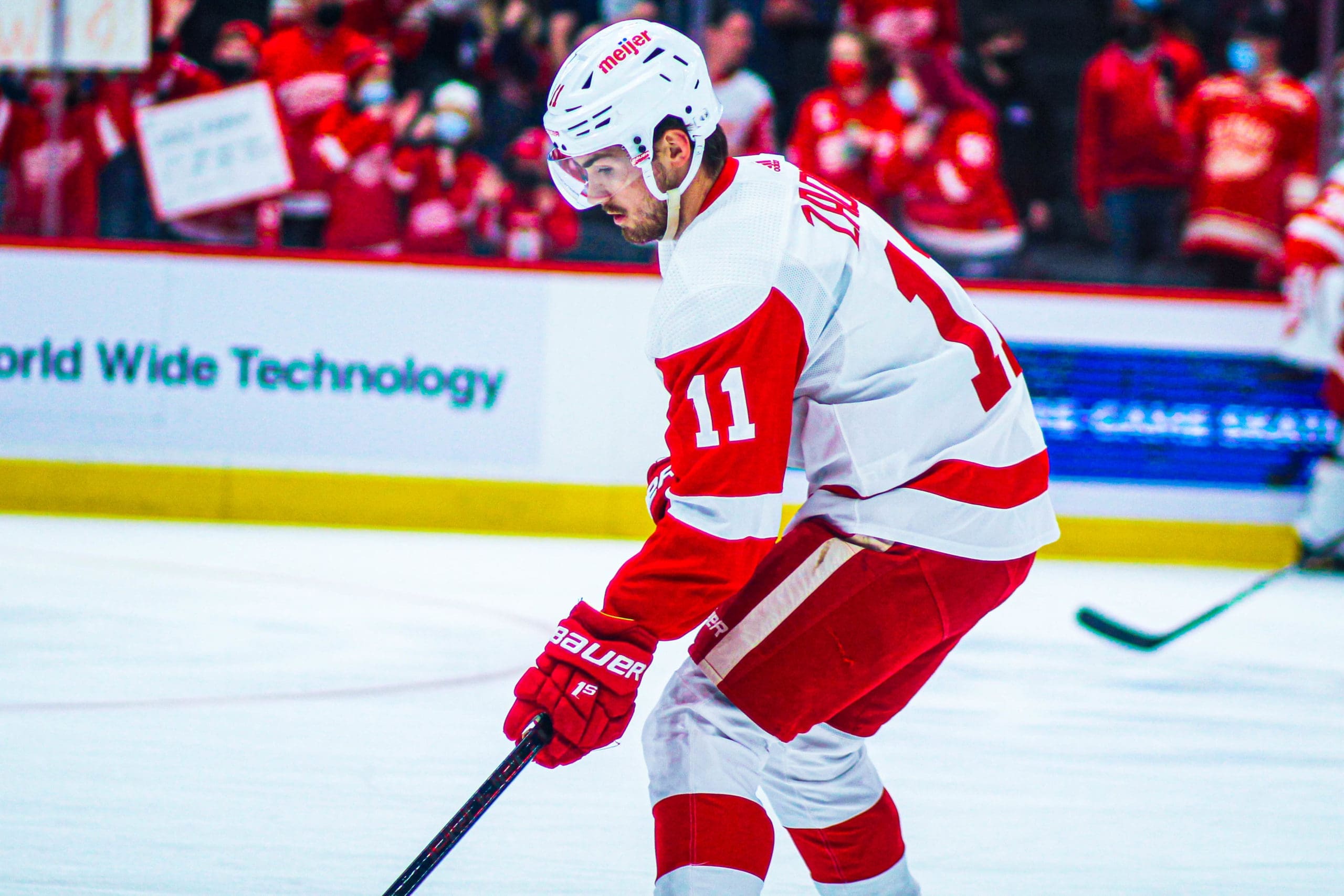 Jeff Blashill sounds like both a therapist and a coach when he talks to Filip Zadina about his lack of goal production.
"My focus on him, although I do want him to score and he wants to score, " the Detroit Red Wings said, "is he can't put all (of) his self worth into scoring."
Filip Zadina, drafted sixth overall in the 2018 draft, has scored one goal in his past 11 games, three goals on the season and 18 in his 106-game NHL career. He is only 21. But when you are drafted as a scorer,  expectations can be a heavy burden.
The incredible success of rookies Lucas Raymond, a No. 4 pick in 2020,  and Moritz Seider, a No. 6 pick in 2019,  is creating even more fan impatience over Zadina's timetable for success.
"We all get too over-excited both ways in this world today," Blashill said. "We get over-excited when things go well and we get over-excited when things don't go well, or overreact, I should say. That's just part of the culture of today. I would say a couple of things I guess. One is let's continue to let Seids and Raymond prove it, and two, let's continue to give Zadina time."
Detroit's No. 2 Line Struggling
It doesn't help Zadina that all three members of Detroit's second line can't seem to find the net. Robby Fabbri has one goal and three points in his past 12 games. His shooting percentage is 5.8%, compared to 13.5% and 17.2% in his first two seasons in Detroit. The No. 2 center Pius Suter doesn't have a point in his past four games. The line is getting chances, but can't seem to cash in on them.
"I think (Zadina) measures himself as a goal scorer," Blashill said.  "That's when frustration sets in, when really he should be measuring himself on the process of playing."
Blashill said many of his conversations with Zadina are about ways he can keep "building into winning hockey."
"I think he is trying," Blashill said. "…I think he's got the capability to be much more than a goal scorer. He can be a give and go type guy and that's what we are working on."
The issue for Zadina is that he doesn't have the physical tools to be what Blashill calls "a self-generator." Those are the guys who create their own scoring chances with incredible speed like Connor McDavid or strength, size and power like Alex Ovechkin. 
Zadina doesn't have blinding speed, nor is he 230-pounds.
Zadina Can Find Ways to Score
"He's got good speed but if you look around the league at the real self-generating players, they either can really fly or they're just huge men," Blashill said. "If you're not those two things, then you got to do it a little more with your brain and a little more give and go."
That seems to be hard for Zadina to embrace because he's always been a scorer. He scored 44 goals in 57 games in the Quebec Major Junior Hockey League.
"I think he's valued himself as a scorer so much it's become what he tries to do on his own instead of 'let's play give and go hockey,' and use your quickness, because he has quickness, he has hockey smarts. Use those things to get yourself into those scoring areas and then you can score, or produce with assists."
Blashill has also asked to concentrate on playing hard every minute he's on the ice. He wants him to be relentless in the name of creating offense.
"That he's going to the net hard and stopping, that he's forechecking and moving his feet hard, that he's hard on pucks," Blashill said. "I just think again when you're not a huge man, or you're not really fast, then you gotta make sure in order to have the puck a lot you gotta be super hard. Those are a couple of areas we've tried to focus on.
What Blashill didn't say, but is understood is that if Zadina embraces the "give and go" style and plays hard on the puck he could end up being the scorer he wants to be. Everything Blashill is talking about will lead to quality scoring chances.