Five Takeaways: Alex Nedeljkovic Makes Statement in Win Against Blues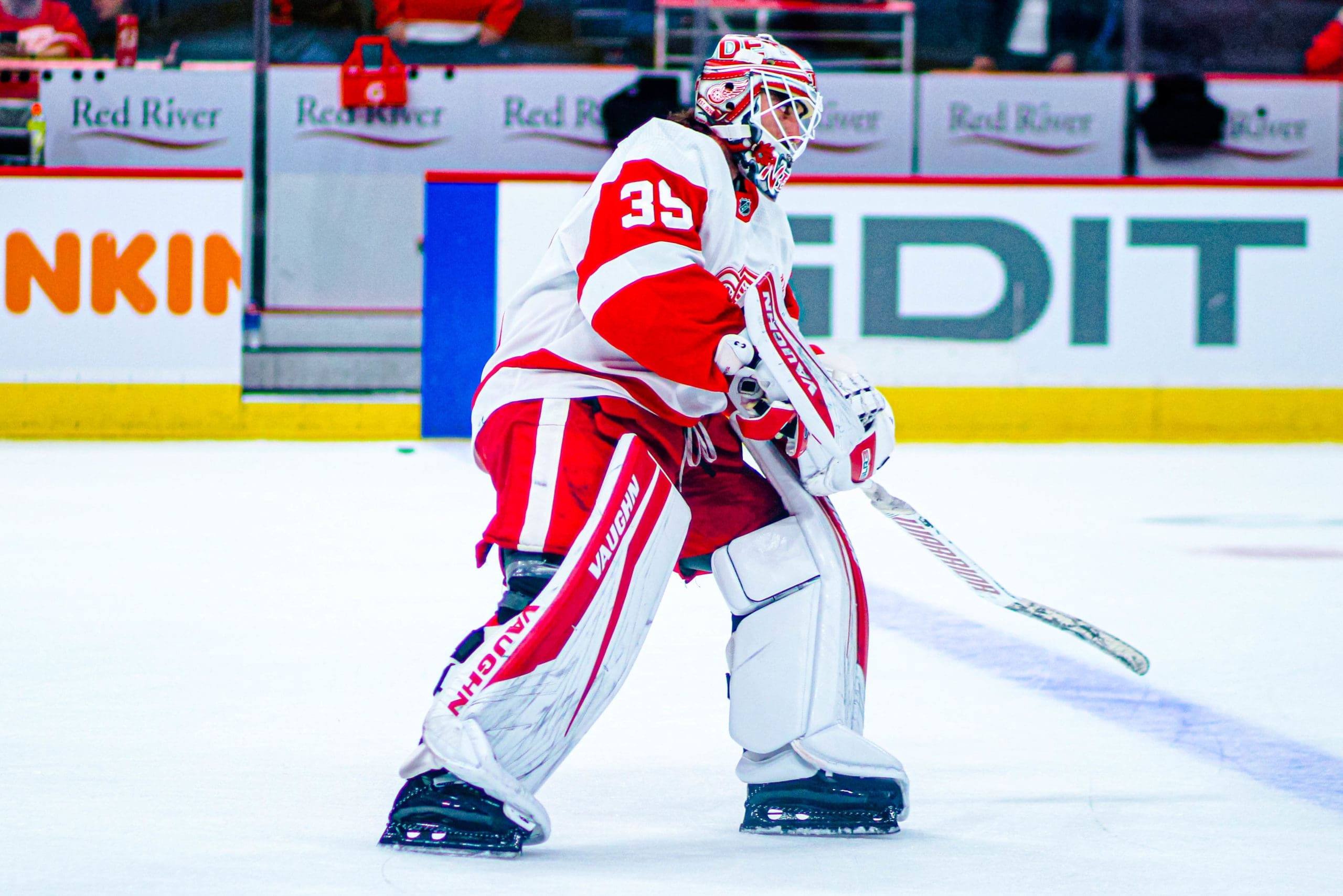 Alex Nedeljkovic received his first back-to-back starts with the Detroit Red Wings and responded with a brilliant performance in a 3-2 win against the St. Louis Blues. The Red Wings are 9-9-3 overall, but 6-2-2 at Little Caesars Arena
Staking a Claim
The Red Wings said from the beginning they would use a tandem approach in net unless either Alex Nedeljkovic or Thomas Greiss showed they deserved to be the starter. This one game isn't enough to change Detroit's plans.
But his 35-save performance might further establish Nedeljkovic as the favorite to emerge as the No. 1. He is the first to play two consecutive games.
This game will stick with fans and coaches because Nedeljkovic was sometimes spectacular, particularly in the third period. His athleticism allowed him to stretch post to post to make big saves. In his back-to-back outings, he stopped 62 of 66 shots.
Larkin Carrying the Flag
Dylan Larkin scored his 10th goal of the season, one more than he scored last season in 44 games. He now has 18 points in 17 games.  More importantly, Larkin is playing with authority.
His current six-game point streak (6-3-9) is his longest since a seven-game run from Dec. 31, 2019 to Jan. 14, 2020. The Red Wings' trio of Lucas Raymond, Larkin and Tyler Bertuzzi has been a true first line. Rookie Raymond scored his eighth goal of the season.
"Maybe (his neck) injury in some ways was good," Blashill said of Larkin. "He's such a worker and has such inner drive that maybe the injury gave him a chance to kind of sit back and refresh a little bit. I think from the beginning of the season he's done an excellent job. That line was really good tonight in terms of their compete on the puck and they've been a big part of any wins that we've had. He looks definitely refreshed and energized."
Team's Defensive Play Still Shaky
The reason Nedeljkovic had to save the day is the Red Wings' overall defensive play was poor. Again.
"We gave up too many chances," Blashill said. "We got loose in our own end. Gave some slot shots in the second but they weren't prime-time chances. I wasn't super-worried but then in the third I thought we gave up too many prime-time chances. That kind of kicks you back on your heels."
Danny DeKeyser was out because he is in COVID-19 protocol. Marc Staal remains out with a non-COVID related illness. Dan Renouf was promoted from Grand Rapids. He played 13:03 against St. Louis.
Improving Penalty Killing
A first-period power play goal snapped Detroit's streak of 19 successful penalty kills in a row. However,  the team killed off two St. Louis power plays in the third period.
"The PK definitely stepped up the past 2-3 weeks," Alex Nedeljkovic said. "Even tonight, yeah they get that one in the first period but those were two big kills in the third there with the lead and trying to protect the lead. We didn't really give them much of anything on them. It was definitely due to guys battling and laying out and sacrificing their bodies and committing to getting better on the penalty kill.
Holding a lead was a problem on the Red Wings' recent 0-3-1 road trip. The Red Wings' ability to hold off the Blues  power play in the critical third period should be a confidence booster.
"I think our guys know their responsibilities and I think we're getting better within those responsibilities," Blashill said. "We're finding a little bit more ways to pressure."
More Secondary scoring
Robby Fabbri and Adam Erne scored for the Red Wings. It was Fabbri's second goal in 13 games and Erne's first in 13 games. That is important.
The Red Wings are top-line dependent. They need more production out of the second and third lines.
Joe Veleno left mid-game against the Blues with an upper body injury. Blashill had no update after the game.