DeKeyser Out (COVID) But Far From Red Wings' Only Defensive Issue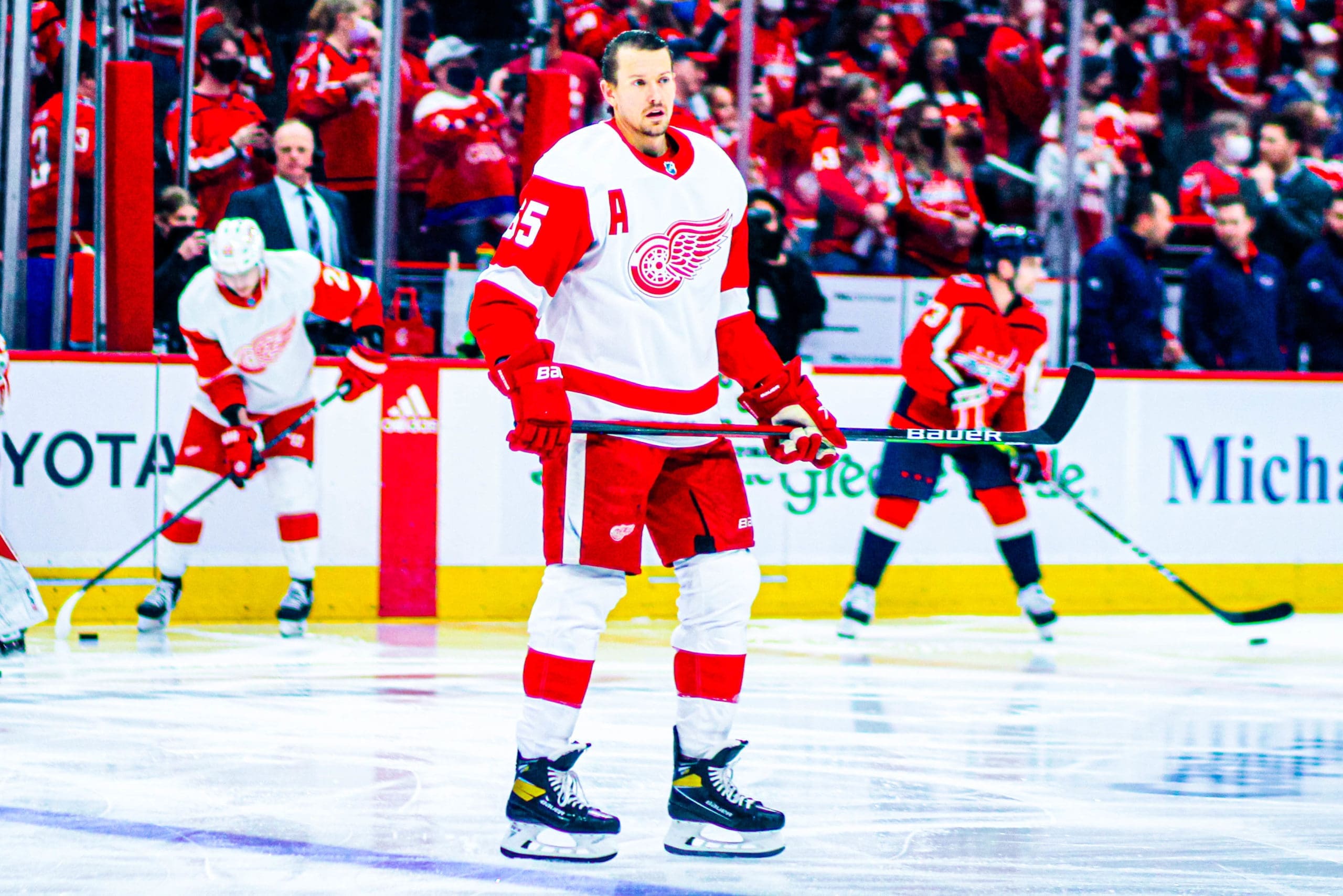 Think of the Detroit Red Wings' defense like a broken down jalopy. The car needs a new fuel pump. It's got a flat tire. The windshield wipers don't work.
You get the flat fixed. Great. That's one problem solved. Here's the thing, though – that car still isn't going anywhere.
Red Wings fans have have made themselves abundantly clear: they want defenseman Danny DeKeyser's removal from the team's blueline corps, and they want it done yesterday.
Understandable. Certainly, DeKeyser's play has been wanting this season. There's no arguing that fact.
They'll get their wish, at least temporarily. The Wings announced Thursday that DeKeyser had entered into the NHL's COVID-19 protocols.
Any way you slice it, things don't add up well for DeKeyser.
Take a small sample size, if you will, In Detroit's last three games, DeKeyser is minus-5. His soft clearing attempt during the final minute of the opening period of a loss at Vegas during the Red Wings' most recent road trip led to a turnover and a backbreaking goal against.
Go large, if you must. The picture doesn't get any better. DeKeyser's 5-on-5 Corsi is 45.9%. That's 200th among NHL defensemen. His on-ice save percentage of 90.2 is 191st among NHL rearguards.
Again, though, here's the thing – excising DeKeyser might made Wings fans feel better. However, it isn't going to make the Detroit defense all that much better.
Danny DeKeyser: Noted McDavid Stomper pic.twitter.com/aPHsyq2T47

— Justin (@TheYzerPlan) November 16, 2021
Look around. DeKeyser has plenty of company in his misery.
Just ahead of him in 198th in Corsi is Nick Leddy. Marc Staal (45.5) is 203rd. Even more alarming, Filip Hronek, who's expected to be a big part of the future solution for the Red Wings, is 208th (45.3).
According to Moneypuck.com, Hronek and rookie Moritz Seider share the team lead in defensive-zone giveaways, each with 11. By contrast, DeKeyser is credited with just four D-zone giveaways. Only Jordan Oesterle (three) has committed fewer. And he's seen limited game action.
Opportunity For Oesterle
There was an intriguing development during Saturday's 2-1 loss at Arizona. Red Wings coach Jeff Blashill sent out Oesterle to pair with Seider instead of DeKeyser. Oesterle (17:10) saw more ice time in that game than DeKeyser (16:18).
In fact, it was the third successive game in which DeKeyer's time on ice dimnished. He skated 22:59 in the loss to the Stars, but just 19:04 against the Vegas Golden Knights, a game in which he was minus-3.
Signed as a free agent in the summer, Oesterle has patiently waited for his chance. With Staal (illness) and Troy Stecher (wrist surgery) out right now, Oesterle, whose Corsi is 50.3, is going to get his chance to shine.
"It gives him a better opportunity the more games he plays in a row," Red Wings coach Jeff Blashill said of Oesterle, who's played just five of 20 games. I recognize that it's really hard to go in and play one game every once in a while and feel really confident and comfortable.
"The more games he gets where he's playing in a row, it just gives him a chance to feel confident and comfortable. If then his game rises to a level that's better than other guys because of that, then you see more ice time."
Red Wings Recall Renouf
The Wings also recalled defenseman Dan Renouf from AHL Grand Rapids earlier Wednesday. He'll slot into the lineup into DeKeyser's spot.
UPDATE: The Detroit #RedWings today recalled defenseman Dan Renouf from the AHL's Grand Rapids Griffins.

Additionally, the Red Wings placed defenseman Troy Stecher on injured reserve retroactive to Nov. 4. pic.twitter.com/iae9f0H0ER

— Detroit Red Wings (@DetroitRedWings) November 24, 2021
Recoverd from a debilitating back injury that required surgery, Blashill hopefully penciled in DeKeyser among his top-four rearguards. The thinking was that having regained his health, the DeKeyser of old would return. Instead, he's just looked like an old DeKeyser.
At 6-foot-3 and 183 pounds, DeKeyser is the type of defenseman who is traditionally despised by the Red Wings faithful. He's a big guy who doesn't play a physical game. Back in the day, Willie Huber was vilified by the fan base. A more recent generation couldn't give enough grief to Jonathan Ericsson.
That's not to say neither of them warranted criticism, just as DeKeyser must take his fair share of the blame along the Detroit rearguard. However, pinning all of the blame to him is patently unfair and entirely unwarranted.