Moving Smith To Red Wings' Second Line Could Be Ideal For Both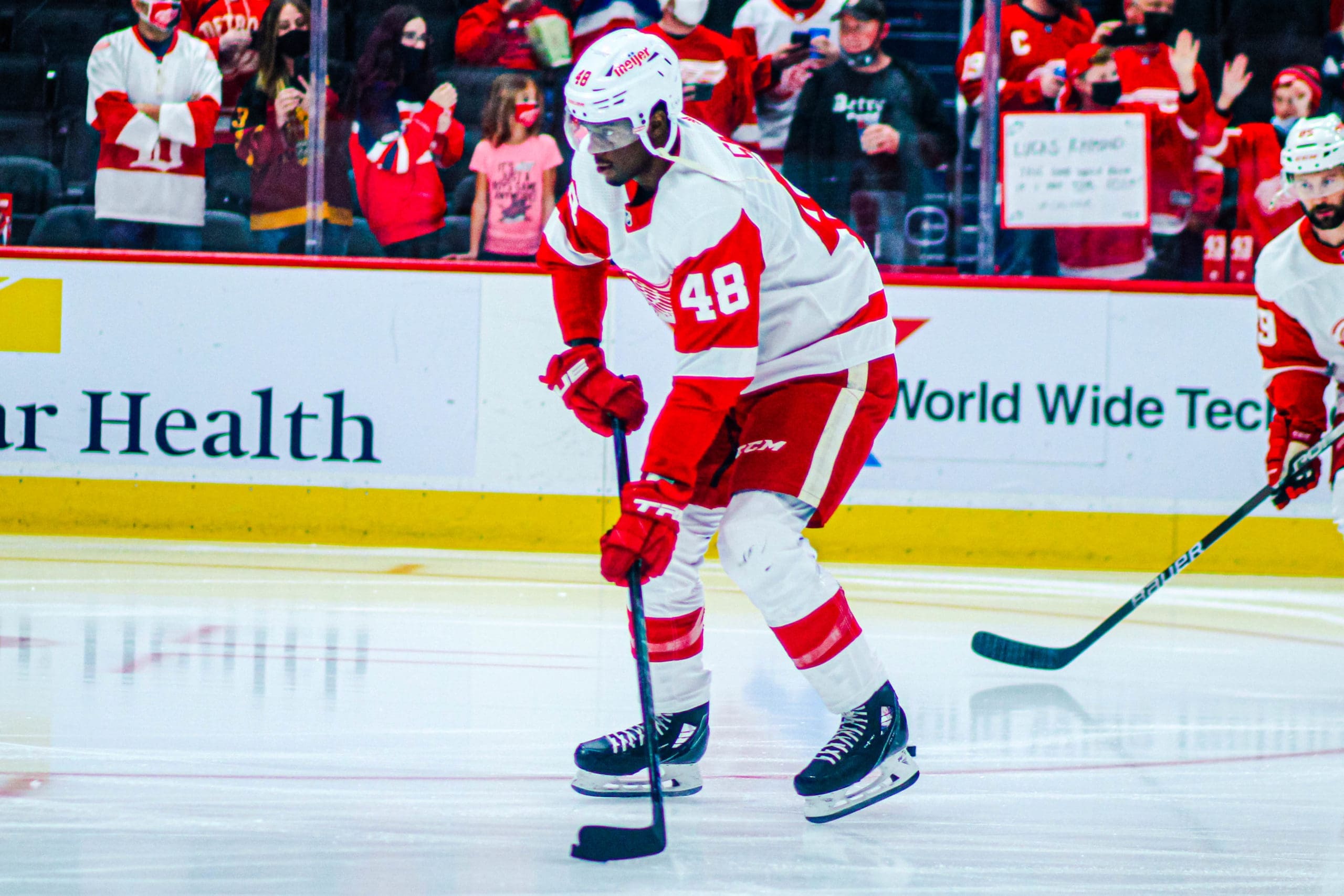 The Detroit Red Wings are giving forward Givani Smith a chance to play on the club's second line. That's where he'll start off Saturday's game at Little Caesars Arena, skating alongside Pius Suter and Robby Fabbri.
Whether it's where he finishes the game is entirely up to Smith.
"I'm not sure we're going to stay with it and certainly don't know if we'll stay with it within the game but it's something we wanted to look at," Red Wings coach Jeff Blashill said.
Givani Smith tucks it in during a goal mouth scramble to cut the Vegas lead in half! #LGRW pic.twitter.com/thywDXJkKw

— Bally Sports Detroit (@BallySportsDET) November 19, 2021
While the second line is showing solid analytics, when it comes to productiion, that's an entirely different matter. The top line of Lucas Raymond (20 points), Dylan Larkin (18) and Tyler Bertuzzi (18) are 1-2-3 on the Red Wings in scoring but you have to go all the way down to seventh on the list to find a member of the second unit. That would be Fabbri (4-6-10). Suter (4-4-8) is ninth and Filip Zadina (3-4-7) is 12th.
One of the reasons why the first line is clicking is that it includes all of the elements to succeed. There is a puck distributor/transformer (Larkin), a finisher (Raymond) and a puck retriever (Bertuzzi).
The second unit has Suter in the distributor/transporter role. In essence, though, Fabbri and Zadina are basically clones in terms of what they bring to the line.
"We kind of have two shooters in Fabbs and Zadina, so you're kind of the same type of player," Blashill explained. Smith, they are hoping, can evolve into at minimum a poor man's version of Bertuzzi.
Smith Can Bridge Edginess to Red Wings' Second Line
"We'll continue to make clear to him that we'd like to see him be a physical presence, which he has been at times last couple of games," Blashill said of Smith. "But there's a lot more to it with him. Him and I have talked lots about being real good in our zone, being real good with the puck moving up through the ice.
"He should be a real simple player with the puck moving up through the ice, get it out at our blue line, get it in at their blue line and play in the O-zone, because that's where he can separate himself.
"He's got a unique skill-set when he's in the O-zone, so let's get there."
It's that unique skill set that the Red Wings are hoping the 6-foot-2, 215-pound Smith will be utilizing. What they're seeking from him is getting more pucks in the O-zone for Suter and Fabbri. Then upon gaining puck possession, the creatiion of havoc at the net front.
Givani Smith dropping the gloves early, you love to see it! #LGRW pic.twitter.com/Y4wWAQQbnU

— Bally Sports Detroit (@BallySportsDET) October 21, 2021
"If we did it with Smitty it would be a net presence, big-body guy, a playmaking center (Suter) with a shooter with Fabbri," Blashill said. "That line has gotten chances but they're a little bit, all a little slight, so you got a big body up there as well.
"I'm not sure we're going to stay with it and certainly don't know if we'll stay with it within the game but it's something we wanted to look at."