Five takeaways: Rookie Moritz Seider Comes Through Again with OT Tally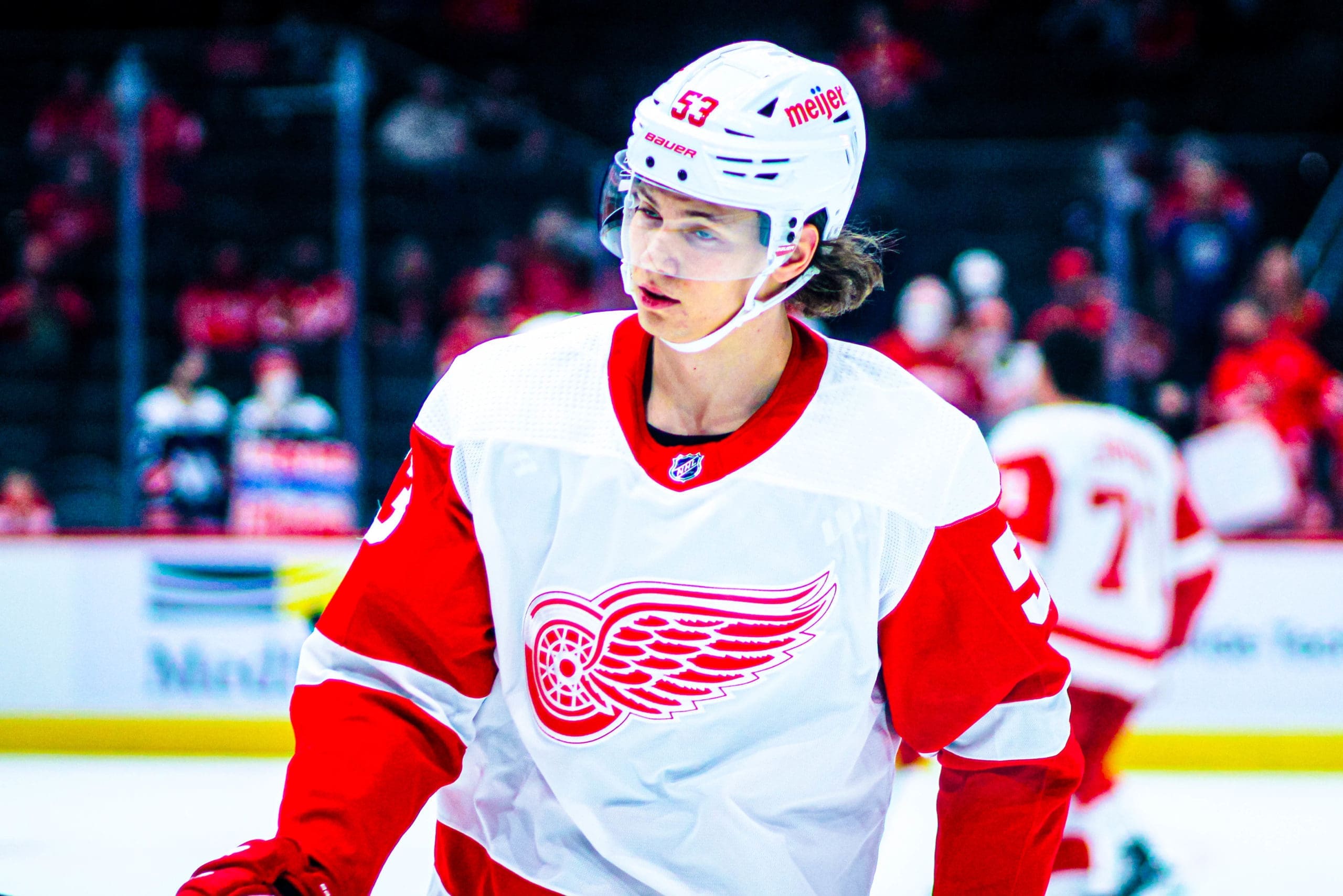 Defenseman Moritz Seider scored his second overtime goal of the season to give the Detroit Red Wings a 4-3 win against the New York Islanders for their fifth consecutive win.
Rookie Defenseman Clutch
Moritz Seider has only played 25 games and already has earned a reputation as player who delivers when the game is on the line. Earlier this season, he scored in OT on a wicked shot to beat Buffalo (Nov. 6). It was a similar situation against the Islanders when he made a perfect shot from a sharp angle to win the contest.
Seider became the first rookie defenseman in franchise history, and the fifth rookie blueliner in NHL annals to net multiple overtime goals in a single season, joining Brent Seabrook (two with Chicago in 2005-06), Cam Fowler (two with Anaheim in 2010-11), P.K.Subban (two with Montreal in 2010-11) and Shayne Gostisbehere (four with Philadelphia in 2015-16).
The German rookie played 27 minutes and 19 seconds. He plays a more dynamic style in 3-on-3 situations. "Nobody wants to go to overtime, but it is always treat to be out there," Seider said.
Big Impact in Limited Minutes
The Red Wings have been hoping that Givani Smith would start taking his game to the next level this season. He's been a disappointment. Too inconsistent. But against the Islanders, he took a small step.
He didn't even play eight minutes in this game, but ended up with a goal, an assist and three blocked shots. One of his blocked shots led to his goal as he raced down the ice and scored on a strong shot.
The reason why Smith didn't play much is he doesn't play on special teams, and Blashill was playing the match-up game.
"We just didn't get him out there as much as he deserved," Blashill said. "But if he keeps playing like that, and doing that over and over, you earn more minutes."
Lindstrom Leaves with Injury
Detroit defenseman Gustav Lindstrom left with a lower body injury after playing 8:42. Blashill didn't have an update after the game. He said he would know more Monday.
"I thought our D did a good job once we lost him," Blashill said.
In addition to Moritz Seider playing big minutes, Filip Hronek played more than 24 minutes and Nick Leddy was at 21:48.
"The shifts were a little shorter after that," Seider said. "We just tried to keep it simple as much as possible. Sometimes it's not the pretty way, just finding a way, chip it out and go to work in the O-zone. I think we did that really well most of the time. Didn't have a lot of odd man rushes from what I saw and I think that's a big plus there, too."
Depending on the severity of Lidstrom's injury, this could be a difficult situation. They've already lost Troy Stecher to a long-term injury
Not a Thing of Beauty
The Islanders hadn't score three goals in 12 games before netting three against Detroit. The Red Wings gave up two power play goals and a shorthanded tally. They were were out-hit by a significant margin.
"It wasn't our best game," Seider said. "But we have that swagger now."
Somehow they found a way to win. The Red Wings have been a more confident team since going through a bad Western road trip.
"We came to practice and decided to be great the next day," Seider said, "and now we are here."
Home Sweet Home
The Red Wings are now 9-2-2 at Little Caesars Arena, giving them the fourth-best home record in the NHL (trailing Florida, Toronto and Washington). They have won five in a row at home for the first time since Dec. 15, 2017-Jan. 5, 2018.
One reason why Detroit is good at home is it has been successful in tight games. Detroit is 7-1-3 in one-goal
games.
"Our guys understand that we have to keep getting better,"  Blashill said. "They aren't satisfied..our game isn't nearly perfect."