Five Takeaways: Predators Rough Up Red Wings, Moritz Seider Leaves Game Early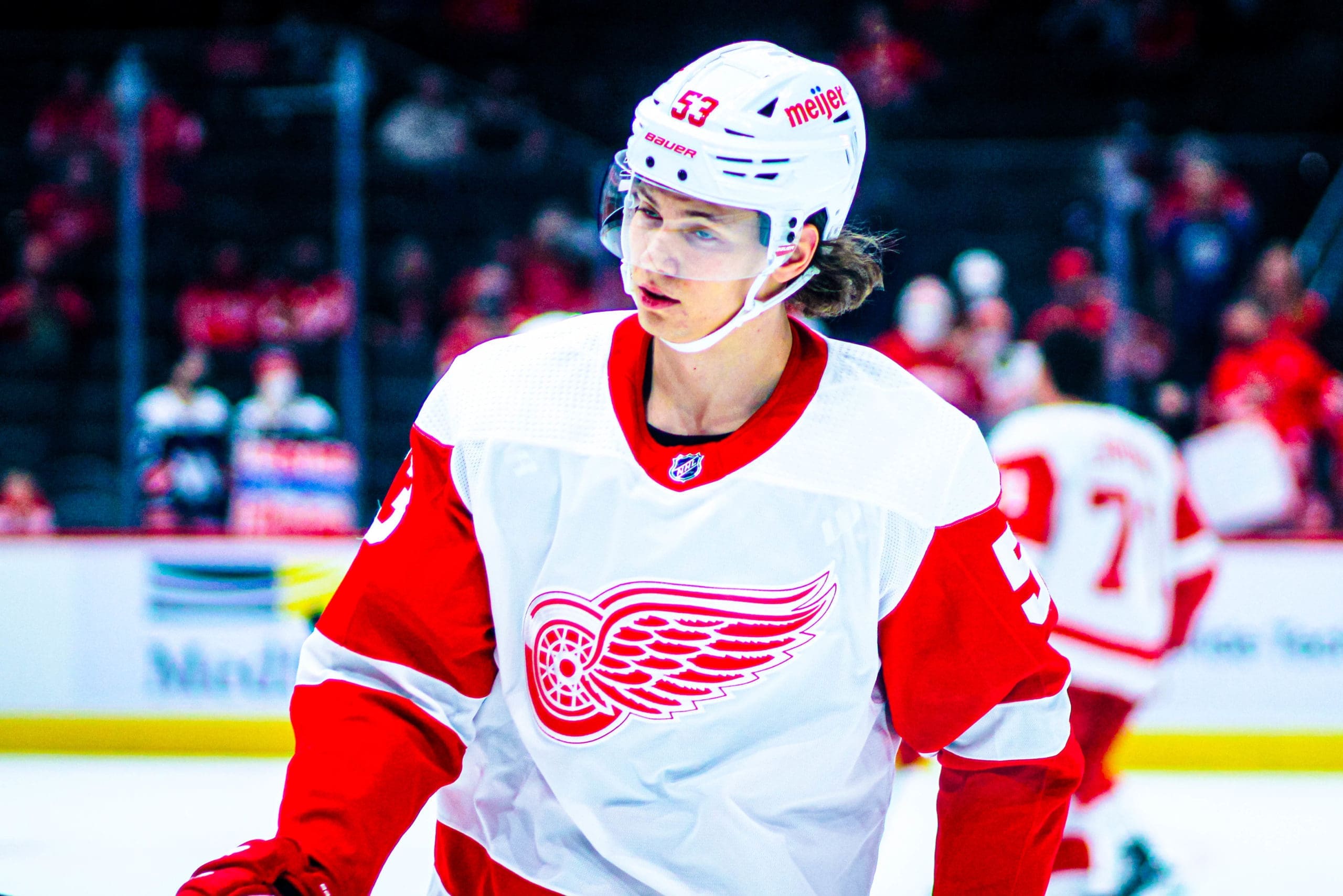 The Nashville Predators dominated the Detroit Red Wings 5-2 Tuesday to end their five-game winning streak. Red Wings defenseman Moritz Seider left the game in the third period after being checked hard into the boards.
Predators Pounded the Red Wings
The Red Wings simply couldn't get to the net against the physical Predators.  As a result, the Predators were out-shooting Detroit 25-8 after two periods. At the end of the game, it was 33-16.
The Red Wings couldn't match the Predators' intensity.
"When we got in their zone we got mauled," Detroit captain Dylan Larkin said. "They beat the crap out of us down low with their D and made it hard to get to the net."
Red Wings coach Jeff Blashill said his team's first-period performance against Nashville was "as poor a job as we've done in terms of competing and being ready to play."
Uh-oh, Moritz Seider Ailing
Red Wings rookie sensation Moritz Seider showed discomfort after being slammed into the boards by Tanner Jeannot with just over eight minutes left in the third period. Seider left the ice, headed to the dressing room, and didn't return.
Blashill said he didn't have an update. But he expected to know more tomorrow.
Seider has been an extraordinary rookie. He picked up his 15th assist on Robby Fabbri's power play goal in the second  He is tied with Anaheim's Trevor Zegras for the NHL rookie lead in assists.
The Red Wings already have defensemen Gustav Lindstrom and Troy Stecher out with injuries.
Moritz Seider headed to the room, hope he's ok pic.twitter.com/aPKdm53w8J

— Hockey Realm (@hockey_realm) December 8, 2021
Predators' Third Goal Hurt Bad
Blashill thought the Red Wings played better in the second period, but didn't shoot enough. The Red Wings turned a 2-0 game into a 2-1 game with a power play goal by Robby Fabbri.
"The game had a chance to kind of go our way at that point," Blashill said. "But certainly their physicality and competitiveness was better than ours. "
They Red Wings hopes of a comeback were deflated when Nick Cousins scored for Nashville early in the third period.
"We needed to find another goal and get that thing tied," Blashill said. "Instead, it went the other way."
Penalty Killing Struggle
Special team consistency is always a challenge for a rebuilding team. The Red Wings penalty killing looked like it was coming together nicely in November.
They didn't surrender a power play goal for eight consecutive games. They were 19-for-19 in penalty kills during that streak.
But since that streak ended, the Red Wings have given up a power play goal in five of their last six games.
Red Wings Face Road Test Now, Maybe Without Seider
The Red Wings suffered their first home defeat since Nov. 11 vs. Washington, snapping a run of five consecutive wins at Little Caesars.
Now, their task is not to let this loss snowball into a losing streak. They have tough back-to-back road games Thursday and Friday against St. Louis and Colorado.
"To me, the biggest thing is how do we respond in St. Louis and Colorado?," Larkin said.
Depending on Seider's injury news, the Red Wings could end up playing those games without him. Even though Seider is a rookie, he is already the team's leading difference-maker on the blue line.