Detroit Red Wings Fans Have Chance to Watch Donovan Sebrango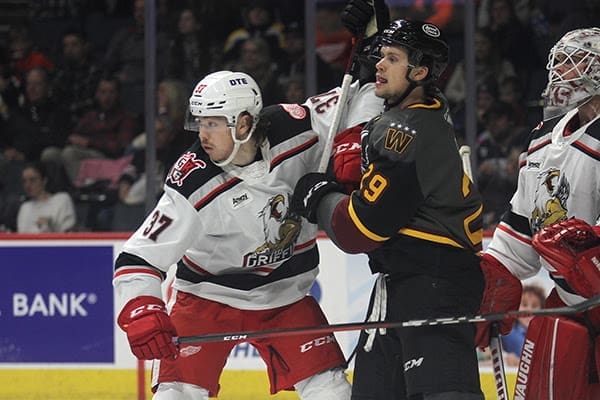 Detroit Red Wings prospect Donovan Sebrango is not going to dazzle you with his offensive flair or impress you with his point totals. But he could end up being the dependable defense-first defenseman that every successful team needs.
Sebrango has three assists in 20 games for the American League's Grand Rapids Griffins. He's also +6 on a Griffins teams with a few too many minus players.
What the Red Wings like is that he's 19 and already has played 51 games in the American League. Plus, Canada selected him to play in the World Junior Championships. Red Wings prospect goalie Sebastian Cossa is also on the team. The Canadians cut the 2020 53rd pick Sebrango before last season's tournament.
He is currently projected to play on Canada's third pairing, maybe with Minnesota Wild first rounder Carson Lambos. Donovan Sebrango is a more well-rounded player than he was when he showed up in Grand Rapids..
"All-around consistency is what I've improved the most on," Sebrango said in a recent interview.
In videos promoting the WJC, Sebrango said it was an emotional call when he informed his mother and told her he had made the Canadian team.
"She's my everything. As a single parent, she had to be a father and a mom to me," Sebrango said. "I owe the world to her. I owe her this tournament, to come out on top."
If you want to scout Sebrango for yourself , the NHL Network is televising all of the WJC games. Here is the schedule for Canada:
Dec. 26 vs. Czech – 7:00 PM
Dec. 28 vs. Austria – 7:00 PM
Dec. 29 vs. Germany – 7:00 PM
Dec. 31 vs. Finland – 7:00 PM
"She's my rock. She's my everything. I owe the world to her and owe her this tournament to come out on top."

Donovan Sebrango on sharing the news of making Team Canada with his mom: https://t.co/0ek4k06SnF#TSNHockey | #WorldJuniors pic.twitter.com/brLeFPBlFg

— TSN Hockey (@TSNHockey) December 22, 2021
Other Detroit Prospects at WJC
The Red Wings have eight players total playing in the WJC. Here are their other prospects:
Defenseman Simon Edvinsson (Sweden)
Center Theo Neiderbach (Sweden)
Defenseman Emil Viro (Finland)
Goalie Sebastian Cossa (Canada)
Left Wing Carter Mazur (USA)
Center Red Savage (USA)
Goalie Jan Bednar (Czech Republic)