The Detroit Red Wings' 10 Best Moments in 2021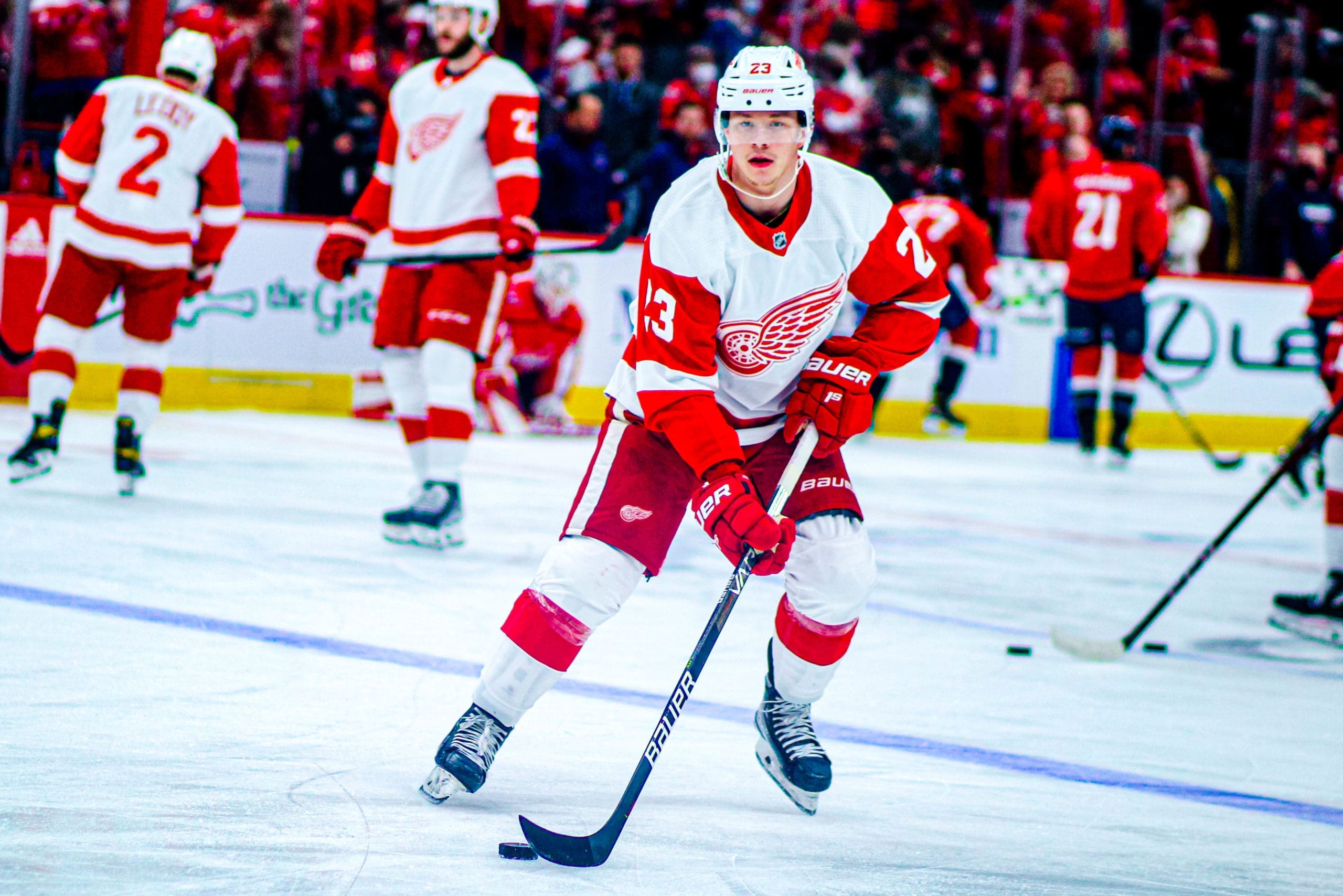 With the annual Detroit Red Wings' New Year's Eve game just hours away, it's time to look back at the Detroit Red Wings' most important moments of this year. Here is Detroit Hockey Now's Top 10 :
1. Lucas Raymond, Moritz Seider Arrive
General manager Steve Yzerman's first two first-round picks made the big club this fall and had instant impact. These two players are the foundation blocks of Detroit's rebuild. Seider is already the team's No. 1 defenseman and Raymond is the team's most dangerous goal scorer.
Neither player was ranked No. 1 in their draft year, but both could end up as the best players from their draft class.
When Seider is fully developed, he will be a beastly force offensively and defensively. He can hit, defend, lead, create offense and score goals. Watch him closely: you will see a smart player who helps his team win in a variety of ways.
Raymond has a Brett Hull-quick shot release. But long-time Red Wings executive Jim Devellano told Detroit Hockey Now that Raymond reminds him "a little bit" of Yzerman.
2. Yzerman Drafts Simon Edvinsson
Yzerman did it again last summer. He drafted defenseman Edvinsson sixth overall and the player has a chance to become the best player selected in the draft. He is having a memorable season in Sweden's top league. He's 6-foot-4 and can skate magnificently. He takes more offensive risks than Seider.
Before the recent World Junior Championship was postponed, Seider scored a coast-to-coast shorthanded goal against Russia that put his skating on display. He created a takeaway at his blue line and then flew up the ice.
Edvinsson is still a raw teenager. But rival teams believe Edvinsson will end up playing for the Red Wings next season, even if he starts the season in Grand Rapids.
A Simon Edvinsson 1st period hit, and some big words that follow. #LGRW pic.twitter.com/Vczq1HddRH

— IcehockeyGifs (@IcehockeyG) October 28, 2021
3. Dylan Larkin Story
Even before Larkin's season-ending neck injury, the Red Wings' captain didn't look quite right. He wasn't the same driven player he was when he arrived in Detroit. By all forms of measurement, Larkin had a miserable 2020-21 season.
Larkin is 25 and no one seemed sure what his game would like this season after spending the summer rehabilitating his injury.
As it turned out, Larkin's game is better than fine. He's playing the best hockey of his career.  He leads the Red Wings with 15 goals. In the Red Wings' last game, a win against the New Jersey Devils, Larkin notched his first career hat trick. With Larkin leading the charge, the Raymond-Larkin-Tyler Bertuzzi line has been highly effective. Larkin and Raymond have particularly good chemistry.
4. Yzerman Deals Anthony Mantha for Jakub Vrana, Draft Picks
This deal paid immediate dividends and it will continue to provide rewards. The trade was completed on April 13 and the 25-year-old Vrana had eight goals and 11 points in his first 11 games in Detroit.
The transaction was also addition by subtraction. Mantha was a frustrating player. He seemed unwilling to alter his style to become a better player. Although the Red Wings never said this, it seemed as if the Red Wings reached the conclusion that Mantha would always be an inconsistent scorer. He could be streaky, net highlight reel goals, but ultimately you were left wanting more from him.
Washington coaches didn't always appreciate Vrana's inconsistency, either. But the Red Wings believed he was a better fit for what Detroit is trying to build.
The rest of the story is the Red Wings landed a first- and second-round picks. Yzerman packaged that first rounder and other assets to move up in the draft, to the Dallas Stars' No. 15, and draft Sebastian Cossa. He is Detroit's goalie of the future.
5.  Yzerman Acquires Alex Nedeljkovic from Carolina
Goaltending was Detroit's weakest position. Even if you believe Cossa is going to eventually be the team's No. 1, it is going take a lengthy development process to get him to that point.
That's why the July 22 deal to acquire Nedeljkovic from the Hurricanes was a big event. Nedeljkovic is only 26 and has shown this season he has the moxie and acrobatic moves to be a No. 1 goalie. The Detroit players, coaches and management like that he can help now and perhaps in the future.
In addition to being a battler on every shot, Nedeljkovic helps the team with his puck-handling ability.
The Hockey News's Larkin lists the Nedeljkovic trade as the 8th-best swap of 2021 https://t.co/EVhvuB2li2

— George Malik (@georgemalik) December 28, 2021
6. Lucas Raymond Has Four-Point Night
On Oct. 25, Raymond had three goals and an assist to help the Red Wings down the Chicago Blackhawks 6-3. He joined Steve Yzerman and Gordie Howe as the only teenagers in Detroit history to produce four points in a game.
When you put yourself in the company of Mr. Hockey and Stevie Y, you are a superstar.
7. Red Wings End Tampa Drought
The Red Wings beat the Lightning 5-1 on April 4 for their first win in Tampa since 2011. The Red Wings were 0-16-1 in Tampa before beating them that night.
A month before, the Red Wings had beaten the defending Stanley Cup champion 6-4 in Detroit. The Lightning went on to win a second consecutive Stanley Cup.
8. Tyler Bertuzzi Nets Four Goals
Bertuzzi created some controversy by being the only non-vaccinated NHL player. But on Opening Night, none of that seemed to matter as fans cheered the first four-goal game of his career.  The only unfortunate aspect for Bertuzzi is that it came in a losing effort. The Lightning rallied from behind to beat Detroit 7-6.
He did end up contracting a mild case of COVID-19,
9.  Vrana Hurt at First Practice
Jakub Vrana showed up late for training camp and then injured his shoulder in the first 10 minutes he was on the ice at practice. Surgery was needed to repair the damage.
The Red Wings weren't happy about the situation. Vrana's injury dated to last season and he opted for offseason rehabilitation instead of surgery. Had he elected surgery then, he could have been ready early in the 2021-22 season.
He's still not back yet. However, he is expected back in February.
10.  Detroit Red Wings Acquire Nick Leddy
Leddy is a crafty veteran defenseman who has helped improve the team's competitiveness. Yzerman gave up a second-round pick to the New York Islanders. However he could get another second rounder back if he trades him at the deadline. He might even get more than that, depending upon what the defensemen market looks like.
Leddy, 30, will be an unrestricted free agent this summer. Depending upon his asking price, the Red Wings could consider keeping him. But Leddy will be likely to want term and Yzerman has resisted giving out long-term contracts.